If Theresa May wants to remain strong she must set out a definitive Brexit policy based on the UK's economic interests
While the Prime Minister keeps even her own cabinet ministers in the dark about the long-term EU relationship she wants, Eurosceptics will fill the vacuum and threaten to force a vote of confidence in her as Tory leader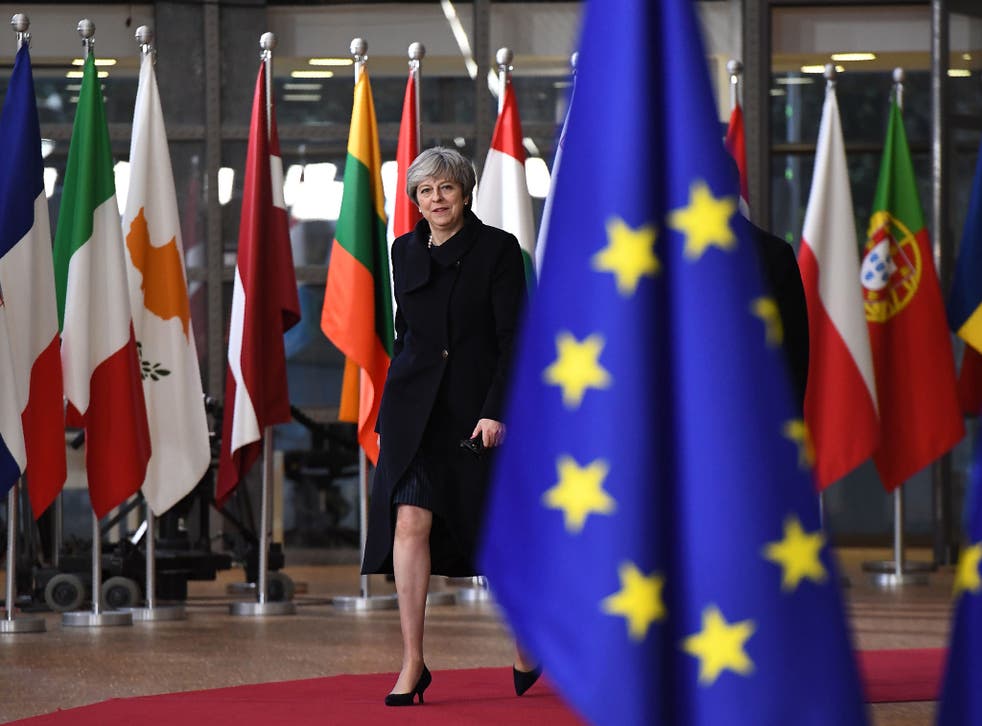 Only a month ago, Theresa May appeared to be in a relatively strong position after concluding a phase one Brexit deal with the EU. But after a weak start to the year, including a botched cabinet reshuffle and little sense of direction on domestic policy, the Prime Minister is now back to square one amid another outbreak of Conservative Party in-fighting over Brexit.
Her ability to stay on in Downing Street after last June's disastrous general election was predicated on the absence of an alternative leader who could unite the Tories' warring tribes. But the support of hardline Brexiteers was conditional on Ms May delivering the "clean Brexit" they want to see. They are now threatening to oust her if, as they suspect, she is diluting their version of Brexit after coming under pressure from Europhile senior civil servants and cabinet ministers led by Philip Hammond. They claim the Chancellor let the cat out of the bag in Davos last week by expressing the hope that the UK and EU would move only "very modestly apart" on trade.
In fact, Mr Hammond was talking common sense, and seeking to minimise trade barriers for businesses after Brexit. He was not changing government policy, as his Tory critics claim. Nor is it fair to blame officials in Whitehall; as Margaret Thatcher once said: "Advisers advise, ministers decide." That advice should include options such as forming a customs union with the EU, even if the UK leaves the existing customs union and single market. The Labour opposition might be heading in this direction; it is one which would be welcomed by business leaders. It might well be the only way to solve the intractable problem of the border between Northern Ireland and Ireland.
Of course, hardline Brexiteers would again cry betrayal, and claim the UK would "not really be leaving" the EU.
Ms May's critics are right about one thing: we cannot go on like this. While she keeps even her own cabinet ministers in the dark about the long-term EU relationship she wants, Eurosceptics will fill the vacuum and threaten to force a vote of confidence in her as Tory leader. If the current drift continues, critics might muster the 48 Tory MPs needed for such a vote. The grumbling is not just about Brexit; hardliners on Europe have been joined by Tories worried about the lack of policies addressing the key challenges facing the country. This makes it a dangerous moment for Ms May.
To head off a leadership challenge, the Prime Minister should make the speech on Brexit she has put on hold, apparently because the Cabinet's differences are so great. She should set out a policy based not on splitting the difference between Tory factions but on the UK's economic interests. That will mean staying as close to the EU as possible until the unbankable benefits of future trade deals with other countries can be properly measured.
Tory MPs should remember that a leadership contest would be a huge distraction from EU negotiations, due to be concluded by October. If Ms May lost a vote of confidence, the party's 70,000 members, who would have the final say in the ensuing leadership election, might well choose a more Eurosceptic leader. For all her faults, the deal she struck in Brussels last month showed that Ms May has forged a working relationship with key EU figures. A new leader might not inherit it. That would reduce the prospects of securing a withdrawal agreement, and increase the chances of an economically damaging "cliff edge" exit in March next year (which some hardliners would privately prefer to ensure their "clean break").
Despite the indecision that has caused her latest woes, Ms May should be allowed to see through the Brexit negotiations. But to get the chance, the leader of the country is going to have to show some leadership, and soon.
Register for free to continue reading
Registration is a free and easy way to support our truly independent journalism
By registering, you will also enjoy limited access to Premium articles, exclusive newsletters, commenting, and virtual events with our leading journalists
Already have an account? sign in
Register for free to continue reading
Registration is a free and easy way to support our truly independent journalism
By registering, you will also enjoy limited access to Premium articles, exclusive newsletters, commenting, and virtual events with our leading journalists
Already have an account? sign in
Join our new commenting forum
Join thought-provoking conversations, follow other Independent readers and see their replies