Theresa May must stick to her guns and push for a customs partnership with the EU
The prime minister, desperate to keep both Tory factions on board, has repeatedly put off a decision on customs rather than resolve the fault line running through her party on it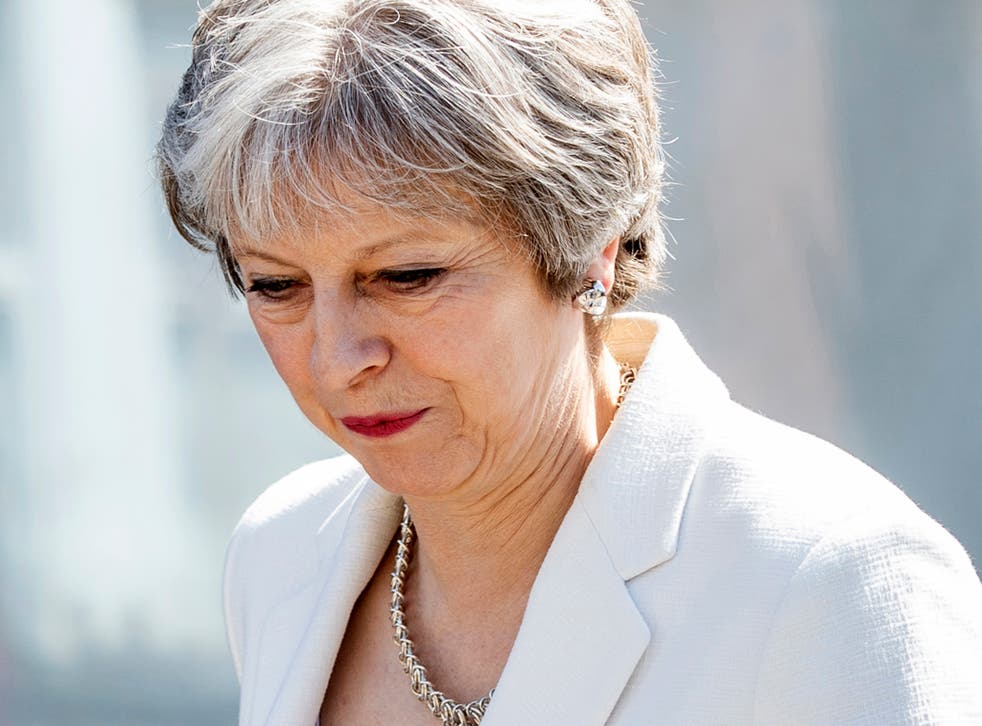 It was widely reported last week that Theresa May suffered an embarrassing defeat when the cabinet's Brexit subcommittee split 6-5 against her proposal for a customs partnership with the EU after Brexit.
But the celebrations among Eurosceptics were premature. It is now clear that, with typical doggedness, the prime minister has not abandoned her plan. A reworked version will be presented to cabinet ministers in the next fortnight.
Time is very short. It is an indictment of Ms May that, almost two years after the referendum, the UK does not have a clear position on this crucial area of its future relationship with the EU. It threatens to derail the exit negotiations because the EU has set a deadline of its leaders' summit next month for breaking the deadlock over the Irish border question, which a customs deal would go a long way towards achieving.
In a familiar pattern, hardline Brexiteers are accusing Ms May of not honouring the referendum, while warning that three cabinet ministers could resign and Tory backbenchers could topple her. Predictably, they have seized on the results of last Thursday's local elections in England as evidence that voters endorse the government's pledge to quit the existing customs union, and by implication reject Ms May's plan to preserve a close customs relationship. This is ridiculous. It is true that the Conservatives did better in areas which voted Leave in 2016, helped by Ukip's collapse. But this was surely a case of voters expressing a desire to "get on" with Brexit.
It's doubtful that many people went to the polling booths mulling over the difference between Ms May's customs partnership, under which the UK would collect EU tariffs, and the Brexiteers' preferred "maximum facilitation" plan to use new technology to minimise border checks (which would not prevent a hard border on the island of Ireland).
Eurosceptics fear that a close customs arrangement would keep the UK within the EU's orbit and mean "Brexit in name only". Their fears will be enhanced by the business secretary Greg Clark's comments to the BBC's Andrew Marr Show this morning that Ms May's proposal might have to be phased in over a period lasting beyond the transitional phase, which will end in December 2020. But his remarks were a recognition of reality absent in the Brexiteers' arguments: HM Revenue & Customs has warned that it could take five years to implement any new customs arrangement.
Ms May, desperate to keep both Tory factions on board, has repeatedly put off a decision on customs rather than resolve the fault line running through her party on it. That is no longer an option.
In her Mansion House speech in March, she said Brexit would require all sides facing up to hard facts. She now needs to take her own advice.
She should remember that there is a majority in both houses of parliament for a customs union. Unlike the Brexiteers, pro-European Tory MPs – who have the numbers to defeat Ms May in Commons votes on customs she cannot postpone forever – are being flexible. They are not worried how any agreement is labelled, merely that it ensures frictionless trade with the EU.
A UK-wide customs partnership would meet the Democratic Unionist Party's demand that Northern Ireland has the same customs arrangements as the rest of the UK. As the welcome for Mr Clark's remarks from business groups shows, it would reassure business and safeguard existing jobs and vital future investment in the UK. Although the EU has made sceptical noises, Ms May's proposal would provide a basis for serious discussion and to resolve the Irish border conundrum.
The prime minister should stick to her guns and her customs partnership, ignore the blood-curdling threats from the Brexiteers and call the bluff of ministers threatening (again) to walk out of her cabinet.
Register for free to continue reading
Registration is a free and easy way to support our truly independent journalism
By registering, you will also enjoy limited access to Premium articles, exclusive newsletters, commenting, and virtual events with our leading journalists
Already have an account? sign in
Register for free to continue reading
Registration is a free and easy way to support our truly independent journalism
By registering, you will also enjoy limited access to Premium articles, exclusive newsletters, commenting, and virtual events with our leading journalists
Already have an account? sign in
Join our new commenting forum
Join thought-provoking conversations, follow other Independent readers and see their replies