Theresa May is just about managing as Prime Minister – when will she reveal what she intends to achieve?
Apart from Brexit and the not-too-challenging task of keeping Jeremy Corbyn out of Downing Street, it is not immediately apparent what Theresa May is for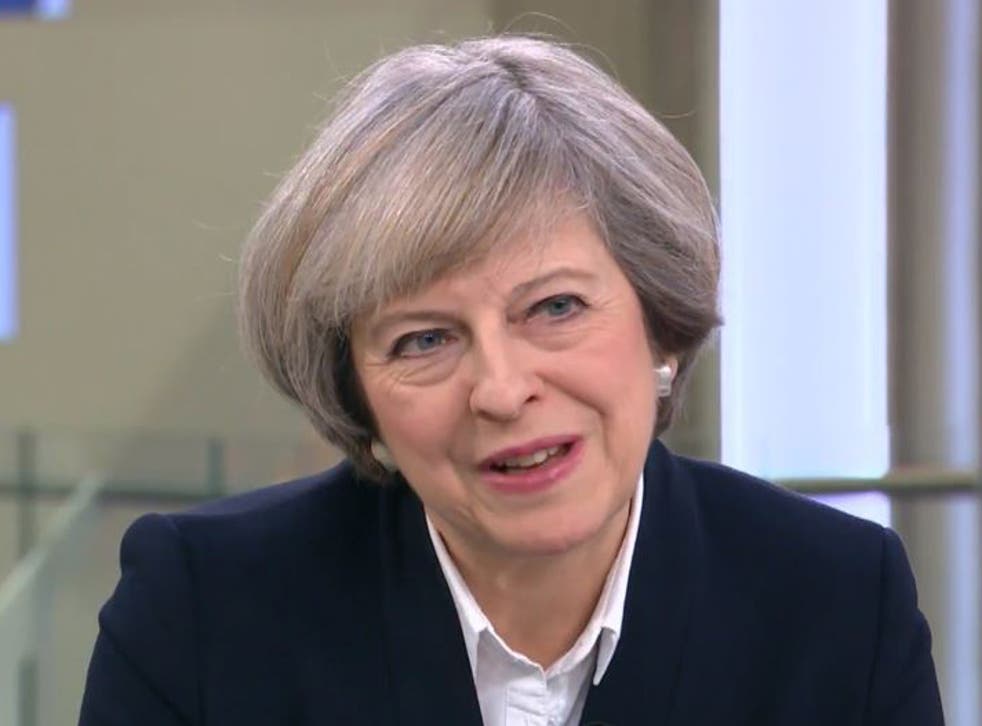 "Theresa Maybe" some have started calling her. Her more bitter critics, such as the former chief British diplomat in Europe, Sir Ivan Rogers, warn, implicitly, about her "muddled thinking". Six months or so after she took office many voters are still little the wiser as to what direction she wishes to take the country, beyond that – unavoidable – commitment to forge a new deal with the EU. If it wasn't for the pitiful state of the Labour Party the grumblings about Ms May would be more vocal and menacing than they are now. That may not last, however, and the European faultlines in her party could yet prove fatal for her, as they did for David Cameron, John Major and Margaret Thatcher. Perhaps that's why she often seems nervous in public.
In her minor media offensive on Sunday and a slightly ill-at-ease interview with Sky News – where she appeared as though suspended mid-air in some sort of X-Men style perspex cell – she did little to redress the vision deficit. The slogan "Shared Society" doesn't yet have much more meaning than her predecessor's "Big Society", and students of such things will recall Tony Blair's early enthusiasm for "communitarianism", John Major's "Citizen's Charter" and countless other woolly initiatives over the decades. These are the sort of thing dreamt up after supper at Chequers, but which don't look or sound quite so exciting when they reach doorsteps in the marginals, and offer nutritional value only to satirists and newspaper columnists. The conversation about replacing the Big Society with the Shared Society would probably yield excellent raw material for a revival of Yes Minister or The Thick of It.
Of course her welcome and genuine desire to remove the stigma of mental health and to start to do something about the housing crisis are policies with great lapidary potential. Still, they represent beads without a string. There is no theme yet to Ms May's premiership. Perhaps because she has been warned about making too much of it by Philip Hammond, even the "just about managing" folk seem to have fallen off the radar. Maybe Ms May realises that stagnant wages, rising prices, growing debt and cuts in public spending mean that she can't deliver on her well-meaning and utterly sincerely felt social concerns. About the only thing large swaths of British society will be sharing over the next few years is the pain of everlasting austerity, an overstretched NHS and shabby public transport.
Apart from Brexit and the not-too-challenging task of keeping Jeremy Corbyn out of Downing Street, it is not immediately apparent what Ms May is for.
And what of Brexit? Briefings and delphic remarks are making one thing unsurprisingly clear; that immigration and control of borders are red lines: maybe not "binary", necessarily, as Ms May says, but clearly the priority in the new deal with the EU. Foolish as it may be – for immigration strengthens society and the economy – Ms May is shrewd enough to use the referendum vote to support that policy. If, in other words, Britain does lose some economic growth and prosperity as a result of the threat of Brexit, then she can quite directly blame the electorate for making the choice that it did in June, at least implicitly. In that respect she takes a diametrically opposed view to her Chancellor, who declared last year that "no one voted to be poorer" in the referendum. Ms May, implicitly, sees that immigration was a real driver of the vote, and that the public demanded "change" – even if it causes economic dislocation.
She behaves as though she were a chief negotiator with the EU who has taken her remit from the voters and now wishes to get on with it. That is not the same as leadership, however.
One day, the time will come when the terms of exit are clear, and Ms May will have to be honest with the country about the choice before it: a poorer future, albeit one with less migration, or accepting the free movement of Europeans as part of the opportunities the EU still represents for jobs and investments across the continent. She would be well advised to allow the electorate to deliver their verdict on the deal she produces.
Register for free to continue reading
Registration is a free and easy way to support our truly independent journalism
By registering, you will also enjoy limited access to Premium articles, exclusive newsletters, commenting, and virtual events with our leading journalists
Already have an account? sign in
Register for free to continue reading
Registration is a free and easy way to support our truly independent journalism
By registering, you will also enjoy limited access to Premium articles, exclusive newsletters, commenting, and virtual events with our leading journalists
Already have an account? sign in
Join our new commenting forum
Join thought-provoking conversations, follow other Independent readers and see their replies