Bad news for the EU – Viktor Orban's awkward squad is here to stay
The Hungarian prime minister has like-minded allies in power in Poland, the Czech Republic and Slovakia, all willing to veto or otherwise disrupt attempts to bring Hungary into line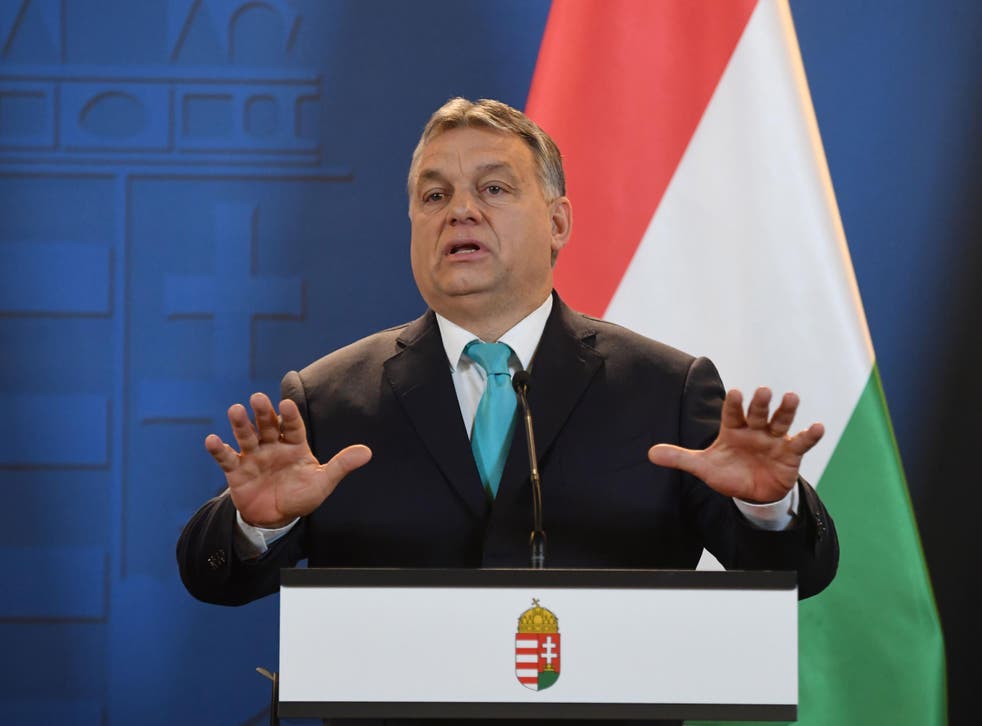 It is no surprise that Viktor Orban has been returned for a fourth term as Hungary's strong man nationalist prime minister – a sort of Magyar mini-Putin. In his case though, Mr Orban had no need to rig the ballot or put up a bogus paper candidate to challenge him.
His appeal may be lost on many outside his country, but in his homeland he is genuinely popular. His brand of conservatism and nationalist politics are dominant. Indeed, to all intents and purposes, progressive political parties are dead in this part of Central Europe, and Mr Orban's main opposition came from an even more extreme nationalist grouping.
The only small comfort in the landslide victory of Mr Orban's Fidesz-KDNP collation is that it saw off Jobbik, a party with even more pronounced antisemitic tendencies and hostility to the European Union.
It would be facile to write off Mr Orban's triumph as some eccentricity confined to Hungary. For he is far from alone, and his is but one of the more successful of the eurosceptic and populist movements that have made such remarkable progress in recent years. Most recently it was Italy's turn to fall to their incoherent blend of economic nationalism and xenophobia, with consequences that cannot be healthy for that fractured and nervous nation as well as European solidarity.
In Germany and Sweden, long paradises of social or Christian democracy and enlightened values, hard-right movements are capable of polling well into double figures in elections and picking up seats in parliament: The AfD in Germany is in effect the official opposition party and could conceivably overtake the SPD. The names of other rightists of various flavours – some libertarian, others statist, all xenophobic – are as well known outside their countries as within – Marine Le Pen, Geert Wilders and, yes, Nigel Farage.
The appeal of each one centres on an anti-immigration stance. All challenge the EU's policy on migration, both internal and external, and dislike refugees from war and traditional economic migrants alike. Their agenda is defiance, and none are more defiant than Mr Orban, fortified as he is now by another overwhelming popular endorsement. A clash between Brussels and Budapest seems inevitable – though it will likely be avoided in the short run.
A country such as Hungary that refuses to abide by agreed European policy on migration – such as accepting modest quotas for Syrian refugees – can be subjected to sanctions by the other 26 (or 27 if the UK is included). Yet there are problems with that approach.
First, Mr Orban has like-minded allies in power in Poland, the Czech Republic and Slovakia, all willing to veto or otherwise disrupt attempts to bring Hungary into line. Together with their allies elsewhere in government in Europe, notably Italy, and in the European parliament, the populists represent an awkward squad, happy to ignore the EU treaty obligation to honour the principle of the free movement of labour across the EU, and adamantly refusing to share in the task of housing refugees. They are simply, de facto, abolishing the EUs fourth freedom, in a way the fastidious British wouldn't have tried.
Second, the European Commission dislikes a direct confrontation with anything, its culture being rooted in compromise and horse-trading. It doesn't wish to add to the sense of an EU disintegrating under the pressures of migration. In Hungary and elsewhere the sovereign wish of the people is colliding with the rules of the European Union, but Europe has ways of softening the conflict. The EU realises that if it wants to push things then it will find itself in a new political crisis just as it is emerging from the banking and euro crises, the wave of migration across the continent, and Brexit. Brussels is likely to let things slide in such a circumstance. Kicking the can down the road is a tried and tested technique in EU circles for avoiding problems.
What is interesting about all of the European populists is that they do not, on the whole, want to leave the European Union. Here they are in stark contrast to Ukip and its fellow travellers in the Conservative Party. East European nations benefit economically so much from Europe – including huge transfer payments from the richer western and Nordic countries – that even the most shirty of Eastern European populist leaders would never call a referendum to leave the EU.
Instead, they just carry on bartering, posturing and cherry-picking whichever parts of the European project suit them well, including free movement of their peoples to work in higher wage economies to the north and west. They are happy to benefit from the euro, and they like the farm subsidies. If they don't like taking in refugees or economic migrants, then they simply say no, and shout loudly about national rights and their popular support. How long France and Germany will put up with their noisy neighbours remains to be seen. For now, Mr Orban and the awkward squad seem here to stay.
Register for free to continue reading
Registration is a free and easy way to support our truly independent journalism
By registering, you will also enjoy limited access to Premium articles, exclusive newsletters, commenting, and virtual events with our leading journalists
Already have an account? sign in
Register for free to continue reading
Registration is a free and easy way to support our truly independent journalism
By registering, you will also enjoy limited access to Premium articles, exclusive newsletters, commenting, and virtual events with our leading journalists
Already have an account? sign in
Join our new commenting forum
Join thought-provoking conversations, follow other Independent readers and see their replies