The Independent's journalism is supported by our readers. When you purchase through links on our site, we may earn commission.
If you find Elizabeth Warren's adorable goofball dancing 'inauthentic', ask yourself why
The playful nerdiness of Warren's dancing is actually one of the shrewdest weapons in her arsenal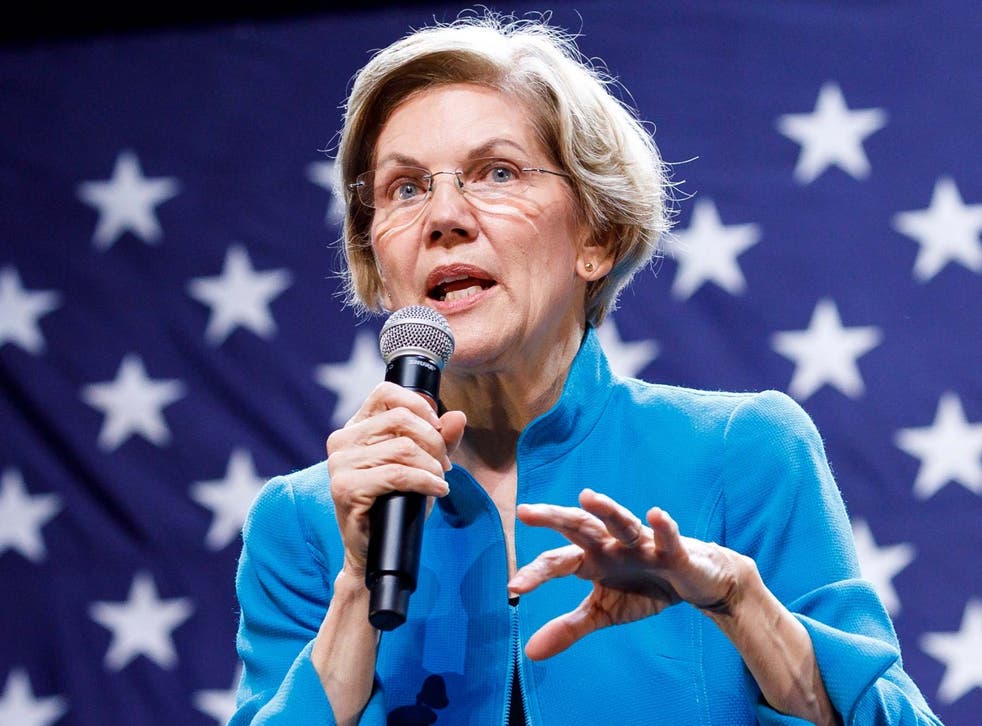 I often think about sexism in politics the same way I think about how inhaling New York City air is bad for my lungs. The pollution is so revoltingly pervasive, calling it out seems futile to the point of ridiculousness.
But then, every once in a while, there is an example of gender bias that is so egregious, it reveals the odorless carcinogens poisoning the air. It only makes sense that the most recent addition to the mass grave of canaries in the coal mine of the Democratic primary would be Elizabeth Warren dancing.
At her rally at King's Theater in Brooklyn on Tuesday, Warren bopped on stage to the sounds of Aretha Franklin's eternal hit, "Respect." There was much derision from Warren's critics in response to footage of the event, including self-identified "populist left" YouTuber Kyle Kulinski, who shared the video in a tweet that read: "I know your terrible advisers told you to be more relatable and dance but really the trick is just being your authentic self." The tweet became newsworthy when Cory Booker responded, writing, "Raise your hand if you know why people are trolling Elizabeth's dance moves and not my dad jokes."
Dancing is a pure expression of personality. Devoid of the political, explicit reactions to Warren's movement on stage makes for something like a Yanny v. Laurel indicator of whether the observer might be predisposed to frequencies of distrusting women.
Sexism is both that simple and that profound. At the core of the gender inequality riddling our society is the judgement that women are inherently inauthentic. Women are disproportionately accused of lying about rape, our health, and the reasons we seek to lead. Typically, the label of sexism remains elusive because most purveyors of misogyny — internalized, subconscious, and otherwise — stake their dislike on the particularities of any given woman. The reality of the system can only be exposed when we pan back to view the juxtapositions of gender inequality sprawled across the unjust whole — or, in other words, it is total bullshit that we have never had a female president.
'You're better than that' Elizabeth Warren gives dating advice
I was blown away by how unquestioningly sexist our society is yet again in December, when I published a satirical piece for The Independent titled: "I used to support Elizabeth Warren, until I realized she's just doing it all for attention". It was a shock to me and my editor to see the number of people who read the entire piece and took it literally, despite it including lines such as: "Can we trust a woman who has made money for her work?" as well as a "suggestion" that Warren start a subprime loan company featuring a "slutty Mr Monopoly" as its logo. The extent of media illiteracy reveals itself in this, as does the sexist status quo of much coverage, which appears to have led readers to digest misogyny parodied to the point of absurdity as earnest opinion. Is the American epistemic crisis really so far gone that satire must be declared with a warning sticker?
In the interest of transparency, I should tell you that I paid $10 to RSVP to the rally at King's Theater, and that I have been excited about Warren's candidacy since I got to interview her during Rise Up For Roe two summers ago (when she stepped up to fight Brett Kavanaugh's nomination to the Supreme Court in August 2018, before the nation met Christine Blasey Ford). In the interest of transparency, I should tell you that my heart beats for that brilliant goofball running on big, structural change and the belief that the best bet for democracy is inspiring the public to participate in it. In the interest of transparency, I should tell you that I am sick of accepting that the sexist default of political scrutiny is "just the way things are."
The playful nerdiness of Warren's dancing is one of the shrewdest weapons in her arsenal. Warren's decades of experience studying and then fighting the causes of bankruptcy make her confidently authoritative to an extent that is typically unacceptable for female candidates. Instead of protecting herself with defensiveness, she insists on her right to ambition using an endless firehose of joy. Her apparently infinite energy sends up a forcefield that shock-absorbs the barrage of hatred unleashed on all women vying for power, forcing the stealthy undercurrents of sexism to expose themselves for what they truly are. To the toxic forces viciously devouring female ambition, Elizabeth Warren shrugs, and says, "Welp," with perfect comedic timing.
The Democrat challengers to Trump in 2020

Show all 25
Anyone paying even the slightest bit of attention to the primary knows Warren has defined her candidacy based on a litany of policy proposals addressing inequality — and when it comes to the cultural sexism that defines American politics, her entire case for the presidency is a plan for that.
Register for free to continue reading
Registration is a free and easy way to support our truly independent journalism
By registering, you will also enjoy limited access to Premium articles, exclusive newsletters, commenting, and virtual events with our leading journalists
Already have an account? sign in
Register for free to continue reading
Registration is a free and easy way to support our truly independent journalism
By registering, you will also enjoy limited access to Premium articles, exclusive newsletters, commenting, and virtual events with our leading journalists
Already have an account? sign in
Join our new commenting forum
Join thought-provoking conversations, follow other Independent readers and see their replies