It is Emmanuel Macron, not Marine Le Pen, who will come to be known as France's answer to Donald Trump
Which party does Macron represent? He doesn't. He has created his own party, 'En Marche!'. Where does it fit into the political spectrum? It doesn't. Nor was Trump very different in this regard. Before running he had given money to both the Republicans and the Democrats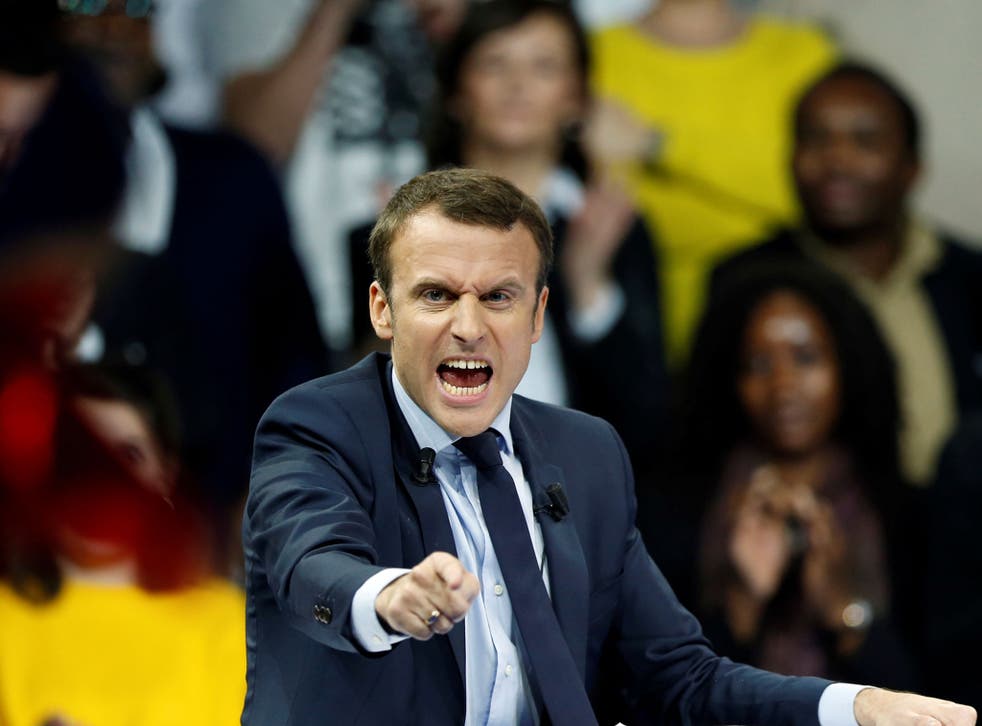 Imagine. Someone who has never hitherto stood for elected office is running strongly to be the next President of France. This is Emmanuel Macron, who is currently third in the polls with 20 per cent, not far behind Marine Le Pen with 26 per cent and François Fillon with 25 per cent. Voting takes place in April.
We can imagine, of course, because Donald Trump has just shown how it is done. But at least Trump had TV fame when he announced his decision to run. He had been the host of the popular American show The Apprentice for 14 seasons. But when Macron raised his standard, he must have been unknown to 90 per cent of French voters.
Nevertheless, a characteristic Macron shares with Trump is an ability to attract huge crowds to his meetings. When he announced he was running last November, some 15,000 people came to hear him speak at the Porte de Versailles in Paris. In the gritty, left-leaning city of Lille, 4,000 turned up. Earlier this month, 2,000 Macron supporters filled a hall in Clermont-Ferrand with 500 turned away. Three days later, one of the Socialist Party contenders, Manuel Valls, the former Prime Minister, found himself addressing 300 supporters in a half-empty gym in the same city.
Which party does Macron represent? He doesn't. He has created his own party, 'En Marche!'. Where does it fit into the political spectrum? It doesn't. Its founder states that it is "neither on the right or on the left". This lack of traditional positioning may even be one of its appeals. Nor was Trump very different in this regard. Before running he had given money to both the Republicans and the Democrats. He was officially the Republican candidate, but that seems to have been only a matter of convenience, like having a passport for a country where you have hardly ever lived.
There is another striking characteristic of Macron's candidature. He presents himself as the anti-system candidate, yet in terms of education and career he is a perfect example of the French elites. He resembles a duke criticising the aristocracy.
Thus he attended the highly regarded Lycée Henri-IV school in Paris. He did a degree in public affairs at Sciences Po in the same city, whose nearest British equivalent is the London School of Economics. Finally he took a course at the École nationale d'administration, which is a finishing school for France's ruling class. Among its graduates it counts three presidents, Giscard d'Estaing, Jacques Chirac and François Hollande, and six Prime Ministers.
Naturally after this preparation, he went straight into the Ministry for the Economy and Finance. He left to work at the Rothschild Bank and then joined President Hollande's staff at the Élysée. Finally he was appointed minister of economy, industry and digital data in August 2014. And then resigned in August 2016 to found his own party and run for the presidency.
This background could scarcely be more different from Trump's and yet there is a similarity. The American President was also a member of an elite. He is a billionaire businessman. The front door to his offices in New York is a gold and diamond affair. If that is not elite, what is? It is just as distancing from everyday folk as Macron's prestigious education.
However, the difference in policy positions between the two men is very great. Where Trump's inauguration speech focused on putting up walls – America first, protectionism, keeping people out – Macron's policies are largely directed to removing barriers. He calls for a "democratic revolution" and promises to "unblock France".
Thus Macron would scrap France's 35-hour working week for younger workers while at the same time making it easier for businesses to lay workers off. But he would balance that reform with establishing broader unemployment benefits. He believes that older workers should be able work for fewer hours. He also wants to increase state spending on schools in areas where there are large numbers of migrants. In sum, he is determined to change France's post-war model, which, as he told the centre-left weekly magazine L'Obs, "has created deep inequalities by favouring mostly insiders, those with a permanent job contract and stable employment ... everyone else has been left aside".
We seem, therefore, to have entered the age of political insurgency. Trump has succeeded; Macron is next to try. Who will follow? Is there a British candidate for this role or is Theresa May trying to play the part?
Join our new commenting forum
Join thought-provoking conversations, follow other Independent readers and see their replies