Calls for sanctions on Nigeria following SARS protests are intensifying but is this the best way forward?
A UK parliamentary petition to impose sanctions on Nigeria has reached more than 200,000 signatures but many believe Western intervention would be pouring fuel onto the fire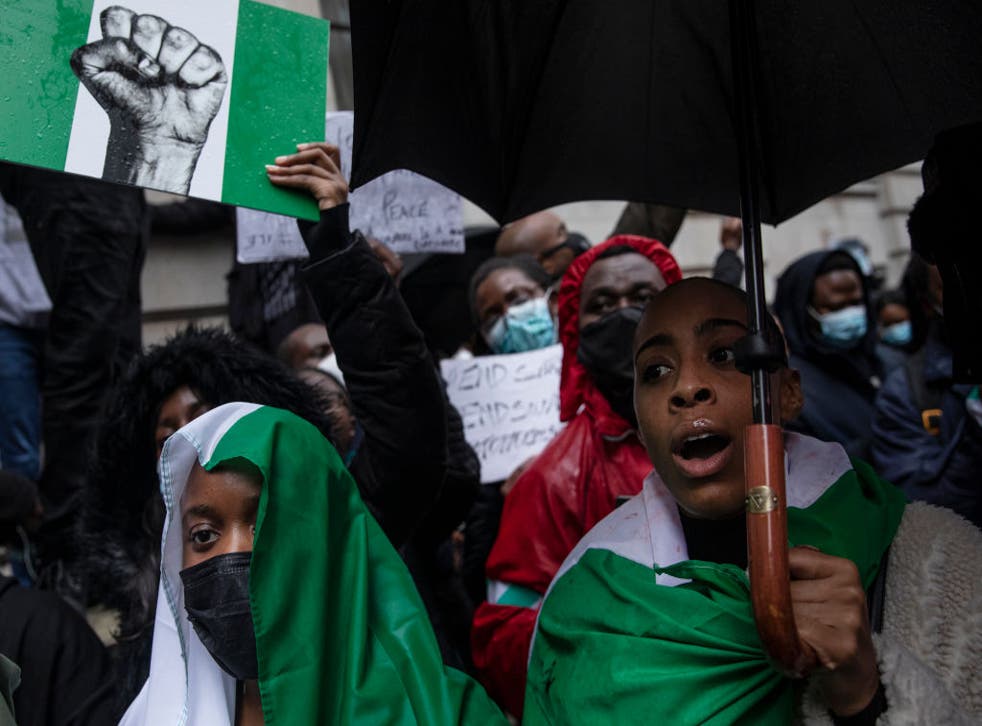 On Tuesday night, the shame of Nigeria was broadcast live on Instagram for the world to see. I was one of hundreds of thousands of Nigerian diaspora who watched in horror as a tollgate in the city of Lagos became a crime scene and then a makeshift hospital.  
A young woman named DJ Switch streamed footage of a man who lay dying after allegedly being shot by the Nigerian Army. This was, we are supposed to believe, in order to quell the peaceful #EndSARS protests that have swept the country over the last fortnight.
In a desperate bid to save his life, fellow protestors attempted to remove a bullet from his leg. Sadly, the young man never recovered. He is a victim not only of his wounds but of his society and a government that has failed to properly govern its citizens. Nigerian men and women, it appears, are being slaughtered by the very people elected to protect them.
Amnesty International Nigeria conducted an on-the-ground investigation and found that at least 12 people were killed by the Nigerian Army and police in two locations in Lagos on Tuesday evening. Amnesty called the shootings "extrajudicial executions".
One eyewitness told me he believes the killings at Lekki tollgate were a planned and coordinated attack. "The toll light that is always on for 24 hours was turned off. Who turned off the light?" he said. "[The Nigerian Army] was shooting at protestors in the dark [...] They were not shooting into the air; they were shooting directly into the crowd."
Pictures of CCTV cameras being removed from the tollgate earlier in the day and footage of ambulances allegedly turned away by the military also serve as potential evidence to support this belief.
The peaceful protests of the last fortnight have been calling for the disbanding of the Special Anti-Robbery Squad (SARS), a designated police force created in the '90s to counteract an increase in crime, particularly robbery and kidnapping in Nigeria. However, SARS has often been accused of brutality against civilians. Thousands of young Nigerians have now had enough of being mistreated by those in authority – SARS and beyond – and have taken to the streets to express their discontent.
Social media has been the fuel of these protests. It is the difference between this uprising and the ones Nigerians have witnessed in the past. The killings that happened at Lekki tollgate were live for anyone with a smartphone and internet connection to see. Yet the Nigerian Army sent out a Trumpian tweet saying, "Fake news". Lagos state governor Babajide Sanwo-Olu also went on national television the next day to deny that there were any fatalities – a similar strategy of disinformation used in an uprising in 1993 and during the Biafran War.
There are many questions being asked now. Who gave the order to shoot? Should Western powers impose sanctions? What can Nigerians in the diaspora do to help? Will the UN step in? And where is Nigeria's president and commander-in-chief of its armed forces, Muhammadu Buhari?
In response to the killings on Tuesday, a UK parliamentary petition to impose sanctions on the Nigerian government and its officials reached more than 200,000 signatures within 24 hours. But is this the best way forward?
Sanctions on the Nigerian state would hurt the poorest and most disadvantaged people, rather than those in power. Nigerians at home and abroad are instead calling for targeted sanctions on public officials and their families. Removing visas, banning them from entering European countries, blocking them from hiding their money in places like the UK, and stopping them from making their annual health check-up trips to Europe would hit them where it hurts most.
But others believe that any Western intervention would be pouring fuel onto the fire, not least because of the danger of reopening colonial wounds. There is also distrust. Will Western powers act in the best interest of Nigeria?
Activist Eniola Hu said on Twitter: "Their meddling ALWAYS results in exploitation. Colonialism is how we got here in the first place! Also, look how they treat black people in their countries. If they must help, they must ONLY follow OUR lead."
I too would be apprehensive about bringing in Western countries, like some imported political messiah. However, just 60 years ago the British government was still profiting from having Nigeria as a colony and many of the issues today are a direct effect of colonisation. Knowing this, the UK cannot stand by and watch this travesty unfold.
Meanwhile, there is still silence from President Buhari who is yet to address the nation in the wake of these killings. Lagos governor Sanyo-Olu said in his televised speech on Tuesday that "forces beyond our direct control" were responsible for the events that took place at Lekki tollgate. Take from that what you will.
However, Nigerians have had enough. A society that is afflicted by a lack of opportunity, brain drain, inadequate healthcare, lack of constant electricity, and police brutality was always a ticking time bomb. Nigerians have had enough of a society that seeks to suppress and waste their talents and skills. They have had enough of silent, ageing kingmakers who move in the shadows, lining their own pockets at the expense of millions of citizens.
A toxic mix of resigning in despair to the status quo and a deep cultural belief of respecting one's elders has until now prevented young Nigerians to believe they could change the course of the country they so love. However, what we are witnessing is a Nigerian government wholly unprepared for battle with a generation that is more stubborn and focused on change than the last. This generation of young Nigerians is fed up of being fed up. They are equipped with technology and social media, which helps to mobilise quickly, and now, after the Lekki massacre, they feel they have nothing to lose.
The same old political tricks of saying nothing, doing nothing or outright lying and denying fatalities of Nigerian citizens simply will not wash in an age where everything is recorded on a phone.
The lives lost at Lekki tollgate cannot be in vain. Too much has happened for young Nigerians to turn back now. Diasporans may feel helpless but there is much they can do to support by donating towards grassroots projects, such as Feminist Coalition, which has provided food and medical aid for protestors.
Despite celebrities like Beyonce, Naomi Campbell, John Boyega and Anthony Joshua lending their voices to the movement, the muted coverage of this story in the Western media is worrying and suggests that traditional gatekeepers of the media cannot be relied upon to create greater awareness. The Nigerian diaspora helping to keep the conversation alive on social media is imperative. Already we have seen protests outside of Nigeria in London, Toronto, Paris and Melbourne.
Flags once used in peaceful protest at Lekki tollgate were then used as makeshift bandages to stem the blood flow of those who had been shot. A blood-stained Nigerian flag has now become a symbol of the ramped-up #EndSars protests. This may be the beginning of a revolution or the painful birth of a new nation.
Either way, Nigeria, it is now or never.
Register for free to continue reading
Registration is a free and easy way to support our truly independent journalism
By registering, you will also enjoy limited access to Premium articles, exclusive newsletters, commenting, and virtual events with our leading journalists
Already have an account? sign in
Register for free to continue reading
Registration is a free and easy way to support our truly independent journalism
By registering, you will also enjoy limited access to Premium articles, exclusive newsletters, commenting, and virtual events with our leading journalists
Already have an account? sign in
Join our new commenting forum
Join thought-provoking conversations, follow other Independent readers and see their replies