Theresa May's survival depends on England beating Croatia in the World Cup semi-finals
Margaret Thatcher fell from power just four months after England's World Cup defeat to West Germany during the semi-finals in 1990. So, what should May expect?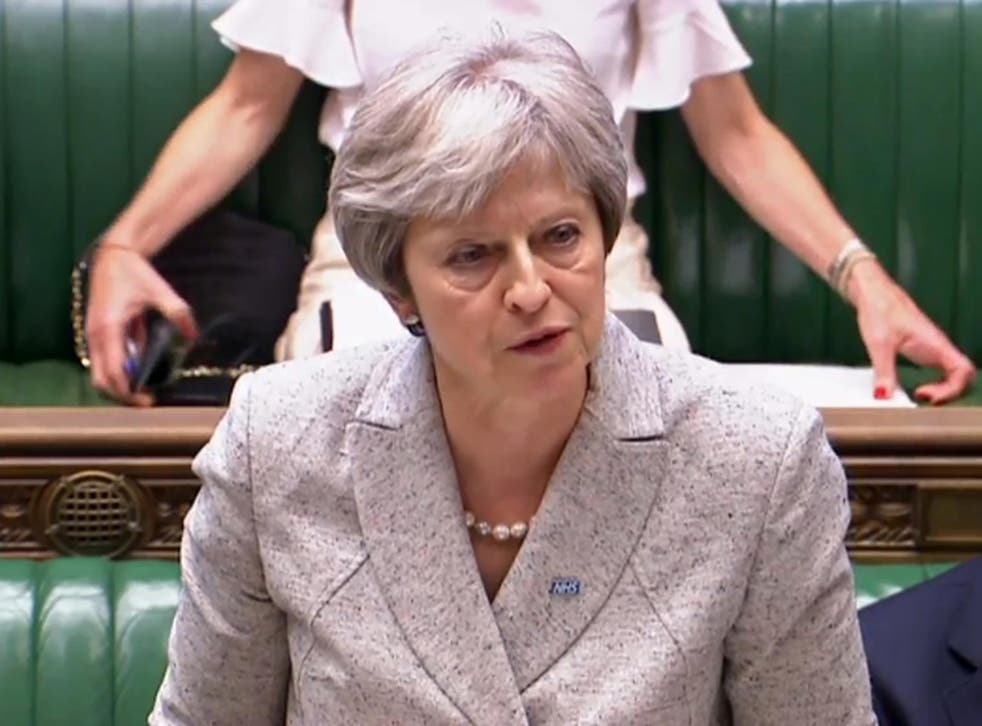 If you have any appetite for England reaching the World Cup semi-finals, the lesson is clear: it's your patriotic duty, regardless of personal politics, to keep electing Conservative governments (however narrowly) led by women.
That's the disturbing news for Jeremy Corbyn. Before we come to the worrying news for Theresa May, be reminded that Margaret Thatcher was prime minister the last time England made it to the final four, back in 1990.
God appears to be the rarest of creatures in two ways. One is being God, which is unusual in itself. The other is in being a Conservative feminist, which is more unusual by far.
When No 10 has a male occupant, he reduces the Three Lions to the 11 scaredy-cats. Paralysed by fear, they give every impression of having met for the first time in the tunnel and never having seen a football before even at school.
With a woman in Downing Street, she not only creates a team of leonine fearlessness and agility; she does what she once did for Moses by parting the Red Sea. She clears the path towards the promised land, by removing serious obstacles from the draw.
In 1990, England reached the semis by beating Belgium (useful, but nothing like this lot) and Cameroon – the loose equivalent of scraping past Colombia and brushing aside Sweden.
And so that worrying news for May. Four months after Chris Waddle ended the idyll by blasting his penalty into the ionosphere above Turin, Thatcher was gone.
She blamed her cabinet's "treachery with a smile on its face". Then as now, hysterical screeches about betrayal were all the Europhobic rage. The rage persists under a second female Tory prime minister, who begins to look Thatcher's equal in obduracy terms.
If her cabinet thought it was all over for May, it isn't now. Not yet anyway. After her soft Brexit "triumph" at Chequers, she looks more secure than at any time since 9.59pm on 8 June 2017, seconds before the exit poll announced her Iceland moment.
Somehow she had managed to throw away an early lead against opposition regarded as laughably inferior and smugly underestimated. But however crushing a defeat in psychological terms, technically it was a draw. Unlike Roy Hodgson, she didn't quit on the spot. She hung around for extra time and bribed the DUP.
More than a year on, while she still looks as tactically clueless on Brexit as Steve McClaren, you wonder whether her strategy for taking on Brussels is similar to Gareth Southgate's in the group game against Belgium.
Could it be that she is sending out a B team or a C team, given that David Davis wears the captain's armband, with every intention of losing – or what her hard Brexiteer colleagues see as losing – to narrow the odds against a longer-term victory – a victory, specifically, over the ultras' semi-nihilistic desire to burn this country on an ideological pyre, as represented by Boris Johnson's alleged "f*** business" remark?
If you still need to gauge the ultras' poisonous stupidity, I present the Tory MP for North West Leicestershire. A disgrace to the county in which Harry Maguire – may she spare his bones – plays his domestic football. Andrew Bridgen is one of those Tories (Bernard Jenkin, Iain Duncan Smith, et al) to whom screeching about Euro-betrayal is self-aggrandising mother's milk.
UK news in pictures

Show all 50
His latest fifth columnist is Boris himself. It takes impressive naivety to be shocked – shocked! – when the foreign secretary doesn't resign on principle so soon after the Heathrow airport runway vote. But to Bridgen, who said on Sunday that the soft Brexit agreement is "nothing short of a betrayal of the 17.4 million who voted to leave the EU", Boris is the arch appeaser. "At Chequers on Friday, we needed him to emulate his hero, Winston Churchill. Instead, he gave us a modern-day version of Neville Chamberlain."
We already had a tiny inkling that, to Bridgen and his ilk, Brexit is less about free trade and mythical "sovereignty" than a boy's own fantasy rerun of 1940, with defiant little Britain standing alone against the massed ranks arrayed across the Channel.
So, perhaps it's as naive to react to his reference as it is for him to be startled about Boris. Even so, any comparison between modern Germany and Hitler's Reich never entirely loses its shock power.
What is shocking isn't just the level of offensive stupidity. It's the genuine perception of Germany for which the EU stands as a proxy of a contemporary enemy of Britain.
Even the analogy is gibberish. Neville Chamberlain was a decent man who became modern history's greatest chump out of noble desperation to avoid another war so soon after the last one.
Boris Johnson is a craven narcissist who calculated, wrongly as it now seems, that starting a war was his route to power. With Michael Gove and Liam Fox observing collective responsibility (for now) as he is far too grand to do himself, he looks fatally isolated.
As for May, you needn't be remotely naive to be astonished by her bounce-back ability, whether her trek through the Brexit desert has led her to an oasis of security or to a mirage that will evaporate close up.
While the EU response to her plan may play a part in deciding that, according to the Thatcher model her survival primarily depends on the result against Croatia.
On the morning of the 1990 semi-final, this atheist Jew lit a candle in a Cardigan church and prayed for an hour to Him whose existence it seemed imperative to give the benefit of the doubt.
The error in my version of Pascal's wager, it's now clear, was in the gender assignment. Knowing this, Theresa May is strongly advised to carve some time from Wednesday's schedule for a private audience with Her upstairs.
Register for free to continue reading
Registration is a free and easy way to support our truly independent journalism
By registering, you will also enjoy limited access to Premium articles, exclusive newsletters, commenting, and virtual events with our leading journalists
Already have an account? sign in
Register for free to continue reading
Registration is a free and easy way to support our truly independent journalism
By registering, you will also enjoy limited access to Premium articles, exclusive newsletters, commenting, and virtual events with our leading journalists
Already have an account? sign in
Join our new commenting forum
Join thought-provoking conversations, follow other Independent readers and see their replies