Erdogan has military troubles of his own, but he still defends the Ottoman army over the Armenian genocide
A new book exposes the slaughter of more than a million Armenian Christians a century ago. It's quite a volume for the Turkish president to dip into, once he's finished purging his broken country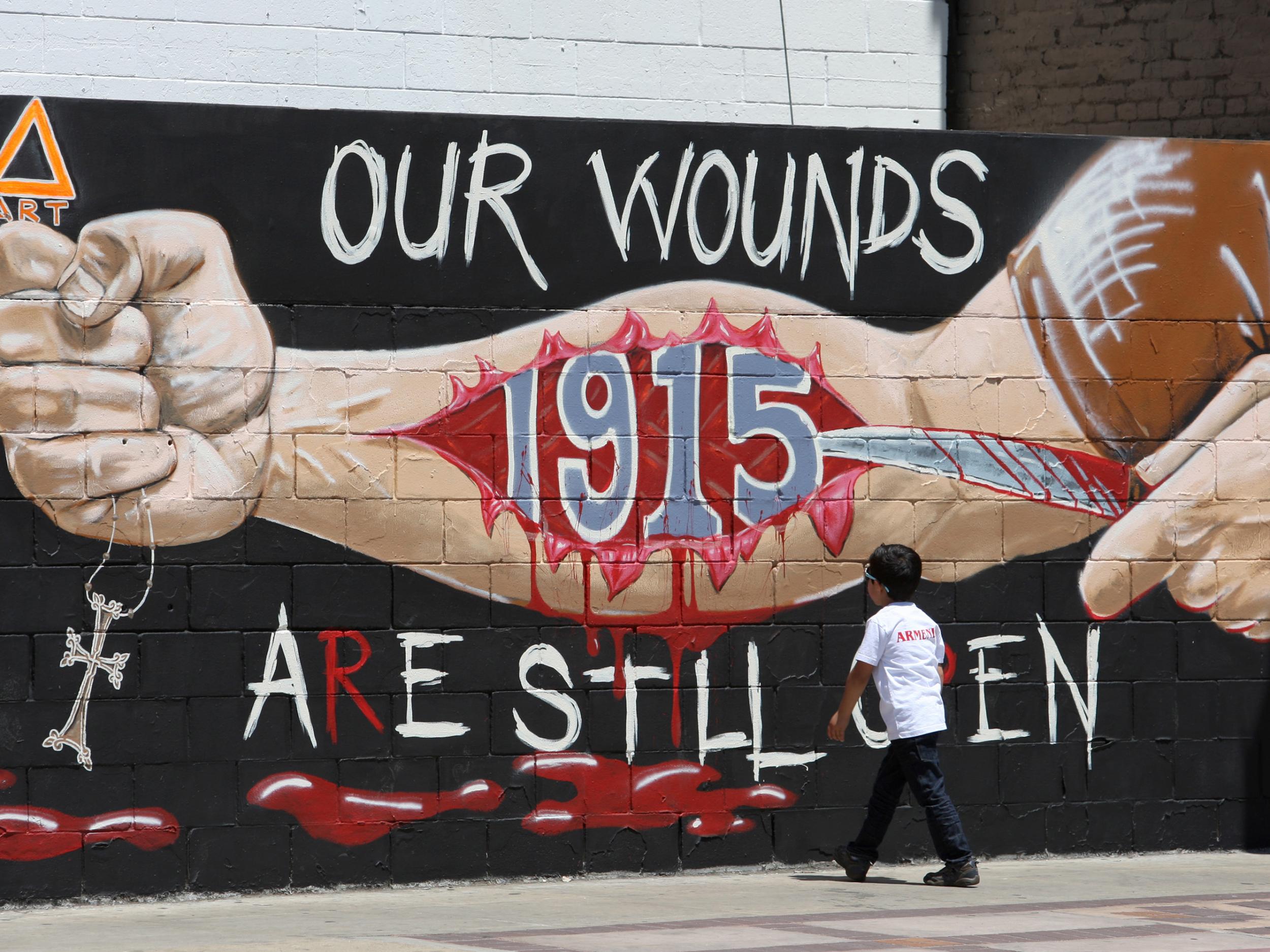 If Turkish President Recep Tayyip Erdogan wasn't so busy right now trying to emasculate his 600,000-strong Turkish army, he'd be raging about the contents of a new book that – with judicious research and painfully ironic timing – has just appeared in Australia with irrefutable proof of the 1915 Armenian genocide at the hands of Turkey's (then) 500,000-strong army.
The Turkish army, in the 1914-18 war, was intimately involved in the Nazi-like persecution and slaughter of one and a half million Armenian Christians. And it neither knew nor apparently cared that Australian prisoners of war were witnesses to the greatest war crime of the conflict. But now along comes a small Australian publisher with a highly researched volume, by Vicken Babkenian and Peter Stanley, in which the reader can find the testimony of Australian and other Allied prisoners who witnessed the dispossession and mass murder of the Armenians.
Some were survivors of the 1915 siege and surrender of Kut al-Amara in present-day Iraq, whose death march to prisons in Anatolia matched in brutality if not in numbers the killing of the Armenian population of Ottoman Turkey. Other Australian troops were captured at Gallipoli. Several were submariners whose vessel was seized by the Turkish navy.
They were Allied servicemen, not propagandists, and their attempts to help the doomed Armenians were as brave as they were innocent. Turks who still deny the knifing, beheading, mass executions and rape of the Armenians in a deliberate campaign of genocide – and Sultan Erdogan is one of them – will find it hard to challenge these witness statements.
Though he has other worries on his mind right now, Erdogan is so strong a defender of the old Ottoman army that he rearranged the date of last year's 1915 Gallipoli commemorations to obscure the anniversary of the start of the far bloodier destruction of the Armenian people on the same day. But when he's eventually finished destroying the army, judiciary, civil service and academic freedoms of present-day Turkey – perhaps on a subsequent, more relaxing holiday at Marmaris – Erdogan should take a look at the 324-page Armenia, Australia and the Great War.
In pictures: Turkey coup attempt
Show all 17
Here, for example, is Lieutenant Leslie Luscombe of the Australian 14th Battalion at Gallipoli, captured by the Turks and sent to Angora province where he saw "a sad and depressing sight" on a railway station platform: "a considerable number of Armenian women and children were huddled together" while "Turkish soldiers armed with whips" drove them onto sheep trucks "to transport them to some distant concentration camp". Just before Luscombe's arrival, the monks of the Armenian monastery in which he was to be held "had doubtless been liquidated". All the Australian prisoners were housed in abandoned Armenian houses.
One of Luscombe's colleagues, Corporal George Kerr, was sent to work on the uncompleted German Taurus mountain railway and lodged on the upper floor of a house whose occupants included "60 miserable creatures" (as he recorded in his secret diary), both Armenians and Greeks.
Captain Thomas White of the Australian Flying Corps, arriving under Turkish guard in the Ottoman city of Mosul (now, of course, the Isis "capital"), saw "Armenian women, reduced to beggary", pleading for food. He was marched to the abandoned Armenian town of Tel Armen where – although a few Armenian women and children were still present – the men were absent. After climbing a low hill, he found "36 newly made graves which spoke eloquently of what had become of the Armenian men". White described himself as "horrified at the Turks' handiwork", noting later that these massacres had been "simultaneous and to order throughout the entire country".
John Kerry: Turkey coup could threaten country's Nato membership
At this time, the Armenians of Ras al-Ein (a village now in the hands of the American-armed YPG anti-Isis militia) were being prepared for their death march to Deir ez-Zour and White wrote of seeing "a large camp of Armenians herded together after the general round-up from their homes, and waiting to be sent on marches that had always the same ending". After a train ride to Afion, White and others were housed in a church from which Armenian survivors had been driven to make way for them. "Their menfolk had been killed and furniture confiscated" and now "they were being turned into the street from their last possible sanctuary". He found a burial ground of Armenians, some of whose bodies were "so close to the surface that their bones protruded".
On the British-Australian-Indian prisoners' 2,000km death march northwards to Anatolia from Kut, two POWs discovered a well at the back of a village house filled with "the mutilated remains of the murdered Armenian women and children". In total, 70 per cent of the British POWs who surrendered at Kut and 30 per cent of the Indians died in captivity. By September 1916, the dead Allied POWs were themselves being buried in the Armenian cemetery at Afion. At Yozgat, Allied prisoners were placed in empty Armenian houses whose owners had been "massacred" and their shops pillaged, according to engineer Captain Kenneth Yearsley.
The Armenian massacres continued long into 1918 in the east of Turkey – where, to the credit of the books' authors, they record the slaughter of Muslim villagers by Armenians – but in the north of Mesopotamia, Colonel Stanley Savige, an Australian Gallipoli veteran, and his men found themselves fighting 10-to-one against Turkish and Kurdish cavalry killing the stragglers from an Armenian refugee column. They had found them – "old men, weak and wounded women, deserted infants and crippled children" – and, under fire, pulled women and children onto their horses, leaving, "with aching hearts", cripples and infants to their fate. Captain Robert Nichol, a New Zealander, was killed as he fought for the Armenians' lives.
As General Allenby's victorious army surged through Palestine and into what is now Syria in 1918, they found thousands of Armenians, starving and dying, most of them women and children, up the long road from Damascus to Homs and Hama and Aleppo – a melancholy highway in today's ghastly Syrian conflict – and then again around the Turkish city of Diyabakir. Australian cavalrymen emptied their supplies and water bottles for the Armenians.
Ancient Diyabakir still existed then; much of it has now been destroyed by the present-day Turkish army (including those who plotted against Erdogan last week) in their battle against the Kurdish PKK.
Quite a volume for Sultan Erdogan to dip into, then, once he's finished purging his broken country.
But I suppose he can always claim – evidence notwithstanding – that the Ottoman government wasn't responsible for the Great War Armenian genocide on the grounds that its soldiers, like his own, simply took the law into their own hands.
Join our commenting forum
Join thought-provoking conversations, follow other Independent readers and see their replies