The Independent's journalism is supported by our readers. When you purchase through links on our site, we may earn commission.
Turkey's Erdogan is one of the biggest threats to peace in the Middle East – the sooner the US realises the better
As long as Turkey is at war with the PKK, that war will not be confined to Turkey's borders. It is a situation that threatens the stability and security of US partners and allies in Syria and Iraq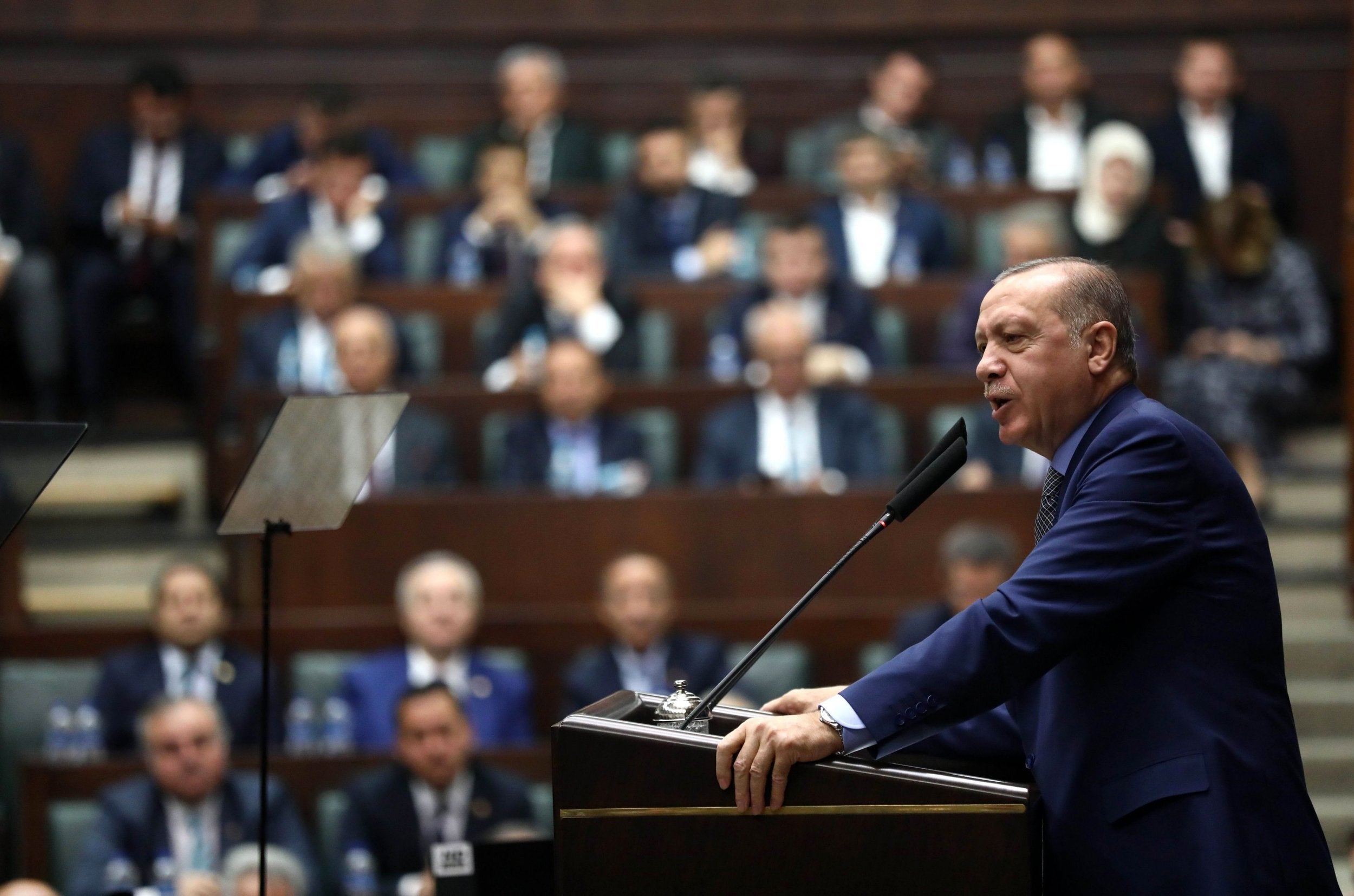 This week, United States national security advisor John Bolton said American military personnel would not leave Syria until an agreement was reached in Turkey to protect the Syrian Kurds. At a time where US policy in that region changes day by day, the veracity of his statement is uncertain – but Turkish president Recep Tayyip Erdogan has taken it as a declaration of war, refusing to meet with Bolton and threatening that Turkish forces could move into Syria "as soon as the meeting is over."
That a simple offer of protection for the forces who have formed the United States' most effective allies against ISIS would spur such a response shows how far the two countries have diverged, even as Turkish officials take the promised withdrawal as a positive step. It also highlights an inconvenient reality: Erdogan is only intervening in Syria to attack Kurdish self-government and consolidate domestic support.
Erdogan maintains that his fight in Syria is not with the Kurdish people, but with "terrorism" – a claim Kurds in Turkey know all too well. The AKP government's war on terror has always been a war on democratic Kurdish political participation, leaving dozens of elected officials jailed, thousands of voters disenfranchised, and millions of men, women, and children afraid to speak their first language in public for fear of violence. In the meantime, that same government has turned a blind eye to terror groups that threaten Turkey, Syria, and the world.
My party, the HDP, has faced this double standard first hand. Ten of our elected members of parliament, including former HDP co-chair Selahattin Demirtaş, are currently jailed on fabricated charges, accused of terrorism for statements supporting peace negotiations between Turkey and the PKK that took place between 2013 and 2015. The most devastating ISIS attack in Turkish history targeted a 2015 peace rally that we took part in organising. That tragedy took place a year before Turkish forces officially intervened against ISIS in al-Bab and Jarablus, when Islamist fighters still used the country as a "rear base" for their operations against the Syrian regime.
Erdogan's threatened intervention in Northeast Syria would be a repeat of this pattern: attacks on the region's pluralistic and democratic institutions, at the expense of the global fight against terrorist groups that threaten us all. Such an outcome will be disastrous for Syria, Turkey, or the international community as a whole.
Treating peace in Turkey and peace in Syria as separate initiatives, as has been US policy, will doom both processes to failure. As long as Turkey is at war with the PKK, that war will not be confined to Turkey's borders – a situation that threatens the stability and security of US partners and allies in Syria and Iraq. The most recent round of peace negotiations was supported by 81 per cent of the Turkish population and resulted in a two-year ceasefire – during which Turkish troops were even able to conduct a successful joint operation with the same YPG that Erdogan now seeks to eradicate.
Support free-thinking journalism and attend Independent events
The United States has options to prevent Erdogan's threat of intervention – and to work towards a more sustainable model of US-Turkey relations in the process. To do so, it must stop making policy by statement, and instead must lay out a clear strategy for Turkey and for Syria that protects democracy and supports locally-driven initiatives for peace. That strategy must recognise that the two conflicts – the Turks' battle against Kurds in Turkey, and in Syria – are connected, and that one cannot be solved without the other. It must also acknowledge the democratic forces in Turkey who have opposed Erdogan's destabilising foreign policy and called for peace at a great cost.
And so despite the clear benefits of the two year ceasefire between the PKK and the Turkish government – for Turks and Kurds alike – that process failed in part because no third party invested in its success. US officials still have significant leverage with their Turkish allies, and the PKK's leadership has made several calls for American mediation. No other country is as well situated to invest in peace as the United States is – and the gains for regional stability and international credibility are something the United States would benefit from.
To do this, the United States must support the people within Turkey who have made this demand all along, in the face of significant state repression. American pressure has freed political prisoners around the world in the past – and American support for the elected officials removed from office and jailed for serving their constituents could go a long way towards showing the AKP government that the world is serious about supporting peace and opposing the crackdown. A more pluralistic and democratic Turkish government is a better neighbour and ally – something regional and international powers could easily support.
Right now, the United States has a choice between prolonging two wars and ending them. For the sake of democracy and peace, the Middle East and the world advise them to choose wisely.
Giran Ozcan is the Peoples' Democratic Party (HDP) representative to the US. The HDP is a pro-Kurdish, pro-minority political party in Turkey
Join our commenting forum
Join thought-provoking conversations, follow other Independent readers and see their replies