Europe has a troublingly short memory over Serbia's Aleksander Vucic
The Serbian Prime Ministser is saying all the right things to ease his country into the EU. But Vucic, who attended the Srebrenica memorial service last year, once said, "for every Serb killed, we will kill 100 Muslims"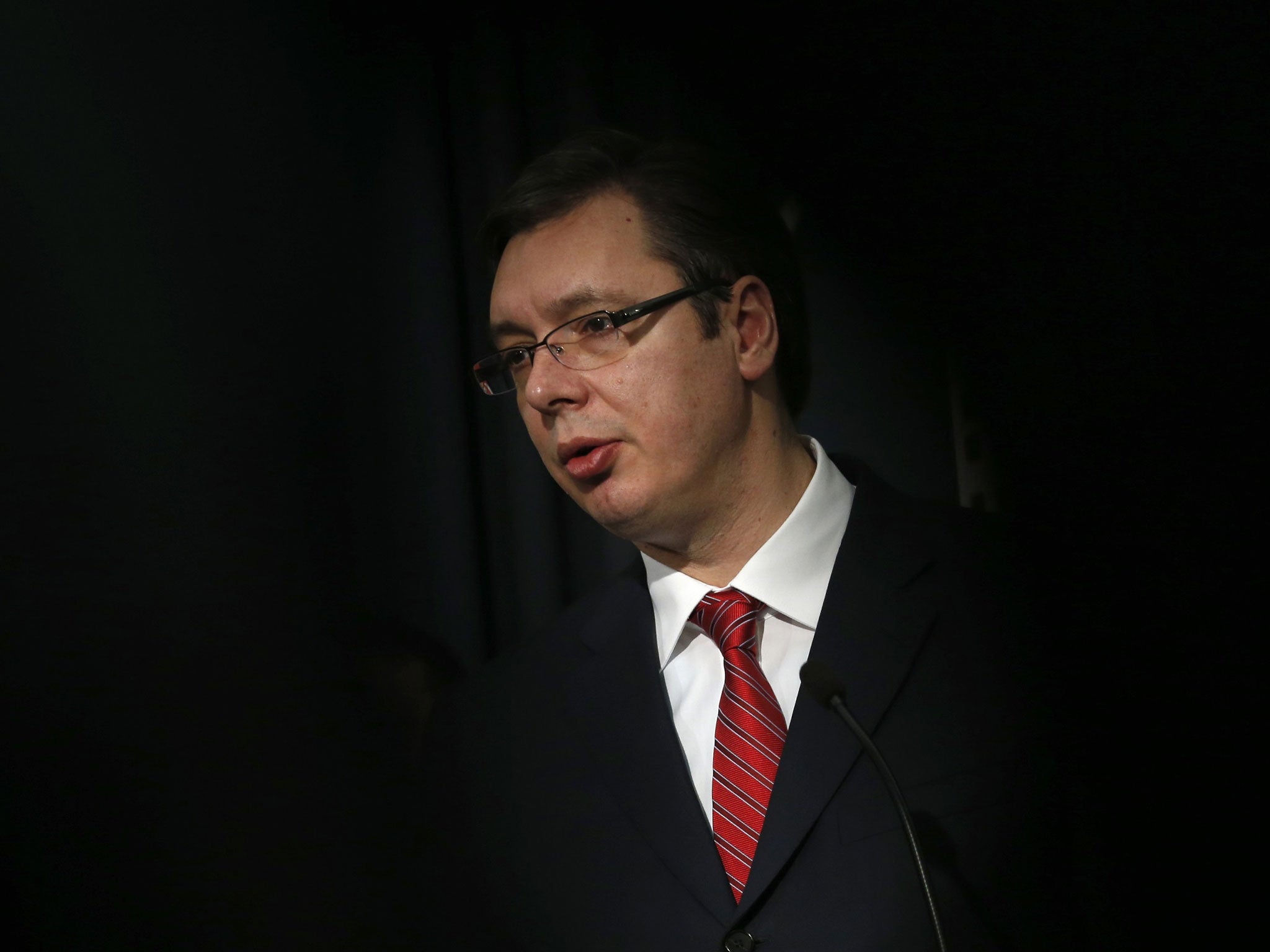 Ask me for my nationality and I'll tell you I'm a European. No Brexiteer, I. But there are times when I do wonder if the EU doesn't cosy up too much to some very unsavoury folk.
In my archives, I have tens of thousands of pages of notes, clippings, documents and reports from the Middle East over 40 years. Some of those files also cover the Bosnian war. I have in front of me a dispatch I wrote 18 years ago, when I was in the Kosovo capital of Pristina – still part of old Serbia, still controlled by the thugs of the Serbian paramilitary police, and already partially controlled by the so-called Kosovo Liberation Army.
Down from the Serbian capital of Belgrade on 18 June 1998 comes this rather suave, dangerous young man – I unkindly referred to "his baby face, thick lips and quick smile" – who tries to persuade us journalists that all dictator Slobodan Milosevic wants in Kosovo is peace, dialogue and human rights for everyone, including the 90 per cent Muslim Kosovar Albanian population. Not a word of Serbia's suppression of Kosovo's autonomy nine years earlier.
Given that he was Milosovic's information minister, and not long before that the spokesman for Vojeslav Seselj, leader of the Serbian militia which ethnically cleansed much of Bosnia and who said that his men had graduated to "rusty shoehorns" in putting out Croat eyes, we didn't expect this dapper gent in his smart blue blazer with shiny buttons to say much about ethnic cleansing.
Serbia: PM Vucic condemns Hungary s anti-migrant wall proposal
Was the minister aware, I asked him, that large areas of Kosovo were under the control of armed Albanian separatists?
"This is good justification for the presence of [Serbian] government forces on this territory," he replied. And there was no reason to use comparisons with Bosnia and – here we all held our breath – with "the vocabulary of the situation in Srebrenica."
Ah yes, the problem of 'vocabulary' – words like massacre, rape, pillage, the worst European war crime since 1945. That word "situation" came from Vucic's lips, a craven, pusillanimous expression for the execution of more than 8,000 Muslims into mass graves that followed the 1995 surrender of the UN 'safe haven' of Srebrenica to the Serb murderers.
The "vocabulary of the situation in Srebrenica": here was the Serbian minister, less than three years after the slaughter, palming us off with this Blairite expression while lecturing us on civic duty, constitutional rights, patriotism and non-violence.
When he mentioned Srebrenica, without the slightest emotion in the midst of his creamy propaganda, it was like finding a splinter of glass in a piece of chocolate, a little horror buried away amid the soft undergrowth of words.
So why should we be surprised – again, less than three years after this chilling press conference in Pristina – to find the same tall, rather gangling but smart young man accompanying the monstrous Vojislav Seselj (under a veil of secrecy and in the company of Iraqi security agents) to Baghdad as a guest of Saddam Hussein's Ba'ath party?
Seselj held a long meeting with Saddam – Iraq was at the time crushed by ten years of crippling sanctions which were imposed following Iraq's 1990 invasion of Kuwait – after landing at Damascus airport in Syria and being escorted by both Syrian and Iraqi escorts to the border post at Wadi Ash Shalan for the overland journey to Baghdad.
But now I must introduce you to this ambitious chap whose boss was housed in one of Saddam's guest villas and who joined the Iraqi dictator in a joint condemnation of American aggression. Yes, the former Milosovic minister of information – who knew very well that Saddam had sent telegrams of mutual support to Milosovic at the height of the 1999 Kosovo war when the Serbs, under NATO air attack, were driving 200,000 Muslims out of Kosovo – is none other than the present-day Prime Minister of Serbia.
That man is Aleksander Vucic, who wants to take Serbia into the EU and is thus loved by our EU mates in Brussels and who is now advised by – no drawing in of breath here, please – Tony Blair. And since Blair has now 'advised' the dictator of Uzbekistan and more recently the Egyptian coup leader, Brigadier General President al-Sissi, Vucic is in good company.
A safe pair of hands, then, greeted warmly these days in Downing Street and Brussels; not just a prodigal son, but a man whose decision to accept a compromise UN resolution on Kosovo –acknowledging a World Court ruling that Kosovo's independence declaration was legal – was embraced by our Brussels elite as a "major breakthrough". All of which will accelerate Belgrade's request for membership of the EU. Blessed are the Peacemakers.
Marcus Tanner: A coup that has shown Serbia at its best and worst
Show all 2
Vucic, of course, is doing all the right things. He now runs the Serbian Progressive Party, is heartily loathed by his old friend Seselj – who was cleared of war crimes in Bosnia after eight years of imprisonment at The Hague – and even turned up at the Srebrenica memorial service last year, where Bill Clinton rashly urged mourners to shake him by the hand.
Vucic laid flowers at the cemetery. The Bosnian Muslims, however, had longer memories than the smoothies from the EU. They recalled a Vucic speech from the Bosnian war years – "For every Serb killed, we will kill 100 Muslims" – and they pelted him with stones and bottles.
Only a few days earlier, the wretched Vucic had urged Russia to block a UN resolution that would have condemned the Srebrenica massacre as genocide, an act which the EU had typically ignored, but which made Bosnian Muslims very angry. Thumbing through my old notes from 1998, of course, it all makes a lot of sense.
It was the same old problem: Vucic's difficulty, despite the flowers, was all about "the vocabulary of the situation in Srebrenica". Massacre, yes; genocide, no.
Not to worry. Lord Blair himself – the guy who bombed Serbia for its 'cleansing' of the Muslims of Kosovo – is on hand to smooth the path to greatness of Aleksander Vucic as he leads his nation into the comity of European nations. With friends like these...
Join our commenting forum
Join thought-provoking conversations, follow other Independent readers and see their replies