Ursula von der Leyen's first task? Get member states to cooperate on the issues we citizens care about
Sixty-three per cent of Europeans want to see more cooperation as a result of Covid-19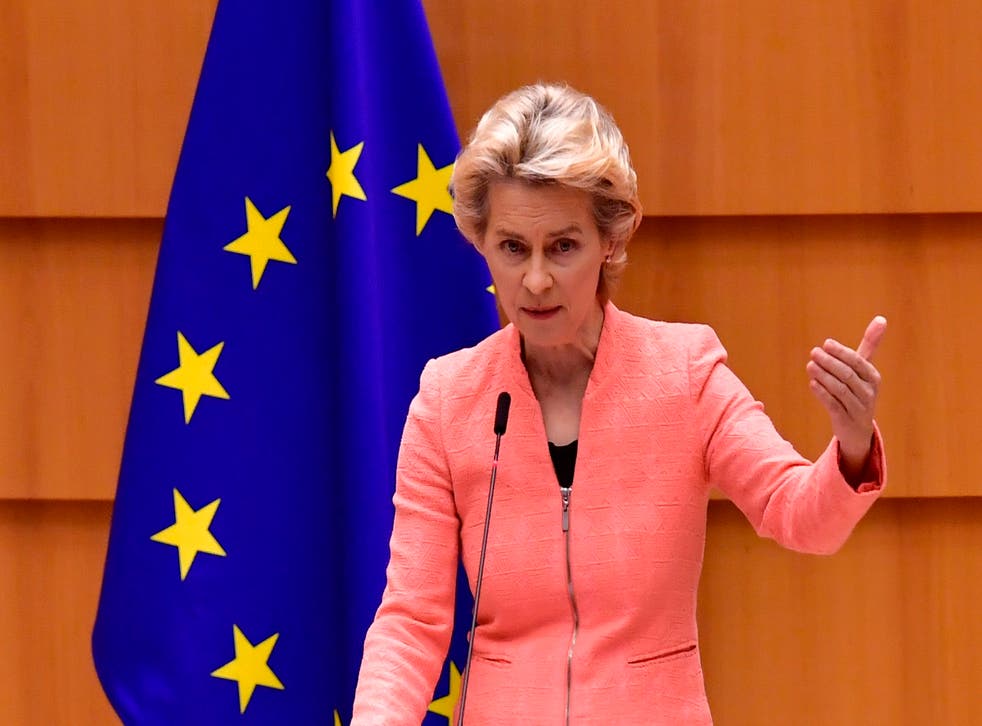 Last year, the president of the European Commission, Ursula von der Leyen, promised a geopolitical commission with a stronger, more unified voice in the world that could protect European strategic sovereignty. It was a timely idea. Nearly one year on, with a global pandemic scrambling everything, European citizens are counting the cost of the absence of a geopolitical Europe.
In the midst of a pandemic, great powers are turning the links between countries into weapons. China has threatened to withhold medical supplies from European countries that do not support it politically. The US threatens economic sanctions to impose its Iran policy on Europeans. And Turkey threatens to send refugees into Europe if the EU does not pay it money or back it on Libya.  
Polling by the European Council on Foreign Relations shows that these developments have led large majorities to see that acting together is necessary to preserve national sovereignty in an increasingly dangerous world, with 63 per cent of Europeans wanting to see more European cooperation as a result of Covid-19.  
Despite this clear demand from the citizens, Von der Leyen's 2020 State of the Union failed to mention the concept of a geopolitical commission. She presented a laundry list of problems but gave little sense that Europe needs to revise its overall approach to geopolitics.
What happened, and why has it been so hard to create the commission that Von der Leyen promised?
The first issue is EU member states. All of them want a more geopolitical Europe, but most mean that they want the EU to take their specific problems more seriously. For the states in East that means a focus on Russia; for the states in the South, it means paying attention to the troubles across the Mediterranean. For much of northern Europe, it means protecting the EU against Chinese trade depredations.
The State of the Union speech proposed introducing qualified majority voting in foreign policy, at least on human rights and sanctions issues. This is an important step, but all it does is provide a manner to ignore recalcitrant states. A better course than overriding member states on issues that matter to them is to give all EU member states a sense that Europe is their first line of defence in these areas.
The second is the machinery in Brussels that Von der Leyen nominally controls. A geopolitical approach means using all tools of governance to achieve geopolitical objectives. So, the Americans can use their defence relationship with Europeans to demand trade concessions, while the Chinese use their dominance of medical supplies to punish the Dutch for their policy toward Taiwan. But the EU was specifically set up to avoid such crossovers. The idea of, say, using concessions on a trade deal to gain geopolitical concessions is anathema to those who are judged on the quality of their negotiations.
Unsurprisingly, this got little mention in her speech. Everyone in Brussels acknowledges that a geopolitical approach requires more coordination across the issues, but everyone thinks their organisation should do the coordination. Logically, the European External Action Service, led by Josep Borrell, seems the most obvious candidate. Yet it missed an opportunity to empower it.
The Covid recovery plan allows the EU to invest in building a more sovereign Europe on issues that citizens care about. This could include common stockpiles of medical equipment to tackle future pandemics, well-regulated databases to train artificial intelligence, investments in infrastructure to promote energy independence and carbon transition, and joint defence projects and investments.
Von der Leyen pushed many of these ideas in her speech. But without a focus on the geopolitical aspects of these initiatives, they will likely flounder on competition between member states and Brussels institutions.
It is still early days in Von der Leyen's mandate. But it is not too soon to set the institutional bases for success. The EU has all the tools necessary takes to make it happen. To realise that potential, Von de Leyen needs to confront the fact that there are powerful interests in the member states and in Brussels that understand the idea of geopolitics very differently than she does.
Jeremy Shapiro is research director at the European Council on Foreign Relations
Join our new commenting forum
Join thought-provoking conversations, follow other Independent readers and see their replies