Hitchens defeats Blair in Canadian religion debate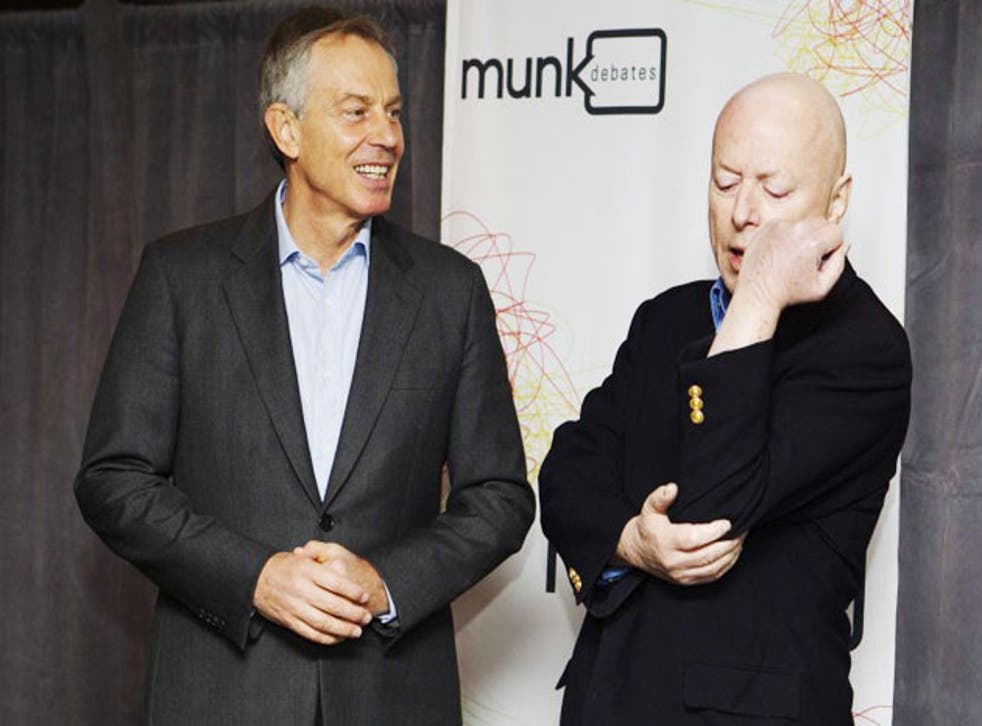 Tony Blair told an audience member at a debate yesterday that his religious beliefs did not play a role in his decision to support the US invasion of Iraq - but the votes went 2-1 the way of his opponent, Christopher Hitchens.
The former prime minister said it was true that "people commit horrific acts of evil in the name of religion". But Mr Blair, who converted to Catholicism in 2007, said it was also true that religion inspires acts of extraordinary good.
And he said it was important not to condemn all people of religious faith because of the "bigotry or prejudice shown by some".
Mr Blair also told the 2,700-strong audience in Toronto, Canada, the invasion of Iraq was "not about religious faith" but decisions on the war were "based on policy".
He said it was "futile" to try to "drive religion out" and it was more important to concentrate on how to get people of different faiths to work together, particularly in the Middle East where the conflict would only be resolved if people worked across the "faith divide".
Sceptic Mr Hitchens, who has terminal cancer, likened God to a "celestial dictatorship, a kind of divine North Korea".
He appeared to win over the audience, which voted two-to-one in his favour following the debate, which argued the motion "be it resolved, religion is a force for good in the world".
Mr Blair, 57, who became a practising Christian while studying at Oxford University, said: "It is undoubtedly true that people commit horrific acts of evil in the name of religion.
"It is also undoubtedly true that people do acts of extraordinary common good inspired by religion."
He pointed to the good done by faith based organisations, including the millions of lives saved in Africa and care for the mentally ill, disabled and destitute, adding: "The proposition that religion is unadulterated poison is unsustainable.
"It can be destructive, it can also create a deep well of compassion, and frequently does."
Mr Blair said the common thread running through all faiths was to "do unto others as you would have them do unto you" and continued: "(Faith) answers a profound spiritual yearning, something we feel and sense instinctively.
"This is a spiritual presence, bigger, more important, more meaningful than just us alone, that has its own power separate from our power, and that even as the world's marvels multiply, makes us kneel in humility not swagger in pride.
"If faith is seen in this way, science and religion are not incompatible, destined to fight each other, until eventually the cool reason of science extinguishes the fanatical flames of religion.
"Rather science educates us as to how the physical world is and how it functions, and faiths educates us as to the purpose to which such knowledge is put, the values that should guide its use, and the limits of what science and technology can do not to make our lives materially richer but rather richer in spirit."
Mr Hitchens, 61, said: "Once you assume a creator and a plan, it makes us objects, in a cruel experiment, whereby we are created sick, and commanded to be well.
"And over us, to supervise this, is installed a celestial dictatorship, a kind of divine North Korea."
He said it was not necessary to have "divine permission to know right from wrong".
And he said religion may promise salvation but the price was the "surrender of your critical faculties".
He continued: "Religion forces nice people to do unkind things, and also makes intelligent people say stupid things."
In a question from the audience Mr Blair was asked what role faith played in his decision to invade Iraq.
He said: "I think we can nail this one pretty easily. It was not about religious faith.
"You know, one of the things that I sometimes say to people is, look, the thing about religion and religious faith is if you are a person of faith, it's part of your character, it defines you in many ways as a human being.
"It doesn't do the policy answers, I am afraid.
"Even on the major decisions that are to do with war and peace that I've taken, they were decisions based on policy, and so they should be, and you may disagree with those decisions, but they were taken because I genuinely believed them to be right."
Register for free to continue reading
Registration is a free and easy way to support our truly independent journalism
By registering, you will also enjoy limited access to Premium articles, exclusive newsletters, commenting, and virtual events with our leading journalists
Already have an account? sign in
Register for free to continue reading
Registration is a free and easy way to support our truly independent journalism
By registering, you will also enjoy limited access to Premium articles, exclusive newsletters, commenting, and virtual events with our leading journalists
Already have an account? sign in
Join our new commenting forum
Join thought-provoking conversations, follow other Independent readers and see their replies