Trending: The turbulent priest with form for controversial comments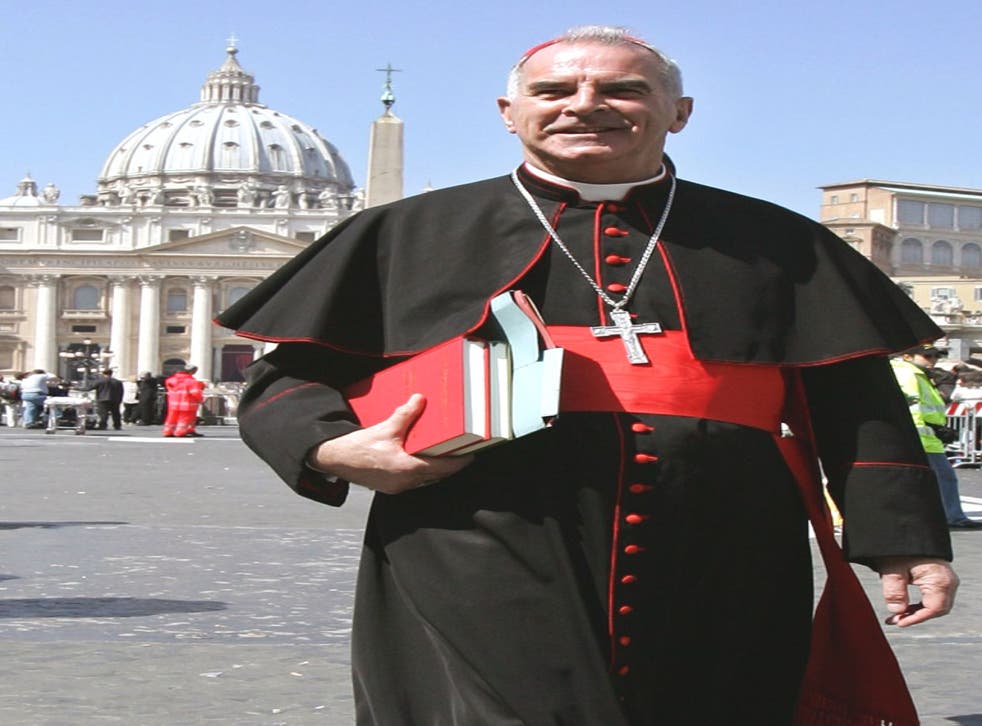 In the best tradition of Catholic archbishops, Britain's most senior priest is also its most turbulent. Writing in The Sunday Telegraph on 4 March, Cardinal Keith O'Brien called the prospect of gay marriage "grotesque", then likened it to the legalisation of slavery. Interviewed during yesterday's edition of the Today programme, he said the Government's proposed legislation would be an "aberration" that "shamed our country", "violated human rights" and caused society to degenerate "even further than it has already degenerated, into immorality".
The controversy-prone Cardinal was no less strident about civil partnerships when they entered the statute book, suggesting same-sex unions were akin to paedophilia: "What if a man likes little girls?" he asked a group of Scottish politicians in 2006. "Can he adopt a little girl and then just have a little girl at home?" Gay rights campaigner Peter Tatchell called him "a sad, sick man", but O'Brien speaks his mind on political issues – especially where he sees them intersecting with moral ones. He decried the replacement of the Trident nuclear missile system as "immoral".
He said he'd be "happy" if Scotland voted for independence. He invited Muslims to apologise for 9/11 and 7/7. When the US condemned the release of Lockerbie bomber Ali al-Megrahi, he criticised them for being "fixed on vengeance". In a 2007 sermon, he called abortion an "unspeakable crime" and equated the Scottish abortion rate with "two Dunblane massacres a day".
He also has previous with David Cameron's coalition: in February, the Scottish Catholic Church and the country's Deputy First Minister criticised the Westminster government, after it failed to invite O'Brien to join its delegation to the Vatican.
Since Cardinal Cormac Murphy O'Connor retired as Archbishop of Westminster in 2009, O'Brien has been the only British Cardinal to also head an archdiocese. But as leader of the Church in Scotland, he speaks only for those 750,000 or so Catholics north of the border. And, as Catherine Pepinster, editor of Catholic weekly The Tablet, explains: "The Scots have a tradition in the Catholic Church of being far more outspoken than their counterparts [in England and Wales]. Cardinal Thomas Winning, Keith O'Brien's predecessor, spoke very frankly about his opposition to abortion and attacked Tony Blair for not speaking out against it."
Like many Scottish Catholics, O'Brien has Irish immigrant roots. Born in Ballycastle, Co Antrim, on St Patrick's Day 1938, he soon moved with his family to Scotland, where his father served with the Royal Navy at Faslane. He was ordained in 1965 but, thanks to his degree in chemistry, taught maths and science in schools during the early part of his career.
He was nominated Archbishop of St Andrews and Edinburgh in 1985 and was long considered to be more liberal than the likes of Cardinal Winning.
Rising quickly under the mentorship of Pope John Paul II – whose death in 2005 he compared to "losing a father or grandfather" – in 2003 he became only the third Scot since the Reformation to be created a cardinal. While in his public pronouncements he subsequently grew more traditional and confrontational, he retains a reputation for friendliness and joviality in private.
"He is a very warm man," says Pepinster, "and engages with great humour and kindness. He isn't at all grand. I once had lunch with him in Edinburgh and he asked me about my next appointment, saying he would fix me a lift. I assumed this meant he'd order a taxi or get his chauffeur to drop me off. In fact he drove me himself – not in an official limo, but in a very ordinary hatchback."
One church tradition involves giving each Cardinal his own "titular church" in Rome. Those who have worked the system to their advantage are often awarded with some grand rococo basilica in the city's historic centre. But, in a sign either of his humility or of his disdain for political machination, O'Brien's is a 1980s-built church at the end of a suburban bus route, close to Ciampino Airport – identifiable by the Cardinal's coat of arms above the door and the Scottish saltire fluttering alongside it.
Register for free to continue reading
Registration is a free and easy way to support our truly independent journalism
By registering, you will also enjoy limited access to Premium articles, exclusive newsletters, commenting, and virtual events with our leading journalists
Already have an account? sign in
Register for free to continue reading
Registration is a free and easy way to support our truly independent journalism
By registering, you will also enjoy limited access to Premium articles, exclusive newsletters, commenting, and virtual events with our leading journalists
Already have an account? sign in
Join our new commenting forum
Join thought-provoking conversations, follow other Independent readers and see their replies