Why the Holy Grail is the ultimate unattainable object
Two Spaniards say that they have found the goblet used by Christ at the Last Supper. So is the ultimate treasure hunt finally over? Simon Usborne reports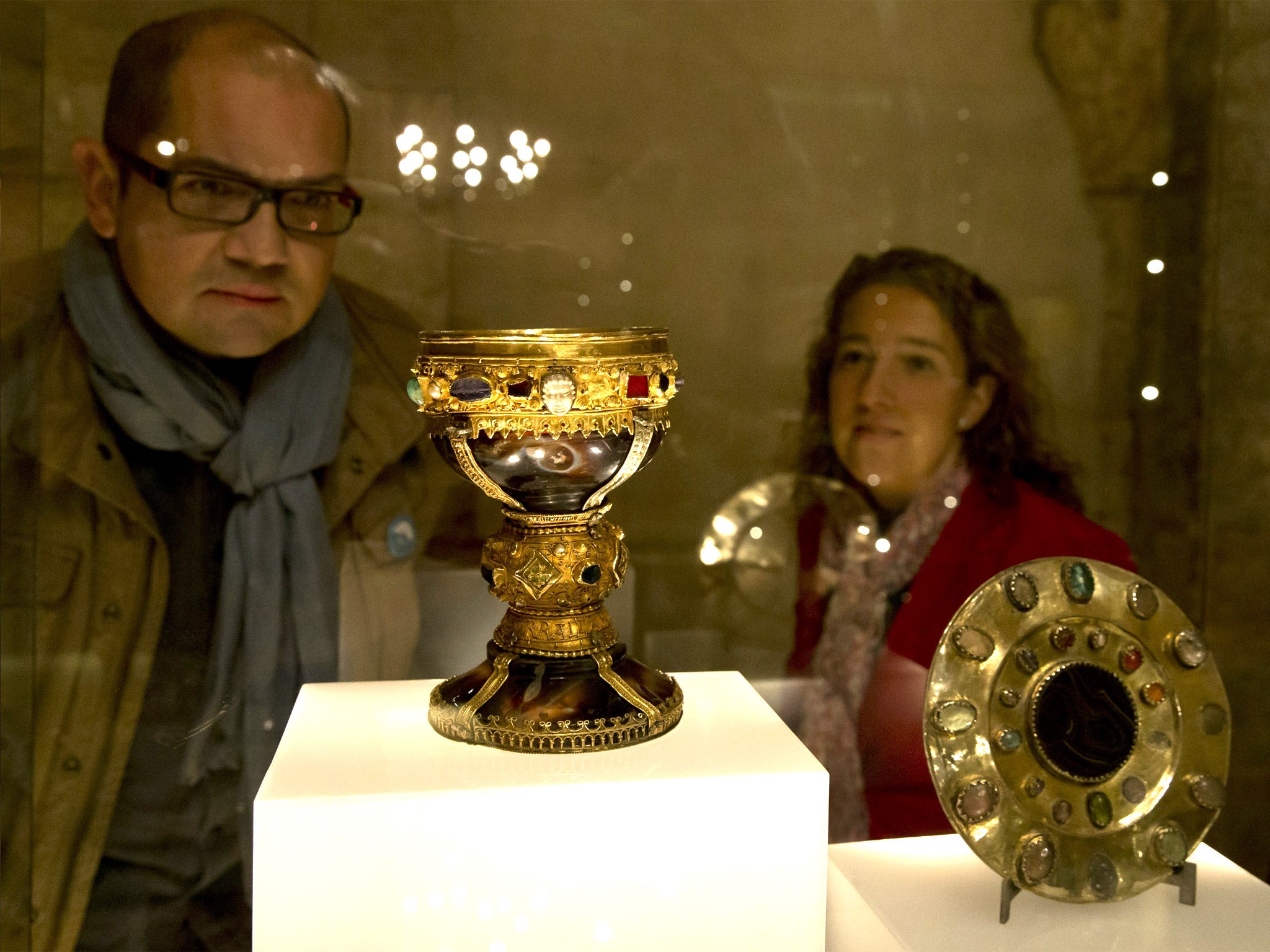 Hold the front page, call off the search, rewrite the dictionaries and the history books… they've only gone and found the Holy bloody Grail. The words can no longer be used to describe something that is "eagerly pursued or sought-after", because two Spanish historians have pursued, sought – and found – the religious relic. Praise be!
Such is the excitement that has greeted the discovery by Margarita Torres and Jose Manuel Ortega del Rio that the chapel where the ornate chalice is housed has been forced to remove it from view after it was besieged by visitors. Curators at the Basilica of San Isidoro in the north-western city of Leon (where Torres's university is also conveniently situated) say that they are now looking for a larger exhibition space.
It is, of course, a load of rubbish; no Holy Grail exists beyond the imaginations, writings and romantic longings of generations of writers, painters, film-makers, satirists and historians of varying academic heft (always with a book to sell). So why does the medieval myth about the cup that Jesus and his pals used at the Last Supper persist, inspiring the discovery, so far, of 200 Holy Grails in Europe alone?
A phone call to Richard Barber ought to provide the answer. An esteemed academic now in his seventies, he has specialised in medieval history and literature for several decades. In 2004, he published The Holy Grail: The History of a Legend, in which he embarked on his own quest to explore the cultural impact and significance of the non-existent cup (or was it a dish…?).
"Ah, yes, that sounds familiar," Barber says from his home in Suffolk when The Independent summarises breaking news of this latest historic breakthrough. "Give me a second and I'll run a quick check on the book."
The Spanish historians make their claim in Los Reyes del Grial, or Kings of the Grail, which is presented as a scholarly work. In it, they describe how Egyptian parchments that they unearthed in Cairo led them, after a three-year investigation, to a goblet of two parts made of gold, onyx and precious stones. It is, they conclude, the elusive Grail.
"One of the authors looks like a perfectly respectable Spanish medievalist, but I can see she has been publishing one or two more popular books," Barber says after a flurry of typing. "I think the answer is this is probably about publicity." He pauses. "Ah, yes, she writes historical novels."
Margarita Torres has a website that includes a page listing her novelas historicas, which include at least one "swashbuckling adventure". There is nothing wrong with this, of course, but, Barber says: "The fact that she also writes these books means that I don't think this latest work is entirely serious." Torres has not replied to requests for an interview.
Barber, who is more familiar than most with works of this type, now turns his attention to the new book's publisher. Reino de Cordelia ("Kingdom of Cordelia") is based in Madrid and otherwise appears to major in comic fiction. Helpfully, it makes available the first pages of its titles. Barber, who has working Spanish, scans the "Grail" book from his desk.
"It's littered with footnotes, which make it look frightfully learned, but there's something very odd going on," he says. "No scholar on earth would footnote anything as basic as John, Luke or Judaea. You just don't do that."
Unsurprisingly, Barber has swiftly revealed the new book to be a typical addition to a thriving genre. "You find an object and then fit it to the puzzle, so to speak," he says. "Then you say, 'I've got the answer to a puzzle that has endured for a thousand years…' The chances of it being right, therefore, are virtually nil."
There is more compelling evidence than the questionable rigour of these books that the quest is a fiction. The Grail – which, if it did exist, Barber says, would almost certainly be a modest earthenware affair – was also supposed to have been used to collect the blood of Christ at the Crucifixion. This imbued it with the power to offer men eternal life (as Sean Connery found in Indiana Jones and the Last Crusade). It was later lost, and finding it would become an obsession among the knights of King Arthur's round table – a test of heroism and manliness.
Great story – but, Barber explains, "until the end of the Middle Ages, it was purely found in the Arthurian romances. It is never referred to by any religious authorities other than a Spanish bishop in the 14th century."
What is it, then, that has so fascinated artists as diverse as Tennyson and Wagner, whose works helped to fuel a 19th-century explosion in a Grail obsession now evident in this book? "For much of the same reason people are so fascinated with Arthur," he says. "You can't find it and you won't find it. It is the ultimate unattainable object, a mystery that, because you cannot solve it, only becomes more attractive."
Join our commenting forum
Join thought-provoking conversations, follow other Independent readers and see their replies