The Independent's journalism is supported by our readers. When you purchase through links on our site, we may earn commission.
What do you do when the person you're in love with doesn't want a baby – and you do?
Perhaps, if we started to talk about male fertility more honestly, then the differences between women and men's attitudes, age and attention to parenting could change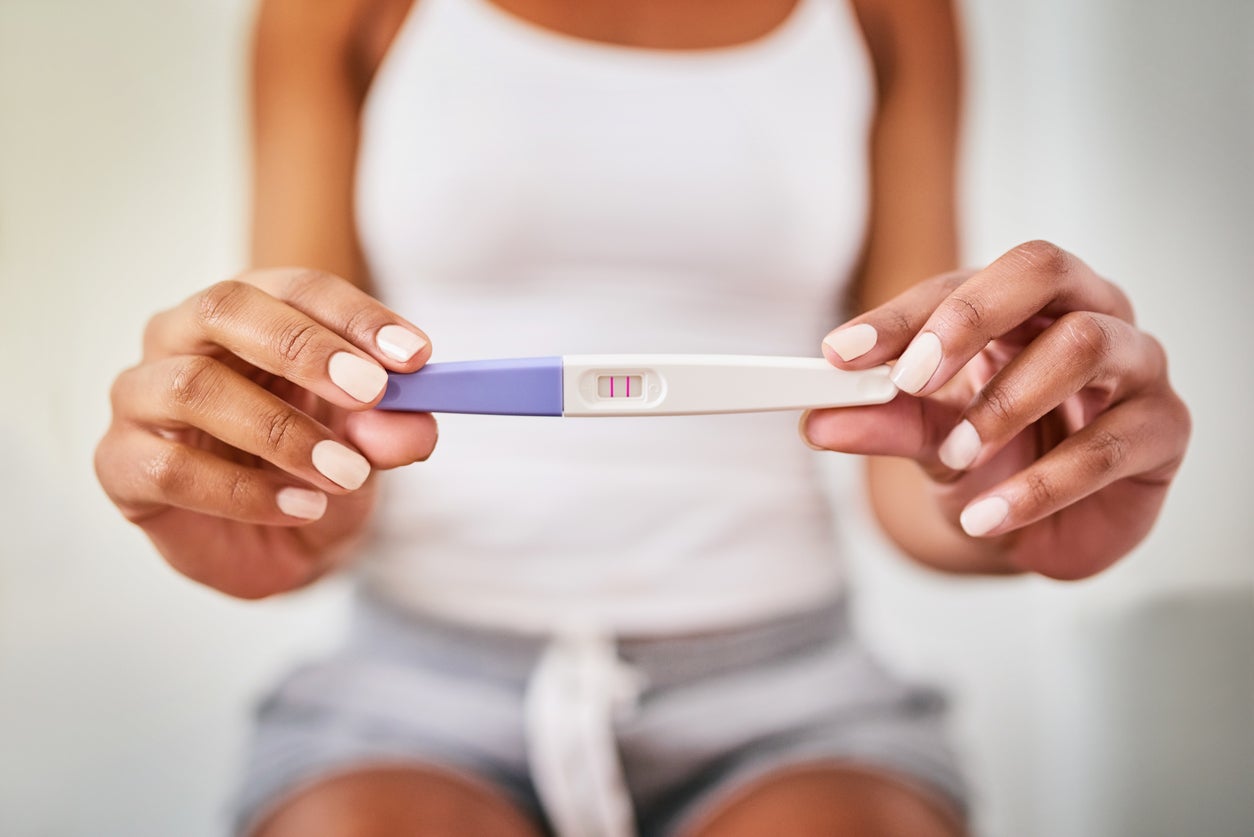 We have never had a name for the maelstrom of hormones, social expectation, maternal hunger and fertility anxiety that smacks into so many women like a train towards the end of their twenties and thirties. Unlike adolescence, the terrible twos or the mid-life crisis, we have never defined this period with a name, nor sketched out the biological transformation that occurs within us.
We have puberty and the menopause, but what about that bit in the middle? The time where you stare down the finite nature of your fertility and ask yourself: do I want to have a baby and if so, when, how, why and with whom?
This period of flux – the physiological reckoning that drags us from the career-driven, casual dating and carelessness of our youth into the next era of commitment, responsibility and possible parenthood – can hit at any time, from your twenties, right into forties. When it hits, it hits. And if it does, you'll finally know yourself to be in what I like to call: the Panic Years.
My own Panic Years began at 28. I came out of a long-term relationship, was made redundant, spent my weekends celebrating other people's hen dos and weddings and watching the bumps appear under their jumpers. Three years later, I had met a man with shoulders like scaffolding, a chin like a peat shovel and a tally counter on his desk to celebrate when he reached his 100th cup of tea.
I was 31, in love, working as a freelance journalist and almost always remembering to pay my council tax in time. But the Panic Years do not simply end with sex or shared towels and a plus-one; they aren't simply quieted by the weight of another body in your bed. Because, like millions of cis-gendered, heterosexual men, my partner was unready, perhaps unwilling, to have a baby.
According to the latest figures from the Office for National Statistics, the average age of mothers in England and Wales increased to 30.7 years in 2019, while the average age of fathers was unchanged at 33.6. Oh, what a tale those 2.9 years could tell. Both figures, by the way, are a record high; most of us, it seems, are waiting, delaying, putting off having children. And understandably so.
The climate crisis, a global pandemic, the dangerously overstretched and underfunded NHS, the health and social care services scythed back to their bare bones by decades of Tory government, access to abortion, the desire for personal freedom, contraception; there are plenty of good reasons not to have children at the moment.
According to an article titled: A wonderful experience or a frightening commitment? An exploration of men's reasons to (not) have children, published in the journal Reproductive Biomedicine & Society Online in 2019, by a collection of Swedish academics, "In most western countries, there have been trends of declining fertility and postponed parenthood in recent decades."
The Office for National Statistics found that in the UK there were fewer births in 2020 compared with 2019. But why is there this difference in gender and first-time parenting? What are men doing in those nearly-three years between their female contemporaries getting pregnant and their entry into fatherhood? I can tell you what we were doing: arguing.
The very day I met Nick, a man I barely knew asked us each independently if we would one day like to get married and have children. Here it was. The Question. The Big Question. The very question that drove into my imagined future like nails through chalk. The Question, as always, asked as if it were no more trifling than enquiring whether you prefer tea or coffee.
Deciding to be honest, I said I didn't mind too much about marriage, but I would like to meet someone and have a baby. Nick said that he didn't really care about getting married or having children. Years later, I asked Nick about his answer; why he had seemed so ambivalent about something that – either way – was so fundamental to the shape of his future?
"I just didn't think about babies," he told me. "All those years you were thinking about it, I just wasn't. It plays into your argument, I suppose, that men are sort of encouraged not to think about their fertility. I just didn't think about it. Don't think about it."
If someone had asked him back then if he wanted to be in a happy, loving relationship, Nick continued, then he would have said yes. "But I don't think that's synonymous with getting married and having children. The person asking that question probably thinks they are, but they're not. I'm from a non-traditional family; I know that a loving relationship doesn't necessarily involve marriage and babies."
For those of us who have always imagined ourselves as parents one day, what do you do when the person you fall in love with does not want to have children? Why are cis-gendered and heterosexual men stereotyped as being more reluctant, or at least hesitant, to become fathers?
Is it true? And, if so, has it always been like this, or is modern capitalist culture more encouraging of the Peter Pan male, who lives as a teenager for as long as possible, while heaping the burden of fertility, contraception and the decision to have children onto the laps of those of us with wombs? It is very hard to tell.
As the authors of the Swedish study put it: "The views of other men (read: heterosexual, fertile, healthy and at a culturally appropriate age to father) are overlooked in research, as well as in medial representations (Peterson, 2014). So, it would seem that as with so many things that affect fertility, family and female health, the question hasn't yet been given the time, funding or attention it deserves.
But perhaps if we started to talk about male fertility more honestly; if we discussed the effects of age on rates on conception and sperm quality; inculcated boys and young men with the notion that pregnancy doesn't just happen in wombs, but because of sperm; if we had a male contraceptive fit for purpose; if we had adequate, even mandatory paternity leave and spoke about male fertility as something finite, precious and sometimes compromised – just as we do with women – then the differences between women and men's attitudes, age and attention to parenting could change.
Then, we might find ourselves moving towards something like reproductive equality – with all the knock-on effects this would have on equal pay, equal childcare and career options for working mothers. Perhaps, we could even up the parental playing field a lot more, and make the choice to have a family a human one – rather than one that's left to women to bear.
'The Panic Years' by Nell Frizzell is available now
Join our commenting forum
Join thought-provoking conversations, follow other Independent readers and see their replies