If cinema is to be truly representative, film criticism needs to include more women and writers of colour
A recent study revealed that nearly 75 per cent of film critics are men, and that a larger proportion of the films reviewed by women feature female protagonists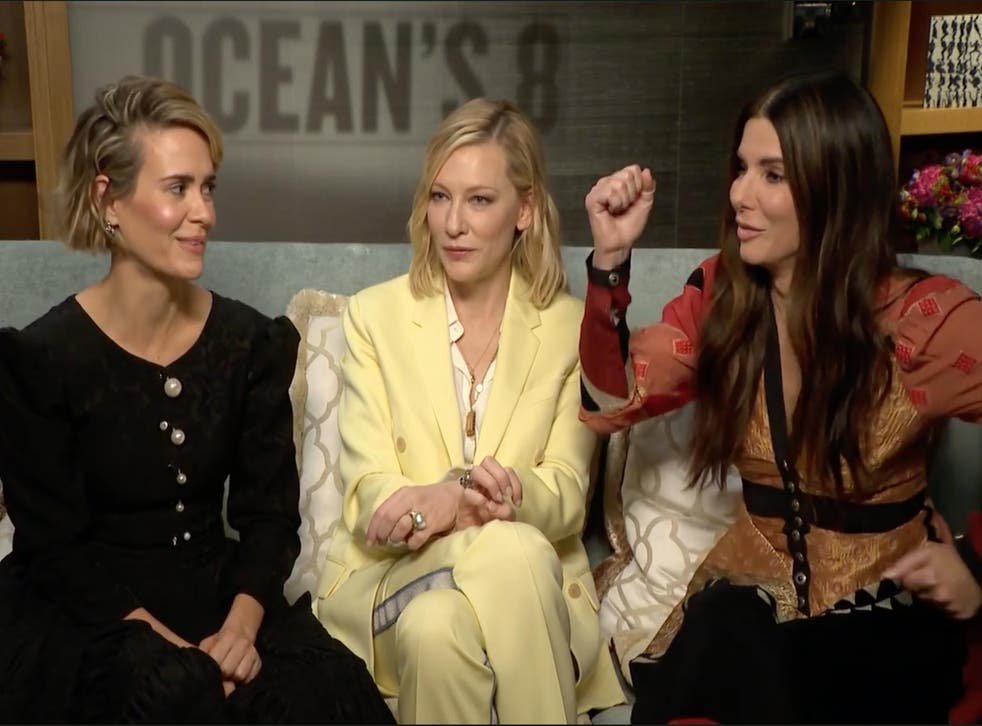 Following a surge of comment pieces and research around the poor representation of women on screen and behind the camera, the debate around film industry diversity has now turned to film critics.
This has been fuelled by statements from Brie Larson, Sandra Bullock, Mindy Kaling, and Cate Blanchett, calling for more women and people of colour writing about films, arguing that female-led films can be misunderstood by male critics.
A number of recent studies support this need; the most cited reveals that nearly 75 per cent of film critics are men, and that a larger proportion of the films reviewed by women feature female protagonists. This is especially striking when we consider that more than half of cinema-goers are women, who may understandably be eager to see representations of themselves onscreen.
The debate around women directors has moved from the idea that "there just aren't many", to a more nuanced discussion of the funding and distribution mechanisms that prevent the development and exhibition of women's film projects.
But the lack of women film critics is also arguably a question of selective reading. The study takes as its source the film review aggregator site Rotten Tomatoes, itself a curated site to which outlets must be invited, meaning that many non-Anglophone and more marginal publications and websites aren't included.
The problem is, women-led and feminist criticism has traditionally thrived in the margins. Publications including the US-based Camera Obscura and Jump Cut, and the German Frauen und Film, were founded within three years of each other (1974-6) with the dual aims of denouncing the patriarchal ideology they deemed present in much of mainstream cinema, and of highlighting the work of women filmmakers.
These journals, still active today, have influenced the way film is taught at universities, and have reached the public cultural sphere, being instrumental in the founding of several women-only film festivals and introducing notions like the "male gaze".
This term was developed by British theorist and filmmaker Laura Mulvey in the pages of Screen in 1975 to convey the objectification of women in Hollywood cinema by the director and his camera, the male protagonist and, in turn, the audience member.
Criticised for its essentialism and heteronormativity, it nonetheless continues to have reach, with the counter-notion of the "female gaze" now used to front advertising and fashion campaigns.
Nowadays the distribution of these journals is limited, restricted to those belonging to an academic institution and who can afford the high subscription rates. And the writing isn't accessible to everyone in tone, usually assuming some prior film knowledge and a grasp of academic language.
But their distribution is limited, restricted to those belonging to an academic institution and who pay the high subscription rates. The writing can also be somewhat inaccessible in tone, usually assuming prior film knowledge and a grasp of academic language.
The internet has addressed some of these issues with a plethora of open-access journals and blogs dedicated to a feminist critique of films by majority women and minority writers. These include cléo, SVLLY(wood), and the journal which I edit, Another Gaze.
The criticism in these rejects quantitative classification like stars, and is often retrospective, not aiming for a timely alignment with a film's release. The publications' writers are often young women who grew up on the web, seeking out and streaming films with protagonists that they found to resemble themselves, inadvertently creating their own filmic canon before they knew what they were doing was necessarily political or feminist.
In their somewhat utopic aim of providing free feminist criticism that doesn't rely on funding or advertising, these publications are often unable to pay their writers a significant fee. Nor do they have the means to send a critic to the big film festivals, which remain an industry rite of passage.
While figures haven't yet been published on this, critic Miriam Bale discovered that she was one of only three African-American film critics covering the Cannes film festival this year. My own experience at festivals has also been one of sitting in a cinema with rows of men.
Diversity among "top critics" is important, because a critical buzz at a festival will often inform what is bought and later shown in cinemas. Publications will often send their chief critic to the big festivals, who will get to choose what they watch and review, and they will probably be more likely to write about the new, anticipated film from a male auteur than the first film from a woman director.
At the Berlinale this year, Wes Anderson's Isle of Dogs was beaten to the top prize, the Golden Bear, by the first feature of Adina Pintilie, Touch Me Not. As the festival drew to a close, Pintilie's film had three reviews on Rotten Tomatoes, compared to 25 for Anderson's. Isle of Dogs has been released worldwide while Touch Me Not still has no distributor in the UK or US.
25 new films to look out for in 2018 that aren't sequels

Show all 25
Of course, there are women writers who don't identify as feminists, or who like films that are arguably misogynistic. And we mustn't make the false assumption that every film by a woman or with a female protagonist is feminist.
But you can seek out and support the current writing of Manohla Dargis, Angelica Jade Bastién, Stephanie Zacharek, B Ruby Rich and Molly Haskell, to name only a few, and revisit the ever-pertinent Pauline Kael, Dilys Powell and Iris Barry.
CherryPicks – a "feminist Rotten Tomatoes" – is also launching this autumn, which will collate culture reviews only by women critics.
Naturally you cannot assume that a woman or minority critic will be more likely to praise the work of a woman filmmaker, as to do so supports the flawed notion of the "objective" male.
Nor should publications commission tokenistically, assuming that women and writers of colour will write exclusively about "women's films" and non-white cinema.
But for now, if we're not to assume that a potential cinemagoer is a cinephile, or that they will seek out marginal publications for themselves, it's the responsibility of mainstream publications to hire a range of writers representative of the population.
Register for free to continue reading
Registration is a free and easy way to support our truly independent journalism
By registering, you will also enjoy limited access to Premium articles, exclusive newsletters, commenting, and virtual events with our leading journalists
Already have an account? sign in
Join our new commenting forum
Join thought-provoking conversations, follow other Independent readers and see their replies