Florida has a gun problem, and Governor Rick Scott is to blame
In 2014, the NRA's Political Victory Fund (NRA-PVF) praised Scott, stating, 'Rick has signed more pro-gun bills into law in one term than any other governor in Florida history'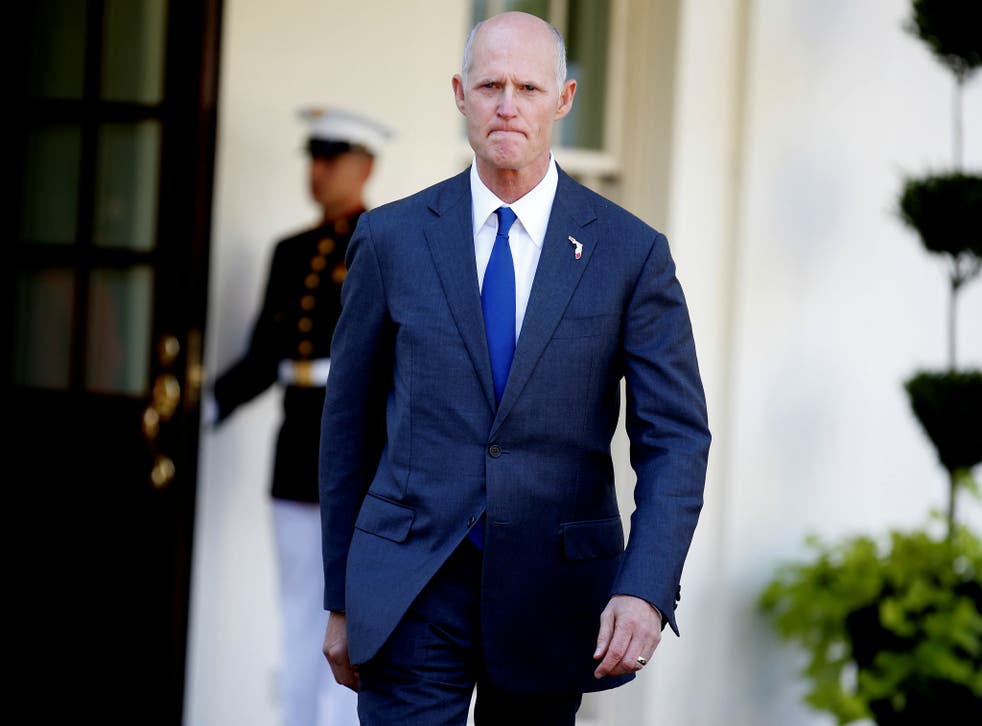 When you think of Valentine's Day, you think of chocolates, hearts, and flowers.
For 17 students and faculty members from Stoneman Douglas High School in Parkland, Florida, there will indeed be flowers – but it will be for their wakes and funerals.
On Valentine's Day at Stoneman Douglas, the air was thick with not love, but panic, fear, and death, as 19-year-old Nikolas Cruz, a former student, went on a shooting rampage with an AR-15 rifle.
It was the same kind of gun used in shootings in Las Vegas, San Bernardino, and on a classroom full of first-graders at Sandy Hook Elementary School.
Fox News' Shepard Smith issues emotional plea for reform after Florida school shooting
In the past six years, five of the six deadliest shootings were carried out using an AR-15.
Sandy Hook, which happened in 2012, rocked the nation. Yet the government did virtually nothing – and students and faculty continue to pay for the government's carelessness with their limbs and lives: since Sandy Hook, more than 400 people have been shot in over 200 school shootings across the nation.
In Florida, where the Parkland shooting happened, an AR-15 rifle, designed specifically for the purpose of inflicting mass casualties and maximum carnage, is easier to obtain than a handgun.
Federal law requires gun buyers to be 21 years of age before purchasing a handgun. In the state of Florida, you only have to buy 18 to buy an AR-15. There's no waiting period; you can be out on the street with your new heat the same day.
Florida – the gunshine state – appallingly thinks it's a good idea that teenagers can legally buy near military grade weapons designed for the battlefield before they can legally buy a beer.
Florida shooting – in pictures

Show all 10
Nikolas Cruz, a student who was assessed to be such a threat he couldn't even carry a backpack to school, legally bought his deadly weapon three days after being expelled.
Florida's governor, Rick Scott, weaseled out of answering any questions on why it's okay to sell weapons to teenagers with no waiting period. He should be able to answer that easily, as he's the one who signed the bills into law.
Scott's reluctance to commit to any solutions can be explained by his endorsements. He's championed by the National Rifle Association (NRA), with an "A+ rating." In 2014, the NRA's Political Victory Fund (NRA-PVF) praised Scott, stating "Rick has signed more pro-gun bills into law in one term than any other governor in Florida history."
Scott said "there's a time" to talk about gun control – but it seems like that time is never now. While Governor Scott is dodging questions, our kids are dodging bullets.
Florida's Republican politicians – and the GOP overwhelmingly as a whole, including Donald Trump – have raked in millions of dollars from the NRA.
The day after the shooting in Parkland, three kids at three different schools in North Texas were arrested for bringing guns to school.
Meanwhile, in California, there's a 12-year-old kid with a bullet lodged in his head. A refugee from Iraq – a literal war zone – Issa Al-Bayati was shot in the head at school. It didn't happen in Iraq; it happened here, in the United States.
Two weeks later, he still has a bullet in his head because his family can't afford the cost of having it removed. His former teacher started a Go Fund Me to help pay his medical expenses because in the US, you have a right to guns, but not healthcare.
We have a nationwide epidemic and now we need a nationwide solution. Gun control works, and the evidence proves it.
The Constitution ensures our right to bear arms, yes – but the rights of our children being able to go to school safely far outweigh the right of an eighteen-year-old being able to buy war weaponry.
Join our new commenting forum
Join thought-provoking conversations, follow other Independent readers and see their replies