What the Euros 2016 football fan violence tells us about tribalism in Europe - and anger in the Brexit debate
Hooligan 2.0 carries a mobile phone to make sure he doesn't miss any action, but he's driven by the same instincts that have governed humans for billions of years – and that are driving us in the EU referendum too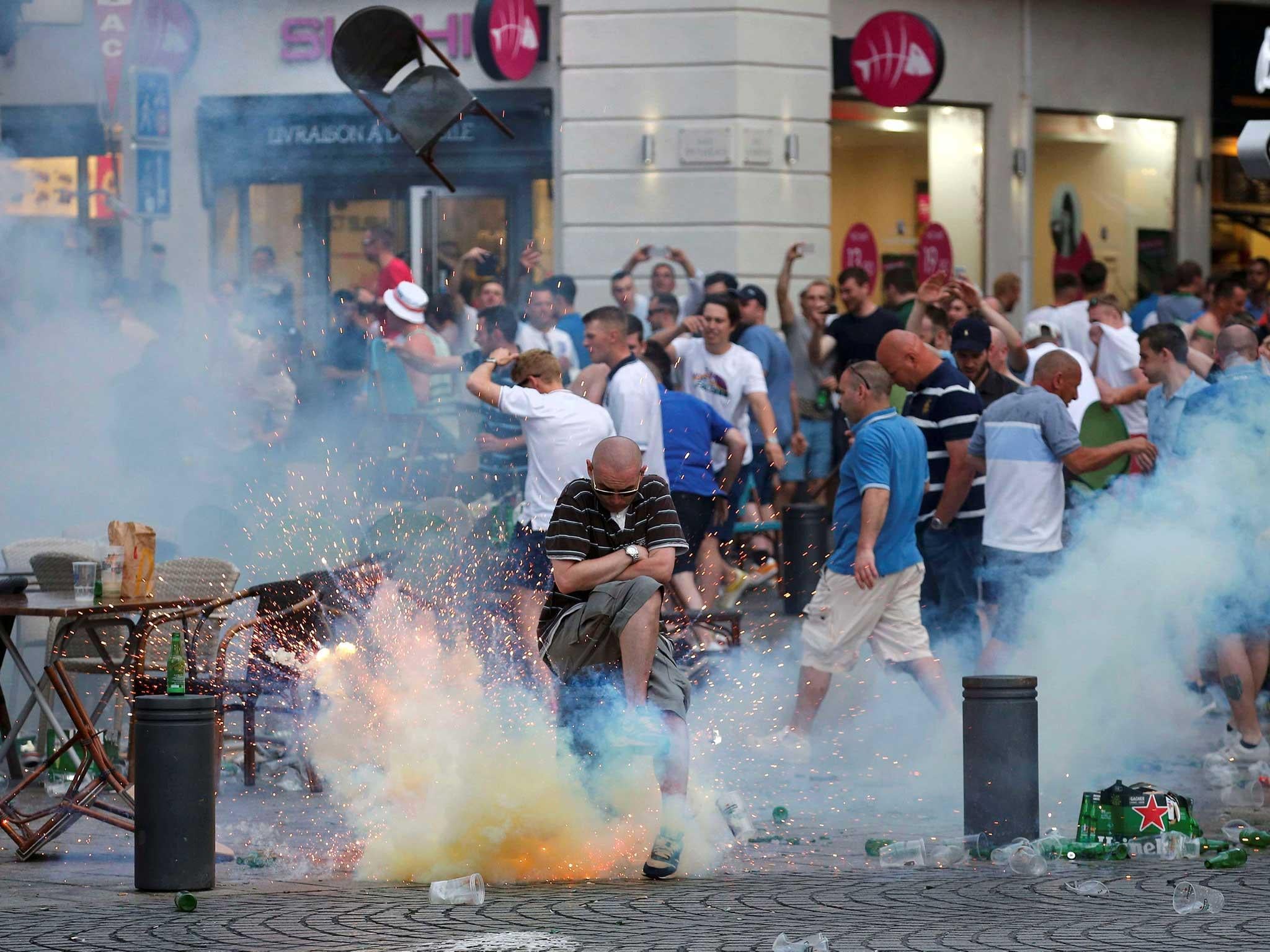 It looks like the England football team may have found a novel way of exiting a major international football tournament early this summer. Usually they just underperform on the pitch, stunning lesser teams in the group stages with their ineptitude.
But (whisper it) this England team is actually quite good. They might have got a draw against Russia in their first game but they played the Cossacks off the park.
So, given that England might be too good to fail on the pitch, we're having fall back on an old nemesis to bring its national shame: the football hooligan.
Host France looks to reclaim glory at Euro 2016
There have been ugly scenes in Marseilles this week. There is something morbidly nostalgic about watching heavily tattooed idiots hurling metal chairs at the heads of rival gangs, or separating an opposition supporter from the safety of his pack and then kicking the crap out of him as he lays helpless on the floor. Turning on the TV is like walking back to 1980, when football violence was ever-present; a repulsive but fairly standard backdrop to the national game.
Today's thug has had a hardware upgrade: Hooligan 2.0 carries a mobile phone to make sure he doesn't miss any action. Rather than being encumbered with a sledgehammer, he makes do with weapons that he can easily fashion from more innocent items found at the battle scene: bottles, glasses, furniture. But Hooligan 2.0's software remains the same, as vicious a brute as his Doc Martin-booted, knuckle-duster predecessor; out for a good time with his mates, mauling and maiming the opposition.
Europe's controlling football authority, Uefa, has threatened both England and Russia with expulsion from the tournament if hooliganism flares again. The whole thing is a pity because football actually matters. It matters because it gives us an artificial tribalism, a safe place – usually – to tap into an instinct that first developed among homo sapiens on the plains of the Serengeti; an instinct to which we owe our survival as a species.
We won't ever lose that instinct, any more than we will lose the ability to walk on our two hind legs. You can't shake off three and a half billion years of evolutionary selection just because we think we should have outgrown tribalism.
It's normal to be in a tribe. In fact, it's essential. If it's not football then it's a religious denomination, or a political affiliation, or a celebrity Twitter following, or plain, simple nationalism. The UK is in the throes of a referendum designed to help us choose between the Big Tribe of Europe and Little Britain. (Of course, if we carry on forcibly rearranging their café furniture they might not want us to remain even if we do vote to stay in.)
Russia and England fans clash at Euro 2016 – in pictures
Show all 15
Perhaps the most potent aspect of tribalism is that it is seated in our emotions, not our rationality. Ask most football fans if they would swap allegiance and support a more successful club and they will look at you in horror. Such a suggestion may make perfect sense if you want to see better football or if you want to taste success, but it is heresy to the 'true' fan. I chose Queens Park Rangers over Chelsea in my childhood and could no more trade the hapless mediocrity of Loftus Road for the dazzling success of Stamford bridge than I could, say, swop bipedal walking for swinging through the trees.
This emotional attachment is what fuels the passion. It's what makes the artificial tribalism seem real; and it's what makes it worthwhile. Football gives us something to fight over, an environment in which to experience triumph and tragedy, without actually fighting; without actually going to war. But it's the same emotion that is fuelling the Brexit debate. No wonder, then, that it's boiling over into violence on the streets of Marseille.
Paul Beaumont is the author of A Brief Eternity
Join our commenting forum
Join thought-provoking conversations, follow other Independent readers and see their replies