Forget third world sweatshops, workers are being exploited by money-grabbing bosses here in the UK
How long would George Osborne last in a Sports Direct warehouse?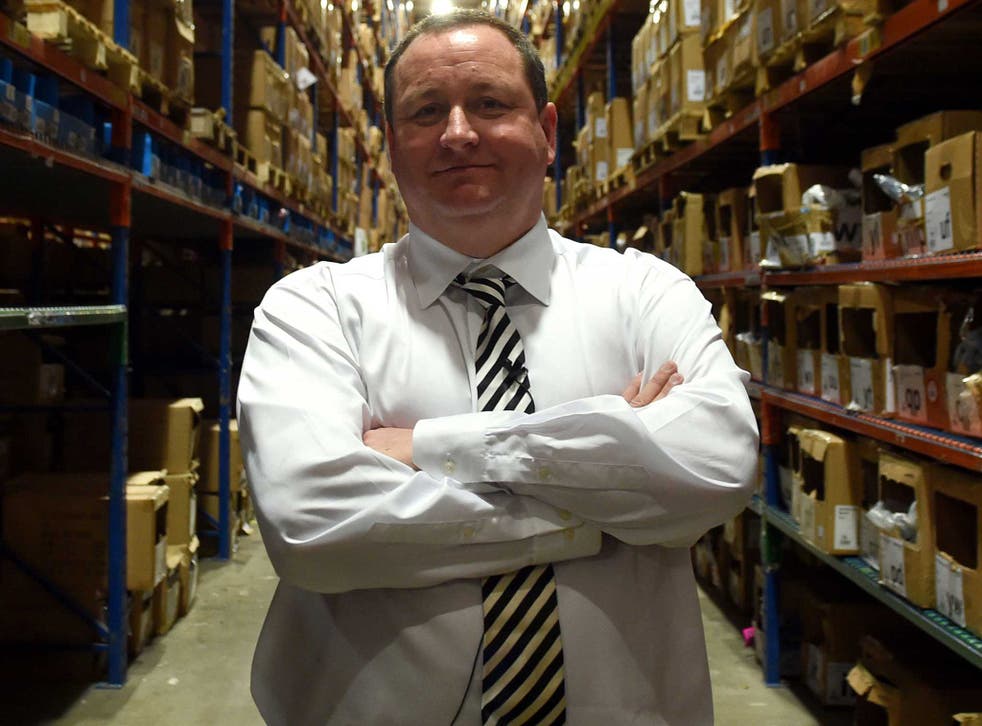 If British business is a "force for good", according to the Institute of Directors, how come two of our biggest retailers are controlled by megalomaniac clowns, characters who treat staff like serfs?
Middle class people get worked up about workers' rights in the third world, campaigning to ensure that the people who make our cheap clothes and grow our food get paid a living wage and work in sanitary, safe conditions.
Bizarre, then, to discover that many workers in the UK aren't treated in a way that befits a highly sophisticated modern society – one which has legislated for equal pay and is obsessed with health and safety.
Sports Direct Boss Faces Select Committee Over Poor Working Conditions
As more and more jobs turn into part-time posts with zero-hours contracts (over 800,000, up 15 per cent in a year), what kind of bosses run British business? Is profit everything?
Sir Philip Green and his fellow investors removed £580m from BHS in dividends and bonuses over 15 years, before selling the company (with a massive pension deficit) to a man who had been bankrupt three times for £1 and had zero experience in retailing.
Dominic Chappell could be a character from a Terry-Thomas movie. His explanation to MPs over how BHS was allowed to go to the wall was like watching an episode of Mr Bean. Blustering, babbling twaddle and obfuscating, allegedly threatening to kill an executive who accused him of pinching money for his own relatives – what a comedy turn! I wouldn't trust Chappell to run a stall at a car boot sale, let alone a high street store.
Sadly, his contempt for employees (11,000 now contemplating the dole and 21,000 facing massive cuts to their pensions) seems to be all too common.
Sport Direct has 450 stores, and is hugely successful at selling cheaply, but the boss claims he's not an expert at "employment matters", even though he employs 27,000 people. Mike Ashley, a sinister version of Peter Kay, portrays himself as a genial idiot (albeit one worth billions), a man who makes it up as he goes along, who can apparently forget the term "sexual harassment", and who once called MPs "a joke".
Sports Direct is being investigated by the Inland Revenue for paying many of their workers less than the paltry minimum wage. Appearing before MPs to explain himself, Ashley burbled his business "had got too big" to run properly, and seemed surprised to be told of the Dickensian working practises happening right under his nose at his main warehouse – one he claimed to visit weekly.
If workers were one minute late, they were docked 15 minutes pay, which is regular practice at call centres according to pals who've worked in them. Ashley's staff were held in a pen at the end of shifts and searched for pilfering, all in their own time.
Although Ashley has been demonised, his contempt for workers will be duplicated elsewhere. In the 21st century, gangmasters still control much of the fruit and vegetable picking, egg packing and food processing in the UK, and the vast majority of these workers are on zero hours contracts with no guarantees.
Only 200 of Ashley's warehouse staff were on permanent contracts, with 3,000 temporary workers supplied via agencies. Ambulances were called to his warehouses 76 times in two years, once after a woman gave birth in a toilet. This environment is a breeding ground for bullies, managers get rewarded with bonuses, while workers comply to every rule and regulation, fearful of losing their jobs.
My time in retail took me to a temporary position as trainee buyer in a trendy London department store (now owned by Sir Philip Green), clocking in through a filthy subterranean entrance a million miles from the faux-glamour of the main sales floor.
As a lowly-paid worker in retail, you soon learn the rules: keep your head down, look busy at all times, don't complain and never argue with your manager, even if they are nuts.
Politicians can proudly cite a reduction in unemployment levels, but millions of workers are in the hands of bosses who seem to care little for their pensions, job security or their quality of life. How long would George Osborne last in a Sports Direct warehouse?
If you treat workers so badly, you reduce productivity. Every time pay is docked for a petty infringement, workers will get a little bit of revenge. And with many companies removing perks like free lunches to "fund" the living wage, don't expect labour relations to improve.
Sod sweat shops in Bangladesh, we should be concerned for workers right here in the UK.
Register for free to continue reading
Registration is a free and easy way to support our truly independent journalism
By registering, you will also enjoy limited access to Premium articles, exclusive newsletters, commenting, and virtual events with our leading journalists
Already have an account? sign in
Register for free to continue reading
Registration is a free and easy way to support our truly independent journalism
By registering, you will also enjoy limited access to Premium articles, exclusive newsletters, commenting, and virtual events with our leading journalists
Already have an account? sign in
Join our new commenting forum
Join thought-provoking conversations, follow other Independent readers and see their replies