Goodbye grid girls – there is no place in sport for sexual objectification anymore
Formula One racing wants to attract more female spectators and drivers – so why ostracise 50 per cent of the population in order to give the other 50 per cent a bit of a stir in the trouser department?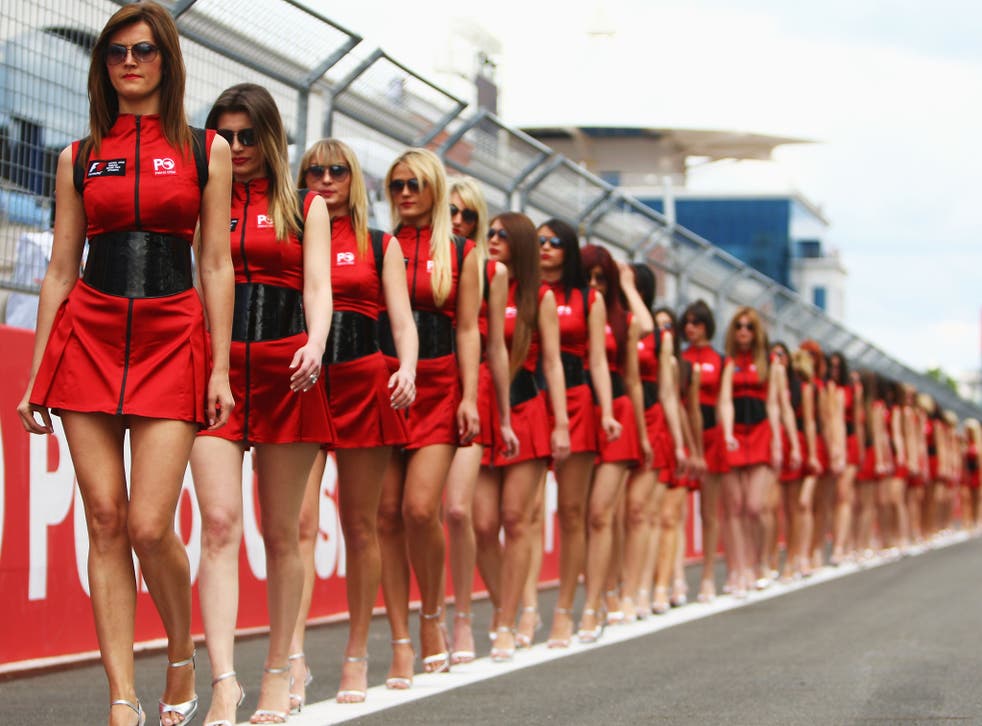 Slowly but surely we move out of the stone age. Formula One racing has decided to stop using "grid girls" – the glamorous women who perform demanding tasks like holding an umbrella over a driver's head and carrying a name card.
In the wake of the #MeToo campaign, this is an acknowledgement that – considering we have a female PM – times have changed, and women do real jobs. I've always found it amusing that some sports invest in glamour as window dressing, presumably because they believe it makes competitive events more appealing to spectators and the media.
One of the Formula One bosses explained "we feel this custom does not resonate with our brand values and clearly is at odds with modern day social norms". This, in a sport where (nearly three years ago) Lewis Hamilton thought it was harmless fun to soak an innocent grid girl with champagne on the winner's podium!
One of the reasons for change could be the risk that sponsors might fear allegations of sexual impropriety in the wake of #MeToo. Glamour girls have a long connection with some sports. Years ago I was in New York for a world title boxing match at Madison Square Garden. After a long build-up, the main event kicked off, to a huge fanfare. The boxers entered the ring as a scantily-clad woman paraded around holding a card with the number one, as if the audience couldn't work out it was round one. Sadly, the fun didn't last. Within a minute there was a knockout and we repaired to the bar where all the VIPs (including the actor Billy Crystal) loudly complained that – never mind the boxing – they wouldn't be seeing any more "card girls".
UK news in pictures

Show all 50
Boxing has not followed darts and banned the bimbo, but it can't be long. Until recently, glamorous women were tasked with walking alongside the male darts players onto the stage. It's unfortunate that people are losing work, but I'm not sorry sporting bodies are finally realising that using women in demeaning roles sends out the wrong message.
Many grid girls (past pinups include Katie Price, Kelly Brook and Melinda Messenger, all of whom have gone on to considerable success in business) claim the work is harmless and highly enjoyable – good luck to them. But any job that is awarded simply on looks and that doesn't really require much skill apart from evading gropers and permanently smiling, seems pretty degrading. I don't want to be sexist, so isn't it time we stopped booking topless male waiters for hen parties and asking women to turn up and act as "hostesses" at all-male events (like the infamous Presidents Club dinner) so they can be ogled?
Growing up in the 1950s, I remember my dad looking forward to events like the motor show, where manufacturers draped gorgeous women over the bonnets of the latest cars in order to get press coverage and attract buyers. These days, women represent a huge market for potential sales, so those tactics don't necessarily work. In trade shows (like the Ideal Home Exhibition) pretty women were employed as "demonstrators" – to perk up dreary stands and hand out free samples and leaflets.
These days, we want expert advice, and can get most of it online. Formula One racing wants to attract more female spectators and drivers – so why ostracise 50 per cent of the population in order to give the other 50 per cent a bit of a stir in the trouser department?
Andy Murray calls journalist out for 'causal sexism'
If I had a daughter I would not want her to choose one of these decorative jobs as a career option. Young women are free to use their bodies as they wish, but why not choose work where you are not judged on your exterior packaging? I do not have a down on attractive women – working in the television industry, looks are the subject of a disproportionate amount of attention. But what's inside your head should be equally important, and any job which recognises that improves self-esteem and a sense of self-worth.
Employing any kind of female (or male) as set dressing is a form of sexism.
Interestingly, tennis has never felt the need to resort to these props. Billie Jean King fought long and hard for equal pay for female players, and a new film, Battle of the Sexes, about her famous 1973 match against the braggart Bobby Riggs, highlights just how far we've come. Last month, at the Australian Open, the women's singles final between Simona Halep and Caroline Wozniacki was an epic battle between two young women at the peak of their powers, broadcast to millions around the world. At the end of it, Wozniacki not only took the title but the world number one ranking. Billie Jean King was watching, enthralled, in the stands.
Sporting events like this are prime time entertainment. Today's players are expected to do more than wield a racket: give plenty of interviews, be filmed practising – and connect with their young fans. In the modern world of international sport, using sex as a marketing ploy is no longer relevant. Goodbye grid girls, you've joined Playboy bunnies in the dumper bin.
Register for free to continue reading
Registration is a free and easy way to support our truly independent journalism
By registering, you will also enjoy limited access to Premium articles, exclusive newsletters, commenting, and virtual events with our leading journalists
Already have an account? sign in
Register for free to continue reading
Registration is a free and easy way to support our truly independent journalism
By registering, you will also enjoy limited access to Premium articles, exclusive newsletters, commenting, and virtual events with our leading journalists
Already have an account? sign in
Join our new commenting forum
Join thought-provoking conversations, follow other Independent readers and see their replies