Foxed by a new-found passion for the beautiful game
Vardy, Mahrez et al have awoken some primeval urge in me. I am a little frightened by it, as if a rational man had been overtaken by senseless demons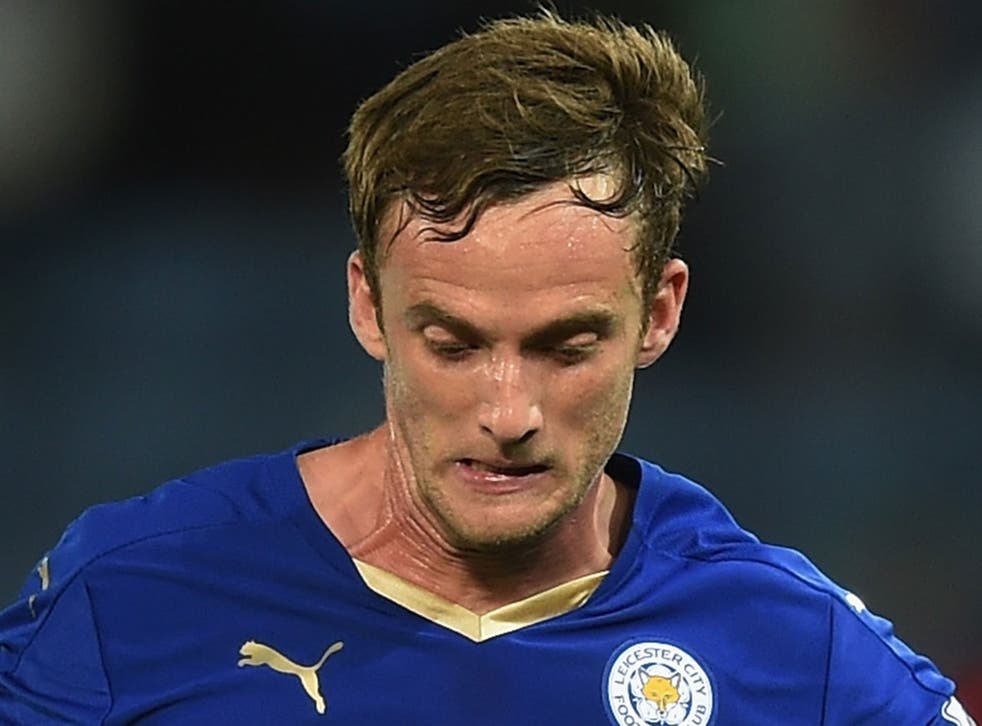 In Leicester city centre, on Gallowtree Gate near the Clock Tower, there is an "action statue" celebrating the city's love for, and success in, sport. It features a rugby player touching down for a try, a batsman knocking the ball out of the ground and a striker scoring a goal. It was put up in about 1984, when all three local sides were having a decent run, but I always thought it a bit hubristic, my home town being, normally, resistant to that particular vice. With good reason. This, after all, is the city whose Lord Mayor's trousers fell down during a civic reception, his shreddies putting Leicester on the global map for all the wrong reasons.
Well, now Leicester is in the headlines for all the right reasons. As you may have noticed, Leicester City Football Club – established in 1884 but originally called Leicester Fosse – are top of the Premier League. On Monday, they beat Chelsea 2-1 at Leicester's magnificent newish King Power Stadium, cementing City's supremacy. I can do no better than to quote The Independent's football writer, Mark Ogden; "Leicester were immense, their football pulsating and they completely outplayed Mourinho's team to the extent that the visitors appeared to have downed tools for the Special One. When that happens, a manager is always on borrowed time, and even Mourinho cannot be safe now. The clock is ticking." Indeed it was: Jose's alarm duly went off and he was sacked on Thursday.
"We" play Everton today, and I admit to a little nervousness. This time last year, Chelsea were top of the league, and the Foxes were, as so often, facing relegation. Only the sheer willpower of the Blue Army of fans and Leicester Mercury "Stay Up City" car stickers could save them. Then came the Lazarus-like comeback under Nigel Pearson, and the run of fine form that has helped them evolve into the finest team in the land, if not Europe, if not the world.
Now, it is very odd for me to find myself in the position of being even a "fair-weather" Leicester fan, but that is what I have become: a convert. Before I have had virtually no interest in sport and thought Premiership football was just about one group of foreigners managed by a foreigner and owned by a foreign billionaire playing an interchangeable side of other foreigners run by another foreign coach and owned by a different foreign billionaire. In the case of Leicester, to make the point, Claudio Ranieri had managed Chelsea before he was replaced by Jose back in 2004.
No longer am I bored by football. In the current Head & Shoulders advert, which features a chanting soccer crowd, I wasn't quite sure who the "Joe Hart" they were on about actually was. I now feel ashamed of that ignorance.
It seems the amazing story of Jamie Vardy's emergence, the beautiful play of Riyad Mahrez and the skill of N'Golo Kante have awoken some primeval urge in me that I never knew existed. I am a little frightened by it, as if a rational man had been overtaken by senseless demons; a Jekyll and Hyde episode. I now resent violently journalists who display even a tiny condescension to "my" team, and I detect bias where I know, really, there is none. Conscious of, but powerless to counter, this cognitive dissonance, I can do no other than obey these atavistic urgings. I feel as though I am going slightly, though not dangerously, mad. Yet.
How to explain this? Obviously I had grown up with the usual sympathies for the home side, in the days when that was the thing to do. I didn't just pick one of the top sides in the land (or outside it, given the number of British Barcelona and Real Madrid fans who've emerged in recent years). I even visited the old Filbert Street ground, and at a time when it was not all that safe to do so. (The "Baby Squad" of hooligans lived up to the ironic horror of their name, and were always particularly hostile to the Chelsea headhunters, adding piquancy, and stabbings, to the games.)
When I was a kid, I joined in all the chants. At the age of seven or eight, I can remember being on the top deck of the 98 School Special that took me and others across town to a designated Roman Catholic place of learning, singing along (to the tune of "Land of Hope and Glory"): "We hate Leeds United, We hate Liverpool too. We hate Nottingham Forest, but Leicester we love you." Especially Forest. I remember local heroes such as the England goalies Gordon Banks and Peter Shilton; I remember Frank Worthington and Emile Heskey and – of course! – Gary Lineker. But the passion wasn't really there.
Neither has it ever been there for Leicester Tigers, a much greater sporting success than City, or at least a more consistent one. To quote Wikipedia: "Leicester are the most successful English club since the introduction of league rugby in 1987, a record 10 times English champions – four more than either Bath or Wasps – and last won the Aviva Premiership title in the 2012-13 season. Leicester have also appeared in a record nine successive Premiership finals, from 2005 to 2013. The Tigers have never finished a league season below sixth position, and are one of only four teams (along with Gloucester, Bath and Wasps) never to have been relegated from the top division."
I must say reading that does make me proud – but not with the same intensity as, say, when a couple of weeks ago, Vardy, a consummate professional, scored his 11th goal in 11 matches, breaking the Premier League record. It may be because rugger was always a "middle-class" sport. There's nothing wrong with that, but it's maybe not so easy for someone like me who comes from a working-class background to feel the same. (I apologise for coming across all "prolier than thou", but it had to be done for the purposes of explication.) At my (state) grammar school we were also forced to pay rugger instead of football, which caused a deal of resentment.
Come to think of it, my school also made us play cricket, a particularly cruel and unusual punishment for the talentless, as your (my) lack of skills is much more painfully felt (literally sometimes) when you can't hit a ball or even chuck it in the required contrived style. God, I hated it, rather than feeling a bit pathetic about it, as in the case of football. I didn't even mind that, in our playground breaks, I was usually the second-last to be picked for a team in our unofficial tournaments. Anyway, Leicestershire County Cricket, from what I can gather, have had some "golden eras" of their own, but, as with the Tigers, it's just not the same as Leicester confounding the footy establishment and turning an entire, puffed-up, pompous and complacent industry – for that is what it is – upside down.
When friends (and I include colleagues on the Independent sports desk) told me that I didn't understand the tribal power of fandom, I had to agree. It isn't something, in fact, I wished to understand, but it had to be accepted as a matter of established fact. It is mysterious too, and still is to me, how someone from Essex, say, can "adopt" Manchester United, or someone from Lincolnshire become hopelessly devoted to Liverpool. Or a nice ex-public schoolboy be a season ticket holder at Millwall.
Over in Thailand, whence the owners of Leicester come, there are many, many fans who have never visited the city, never tasted a Walkers crisp, never taken a curry stop on the Golden Mile of Belgrave Road, never even heard of an overlocker. How they can be so loyal to a place they may have trouble pronouncing? For me, it is a simple matter of loyalty to a home town – to which I owe a lot. The late Peter Cook was a fan of Torquay United. I thought that just another outcrop of his mordant wit; no, he was born there, and at least half sincere. I can comprehend that.
Of course, I might have been brought up in Leeds or Luton, and have felt just the same way about them, but I wasn't and I don't. This tribalism is the respectable, tame end of the same emotions that drive nationalism and tribalism, and you see it everywhere. You certainly experience it working in newspapers, where the blind loathing of titles for one another is absurd to anyone looking from the outside. Rival firms of chartered accountants or the staff of rival supermarket chains may feel some bond with their employers, but rarely one that would push them into breaking the law, as happened in Fleet Street during the hacking scandal – and as football yobs used to demonstrate every time they smashed up a train or a pub or kicked a rival fan's head in on match days. Maybe this tribalism is not so tame.
So here I am, then: well into middle age, far too knackered to be much use as a hooligan, with a still-vague grasp of the players and management of Leicester City, yet in the grip of a terrifying fanatic fever.
The cure may be that Leicester now start to falter and slip down the table, which, let's face it, an awful lot of the so-called commentators secretly desire. (There I go again.) Would I lose interest just as easily? After all, most of us have enough travails in our lives not to add to them by supporting a football team on a roller coaster ride. Why add to the inevitable run of life's disappointments? Yet the very drama of the story is enthralling.
I feel some embarrassment at being such a latter-day fan. I feel I must be a bit like those Tories who voted for Labour for the first time in 1997, or a born-again Christian; a bit guilty and ridiculed, and resented by those who stayed loyal to their faith come what may.
Well, that's for them. Like Leicester, I am pulsating. And loving it.
Join our new commenting forum
Join thought-provoking conversations, follow other Independent readers and see their replies