France's violent protests and arrests will do nothing to stop Macron from eroding workers' rights
The protesters this week accused the former Rothschild merchant banker of being a 'friend of the rich' who wants to break down hard-won workers' rights, essentially turning France into another America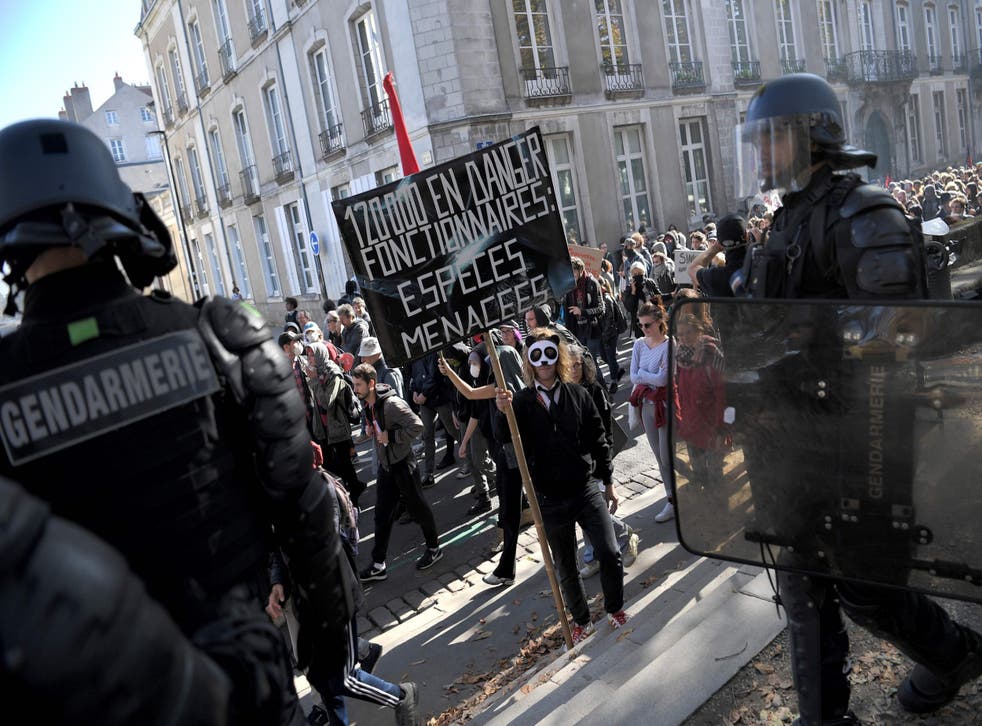 Images of bloodied anti-government protesters have become all too common during the presidency of Emmanuel Macron.
Riot police were out in force on the streets of Paris on Tuesday, hitting and then arresting those whose demonstrating got out of hand. As usual, it was pictures of their injuries that dominated media coverage, giving the impression of a French Revolution-style uprising against those in power.
In fact, the reality was a lot more mundane. We are well into the second year of Macron's period of office but there is little sign that the dissent is getting to him. Foreign news organisations barely paid attention to this week's rally, which was noticeably far smaller than expected.
Trade unions put the number of demonstrators in the capital at 50,000, while the police counted 11,000. In July, when many were on holiday, organisers said a march attracted 15,000, but the authorities' tally was 3,000.
'Don't complain, you're lucky' Macron tells French after pension cuts
Such figures hardly point towards the "awakening of consciousness" demanded by the General Confederation of Labour, France's largest union by votes cast, which is attacking Macron's policies of "individualism that undermine solidarity and social justice".
In summary, they accuse the former Rothschild merchant banker of being a "friend of the rich" who wants to break down hard-won workers' rights, essentially turning France into another Britain or America. Rather than what exists in France now: a 35-hour working week; lots of days off, including the whole of August; and numerous other perks for workers, the head of state is more interested in an Anglo-Saxon type workforce – one that is more ambitious, profit-led, and industrious.
French companies do very well globally, but the domestic economy is notoriously sluggish, with employees enjoying high levels of protection no matter what their performances. All of Macron's recent predecessors – especially the Gaullist conservatives – were determined to transform France into a "work harder, earn more" liberal economy, but failed at pretty much the first appearance of people-power protests.
It was no coincidence that men like Nicolas Sarkozy longed to be known as the "Margaret Thatcher of France", in an attempt to seal their reputations as conviction politicians who dragged their pampered citizens into the 21st century.
Despite his credentials as a fair-minded independent who deliberately distances himself from the Paris establishment, Macron seems to be seeking similar recognition.
Recent policy initiatives involved using a range of presidential decrees to, for example, make it easy for companies to fire workers. Upcoming targets for cuts include the benefits and pensions systems.
World news in pictures

Show all 50
Macron has used blunt language to call opponents "slackers" and to attack strikers for "kicking up a bloody mess". He told an unemployed man he could find work "by simply crossing the road" and urged people "to moan less", while suggesting that they should try and emulate their legendary wartime leader and former president Charles de Gaulle.
Consequently, Macron is accused of having a "Jupiter-like" approach to the presidency. This week, opposition MP Alexis Corbiere spoke up for many when he said Macron was now a "president-cum-monarch who is condescending towards his own people. It's a form of contempt, or arrogance".
Macron's approval rating dropped to 29 per cent – his lowest ever – in September, when he also started to lose a succession of senior colleagues. Nicolas Hulot, the environment minister, resigned on live radio after complaining about the government's lack of progress on climate change. Laura Flessel, the sports minister, also quit, followed by the interior minister, Gerard Collomb, who said he would leave his post early in the new year.
It may look disastrous to some, but when did Macron ever pretend to be a team player? He was elected France's youngest ever modern president in May last year without any support from the traditional governing parties.
His En Marche! ("on the move!") movement shared his initials, and was singularly devoted to his personal vision for France. Macron portrayed himself as a hard-headed winner who had the guile and intelligence to do what was best for his country.
He refused to settle into the luxurious trappings of power, as many Gallic heads of state have done throughout the centuries, and instead aims to create a legacy for what is likely to be two terms in office. This does not mean he will ultimately be successful, but anybody who thinks that he solely wants to be popular fails to understand what the "Maverick Macron" project is all about.
Join our new commenting forum
Join thought-provoking conversations, follow other Independent readers and see their replies