It is no surprise that François Fillon hasn't stopped his presidential campaign – fraud is business as usual in French politics
While British MPs caught fiddling their expenses at least had to account for their extravagance, the French don't even have to produce receipts. Instead they are given the equivalent of around €75,000 a year without any questions being asked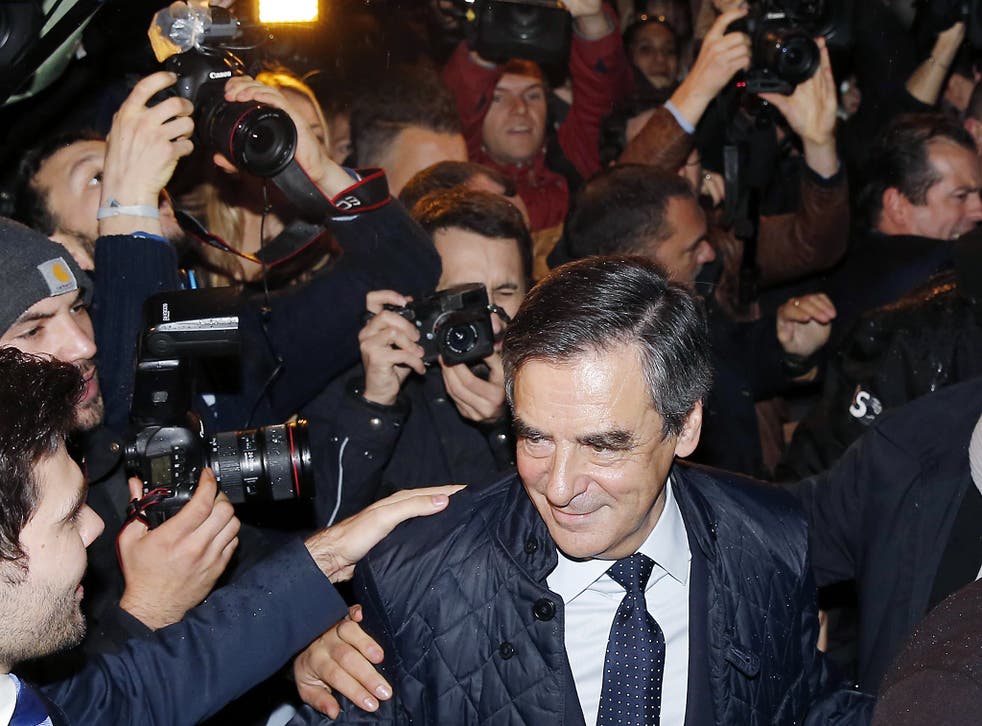 There was an apt reminder that Paris is the home of surrealism when François Fillon defended his wife Penelope's mysterious professional career on live television this week. It followed claims that the couple had swindled more than €500,000 (£426,347) out of the state by pretending that the self-styled "housewife" had also been assisting her husband as a parliamentary attachée for almost 10 years.
Mr Fillon, the Republican Party candidate for the French presidency, insisted that a criminal enquiry into embezzlement and abuse of public funds would clear them of any wrongdoing. He told the national broadcaster TF1 that his wife had in fact been secretly toiling as a high-powered aide, drawing a salary of up to €7900 a month – more than three-and-a-half times the average wage in France.
This was despite him taking part in a programme late last year in which he stated categorically that his wife had no other role beyond accompanying him to meetings and handing out leaflets. Even she said as recently as last October: "Until now, I had never been involved in the political life of my husband."
UK news in pictures

Show all 50
In all interviews, the Wales-born solicitor's daughter and devout Catholic has never once mentioned a full-time job, least of all one in the National Assembly. Instead she portrayed herself as a relaxed wife and mother who was always happiest looking after her five children, dogs and horses at the family château in the Sarthe department, south west of Paris.
Such discrepancies led to befuddled Republican toadies rehearsing comical excuses including that Ms Fillon had "always worked in the shadows" – as if she were some kind of secret agent, rather than what would have been a high-profile personal assistant to a household name politician who served as Prime Minister from 2007 until 2012.
The apologists' alternative reality also failed to cover a second allegation that Ms Fillon received €100,000 for writing just two short book reviews under a pen name for a cultural magazine owned by a billionaire friend of her husband's. All this while Mr Fillon – who likes to present himself as a morally irreproachable radical reformer in the style of Margaret Thatcher – has been championing massive civil service job cuts so as to lower government spending.
France presidential race: Francois Fillon wins conservative candidacy
Now that the Fillons are being investigated by financial prosecutors it would be appropriate to see them temporarily withdraw from public life. They should take their chances with the enquiry, and try to clear their names.
Instead, Mr Fillon has been tweeting frantically like Donald Trump, arguing that there is "not the slightest doubt" that his wife worked for him. Beyond flatly contradicting his own earlier claims, he has also threatened to sue the Canard Enchaîné, the highly respected investigative weekly that broke the story.
The truth is that this kind of scandal is entirely normal in France, and one of the main reasons why its political class is such an ineffective one. The ease with which elected representatives can shrug off well-documented accusations that they are filling their pockets from the public purse is nothing short of fantastical.
While British MPs caught fiddling their expenses at least had to account for their extravagance, the French don't even have to produce receipts. Instead they are given around €75,000 a year without any questions being asked, to add to allowances for everything from housing to stationery. Throw in free first class rail and air travel, and the urge to change a thoroughly comfortable system soon dissipates.
Pretty much all of Mr Fillon's senior conservative predecessors were implicated in sleaze cases. Jacques Chirac, president for twelve years up until 2007, was given a two-year suspended prison sentence for paying fictitious workers. Nicolas Sarkozy, who took over from Chirac, saw his home raided by the fraud squad as soon as he lost his presidential immunity from prosecution in 2012. He has now been charged with corruption and abuse of office. Alain Juppé, who was Fillon's main Republican rival in the presidential primary, proved a hugely popular candidate despite his own criminal convictions and suspended prison sentence connected to the Chirac affair.
Such financial chicanery bridges the party divide, and so does the resulting weak government. Socialist president François Hollande's time in office has been much derided, but in terms of economic and social progress, it has been no less mediocre than the Chirac and Sarkozy eras.
During the Hollande administration, his former budget minister, Jérôme Cahuzac, was sentenced to prison for secretly salting his personal millions away in overseas accounts, all while taking responsibility for clamping down on tax dodging. Emmanuel Macron, once Hollande's economy minister, has also been accused of cheating the inland revenue and illegally using public money to fund his own presidential campaign as an independent.
Marine Le Pen, of the far-right Front National, would love to project herself as the clean-up candidate, but Paris prosecutors are investigating her as part of a party-wide European Union financial scam too.
While everybody is entitled to a fair trial, it is the attitude towards such allegations that is particularly alarming. Mr Fillon seems convinced he can bluster on, and that his legal problems will simply "fizzle out", according to another assistant.
The fact is that dishonest self-enrichment has become institutionalised, and politicians are left to do whatever they want to further their party and personal fortunes. While this remains the case, essential reforms will be ignored in France and the country will continue to stagnate. In the meantime, pampered and often corrupt members of the political establishment will advance their own interests above any other, using clumsily constructed fantasy lands to try and mitigate their criminal excesses.
Join our new commenting forum
Join thought-provoking conversations, follow other Independent readers and see their replies