Sketch: Little Gavin Williamson is hopelessly out of his depth, not waving but nervously chuckling and drowning
To be around Gavin Williamson in action is briefly to experience life under the yoke of some mad paranoid dictator who, through misplaced instincts of self-preservation, has installed in the major ministries a cabal of their least capable nephews, pets and possibly even favourite foodstuffs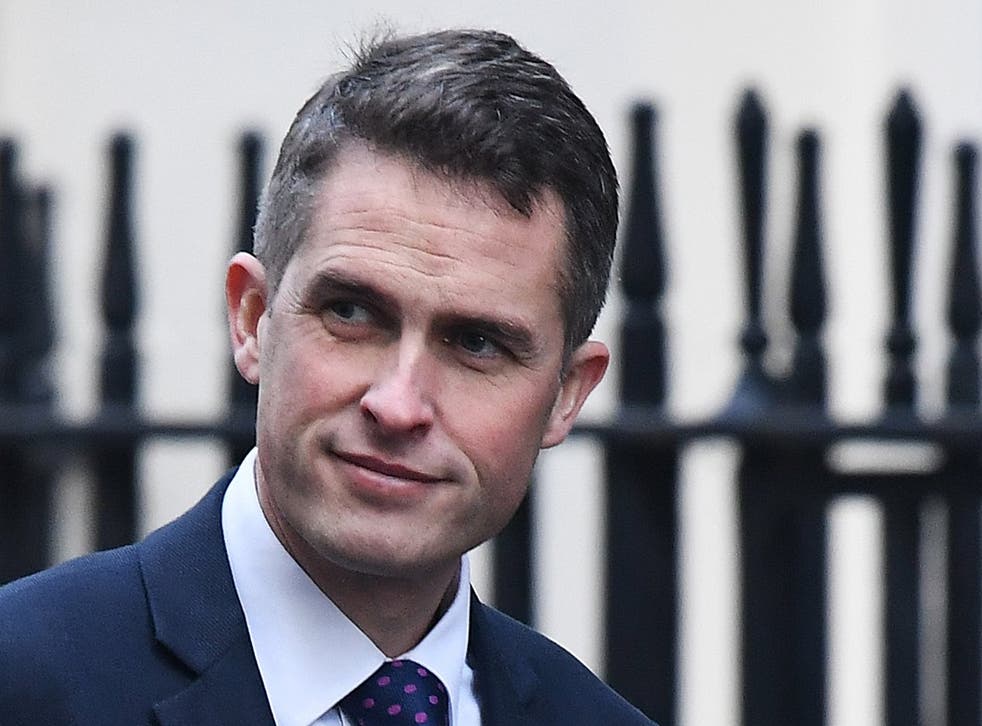 For no reason beyond the recent mass Brexit related suicide of the entire political class, and the subsequent collapse of Michael Fallon on to a sword left lying about by Harvey Weinstein, we are compelled to pay brief attention to the thoughts on the armed forces of a man called Gavin Williamson.
Tuesday afternoon was the first appearance of the new(ish) Defence Secretary before the by no means new Defence Select Committee, and the former fireplace salesman from Stoke remains every inch the Guy Goma reboot.
It has not yet fully been ruled out that Mr Williamson was on a school trip to Number 10 Downing Street in November of last year, when the Prime Minister found herself suddenly in need of a new Defence Secretary. The name 'Gavin!' may or may not have been shouted down a corridor and in walked this 41 year old prepubescent boy who has been gainfully trying not to get found out ever since.
Gavin Wiliamson's elevation to his current exalted perch is down to little more than having been deemed non-threatening by Theresa May. That he is likely to be deemed non-threatening by a not particularly spirited bluebottle may also have helped.
To be around Gavin Williamson in action is briefly to experience life under the yoke of some mad paranoid dictator who, through misplaced instincts of self-preservation, has installed in the major ministries a cabal of their least capable nephews, pets and possibly even favourite foodstuffs.
To hear him read out the current threats facing the United Kingdom, from "Russian cyber-attacks" to "anti-submarine warfare" was to be reminded of a primary school child getting having got over excited about a trip to the Imperial War Museum.
It was like watching some disjointed remake of Rolf Harris's Two Little Boys, in which the dramatic flash forward has only half worked. Cannon roared loud, and in the mad crowd, JESUS there's some kid galloping about on a hobby horse.
For his part, Mr Williamson switched between frightened grimace and nervous laugh throughout the ninety minutes of questions, all of which he answered with the calm assurance of a chap who has arrived at the BBC for a job interview in the IT department, and been whisked suddenly on air to face down questions about Apple music.
It would be wrong to say he wore the expression of a man hopelessly out of his depth. There is no metaphor here. Hopelessly out of his depth is precisely what he is. Not waving but nervously chuckling and drowning.
It is, arguably, a weakness in the British parliamentary system, that ministers are, almost always, picked from among the available elected MPs.
In America, the President appoints his top team, from any walk of life he or she chooses, then congress is asked to approve his choices.
That Mr Williamson had to regale the committee with tales of his recent meetings with his US Defence Secretary counterpart, Jim Mattis, who while Williamson was hawking integrated electric three bars round Hanley was otherwise engaged as NATO Supreme Allied Commander is a touch depressing.
For a room of people to have to listen to what Mr "Russia should go away, Russia should shut up" has to say about the UK's commitments to Nato demeans not merely the people in the room but even the furniture too.
A list of the threats facing the UK would be frightening enough at any time. To hear them read out by a man you wouldn't back in a neck-wringing contest against an actual chicken is on another level.
In a quiet moment, I scanned the four rows of people sitting behind him, hoping to spot anyone who might look less the part of Defence Secretary. The only vaguely plausible candidate was a lad of about nineteen almost certainly on a work experience placement.
Towards the end, the Committee Chair Julian Lewis told Mr Williamson he'd be moving the questions in to "specialist areas." After a long question, charting Nato's changing security challenges over the last thirty years, we arrived at a question of whether the UK had the capacity to defend its interests "independently" as it had done in the Falklands, and France had done more recently in Mali.
"Erm, right," Mr Williamson replied. "It is my belief that Britain should have the means to act independently."

He looked like he'd have felt more at home with something on the Apple Corps vs Apple Computer court case and its ramifications for the music business.
On the wall in front of Mr Williamson, by the way was a giant canvas of William Pitt, addressing the House of Commons as Prime Minister in 1793, at the age of 28, and satirised to great effect some centuries later in Blackadder The Third.
Who knows, maybe one shouldn't laugh. Maybe Mr Williamson, already seventeen years Mr Pitt's senior at the time of his becoming Prime Minister, will grow into one of the great statesmen of his day. Stranger things have never, ever happened, but they might.
Register for free to continue reading
Registration is a free and easy way to support our truly independent journalism
By registering, you will also enjoy limited access to Premium articles, exclusive newsletters, commenting, and virtual events with our leading journalists
Already have an account? sign in
Join our new commenting forum
Join thought-provoking conversations, follow other Independent readers and see their replies