If you're gay, female or both in America, your rights now come with an asterisk
A New York immigration lawyer advised my boyfriend and I that the best way to resolve some visa issues we had was for us to sue the United States for the right to marry (we thought she was crazy)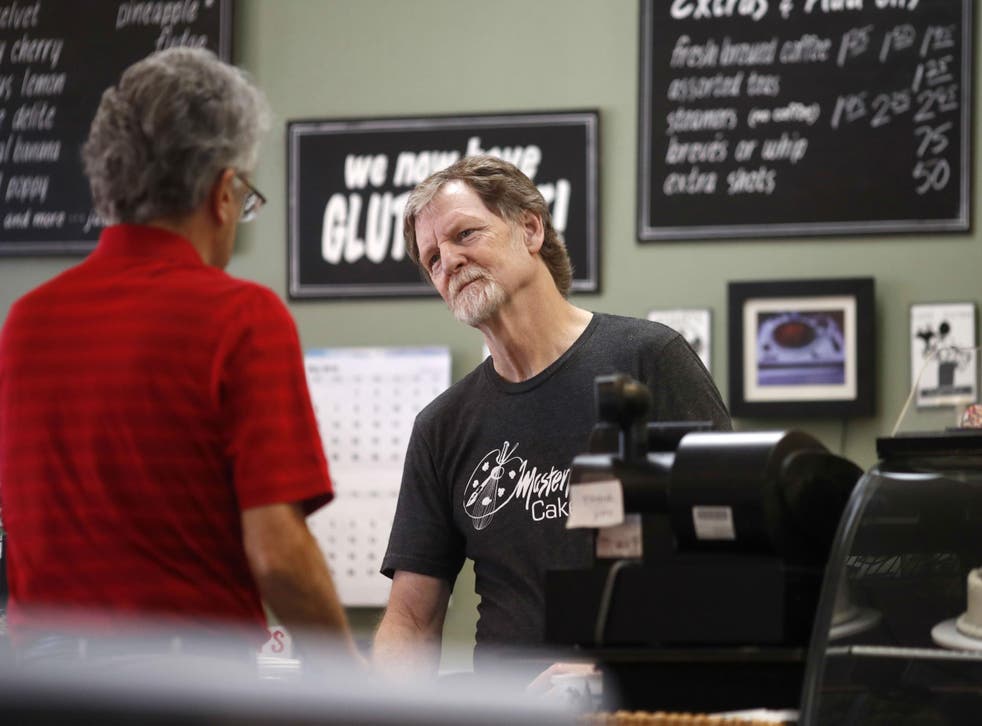 It's the start of Gay Pride Month in America, and the United States Supreme Court just sprinkled ice water on everyone's spirits by declaring that a baker in Colorado should not have been punished when he refused to bake a wedding cake for a gay male couple. The justices voted by seven to two. Even some on the liberal wing joined the majority. So not much ambiguity there.
There was a bit, fortunately. Look closer and you'll see that this ruling did not go to the heart of the issue: was the baker entitled to turn away the men because providing a service would have run counter to his Christian beliefs? Rather, the court said the state commission in Colorado that penalised him had crossed a line because some of its members had made fun of his faith.
In other words, what we heard from the court was that the Colorado Civil Rights Commission had fouled up in its handling of the case. The question we wanted answered still hasn't been. That is: are gay rights in America only certain and iron-clad when questions of faith don't get in the way? Do they vanish when someone says: "Ah, but my god doesn't agree?"
So we shouldn't be too depressed by this latest ruling. Yet it's hard not to be a bit. Bigots will have seen the footage of the baker leaving the court with a giant smile on his face and simply viewed what happened as a victory for their camp. Whatever the actual narrowness of the ruling, those determined to use religion as a cudgel to kill our new-found rights will feel emboldened.
Some will argue that LGBTQ folk just fret too much. When will they ever be happy? It is not the only constituency in America worried about its rights being insufficiently guaranteed or under clear and present danger. Gun owners in America feel that way. Dreamers who came into the US with their parents from south of the border think their right to remain is being taken away. (It is.) How about women, just over half of the population? Aren't their rights being eroded also?
Women arguably have far more reason to feel concerned – and confused. I mean, what's going on? The Miss America organisation has just announced it's banning the swimsuit part of its proceedings. They even have a hashtag for it, #byebyebikini. And it will no longer judge contestants on their looks. This isn't women getting the vote, but it's a moment. Harvey Weinstein standing in court and answering charges of rape and criminal sex act charges. That was a moment too.
Yet at the same time, the battle over a woman's right to bodily autonomy and not being forced to carry a foetus to term is being eroded faster than many of us even realise. As Ireland goes one way, the US heads the other. There is state-level attack on abortion rights under way that very soon will force the Supreme Court to revisit the landmark ruling of 1973, Roe vs Wade, that made abortion legal in the early weeks of pregnancy.
Supporters of gay rights and of women's rights are waging very similar wars. Their foes are driven by conservative ideologies, for sure, but most commonly by religious fervour. When voters in Alabama go to the polls in the midterm elections in November they will be asked to support, among other things, a total ban on abortions in the state and a constitutional amendment allowing the display of the Bible's Ten Commandments in public spaces.
Women in America also have to contend with having a president who has boasted on videotape about using his celebrity to win sexual favours. And grab female private parts.
It's also true that gay people in America – and that includes me – shouldn't forget how fast things have changed in our favour. We should count our moments too. There have been many.
I have three that I remember most vividly. Going to Provincetown on Cape Cod on a chilly spring weekend in 2004 to witness the rush of gay couples to the town hall as Massachusetts became the first state in the union to issue gay marriage licenses. A few years later listening as a New York immigration lawyer advised my boyfriend and I that the best way to resolve some visa issues we had was for us to sue the United States for the right to marry (we thought she was crazy). Sitting in a courtroom in North Carolina on a totally unrelated reporting trip and seeing a newsflash on my phone that President Barack Obama had said for the first time he supported gay marriage. My eyes welled up, because I knew that the day when gay marriage would no longer be an issue to be fought over was coming.
The Colorado baker story is a kind of coda to those struggles of old. But it's still important, because though all of us in the LGBTQ community can certainly celebrate all the progress that has been made in this gay pride month of June, it seems that as citizens of the United States we still have asterisks by our names. Full rights are yours except when…
It will be a fine day when those asterisks are gone too.
Join our new commenting forum
Join thought-provoking conversations, follow other Independent readers and see their replies