Geoffrey Rush's sexual harassment defence shows why #MeToo's work is not done yet
Many believe women made huge gains through the #MeToo movement, but Rush's non-apology to Yael Stone shows how men are weaponising the movement to their advantage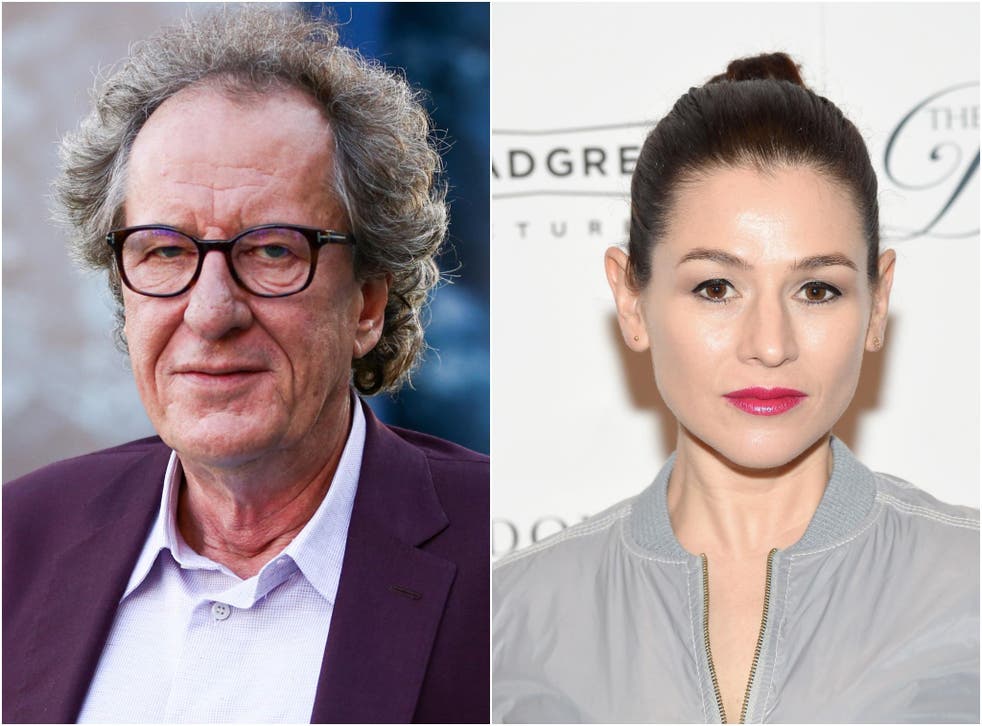 Accusations of hysteria have plagued women for centuries. Any time women in history have deviated from the norm, acted out or spoken up for themselves, men have labelled them "hysterical" as a calculated tactic to dismiss their behaviour and discredit their claims.
In the latest #MeToo accusation to emerge from the acting world, Geoffrey Rush's defence that Yael Stone's allegations against him "have been taken completely out of context" are just another example of this unchanging narrative. In a world where men still set the parameters of acceptable behaviour, they get to decide what is, and isn't, appropriate.
Rush didn't, of course, directly accuse Stone of hysteria. But in the #MeToo age, these non-apologies do something far more subtle with their language. For Louis CK, it was using the words "regret" and "remorse" without ever saying "sorry", while Rush's tactic was to deflect Stone's claims back at her, flimsily apologising while in the same breath suggesting that she misinterpreted his behaviour.
Michelle Obama on the critics of #MeToo
Many of the apology statements that have emerged out of the #MeToo movement have taken a similar tone, focusing not on the pain of the women or men hurt by the perpetrator, but on the pain of the perpetrator themselves. Playing into the trope of the confused, bumbling man who didn't know any better, these apology notes skilfully nudge blame towards their (usually female) victims for overreacting, remembering incorrectly, or taking events "out of context".
And while the #MeToo movement has undoubtedly achieved wonderful things, one of its unintended – perhaps inevitable – consequences has been backlash in the form of men weaponising hysteria against women more frequently than ever before.
It's a phenomenon that's occurred, in part, because the general public has confused gains in women's personal empowerment with gains in structural power, assuming one has naturally translated into the other. #HimToo hashtags fret over the supposedly tyrannical women crushing the careers of men, while think pieces wonder whether #MeToo has "gone too far".
In other words, the frequent, public conversations about sexual harassment have made many believe that sexism is on its way out; that women have not only achieved equality but might now wield more power than men. Yet while cases of rape being reported to the police almost doubled between 2013-14, the number of cases being charged by the Crown Prosecution Service has fallen to 23.1 per cent; the lowest figure in a decade. Women might feel more personally empowered, but the systems that govern their lives are still failing to reflect it.
Public perception, however, still overestimates the gains women have made since the advent of #MeToo, underestimating in turn the harassment, danger and sexism that women still face in 2018.
Support free-thinking journalism and attend Independent events
This survey from the other week, for instance, revealed that men massively underestimate the level of sexual harassment that women routinely experience. For certain men, this misconception is a blessing. It allows perpetrators to cast their female victims as powerful, unreasonable tyrants, shifting focus away from their own inappropriate behaviour.
It's a tactic that has dangerous implications for the wider culture of calling out and reporting sexual harassment. If victims see high-profile women accused of overreacting to harassment, they're more likely to second-guess or doubt their own experiences. What's more, the threat of being belittled or not believed by authorities makes them much less likely to ever report an incident.
Until we start seeing the wider landscape of #MeToo and rejecting this centuries-old trope of women being irrational, overly-sensitive and hysterical, men will continue to get away with their non-apologies and alleged abuse, pretending women hold all the power while in reality hoarding it all for themselves.
Register for free to continue reading
Registration is a free and easy way to support our truly independent journalism
By registering, you will also enjoy limited access to Premium articles, exclusive newsletters, commenting, and virtual events with our leading journalists
Already have an account? sign in
Register for free to continue reading
Registration is a free and easy way to support our truly independent journalism
By registering, you will also enjoy limited access to Premium articles, exclusive newsletters, commenting, and virtual events with our leading journalists
Already have an account? sign in
Join our new commenting forum
Join thought-provoking conversations, follow other Independent readers and see their replies