The George Soros controversy shows what Brexiteers have become: irredeemable conspiracy theorists
For those who believe the world is actually run by a cabal of rich, unelected men who dictate policy to governments and international agencies, Soros is a key figure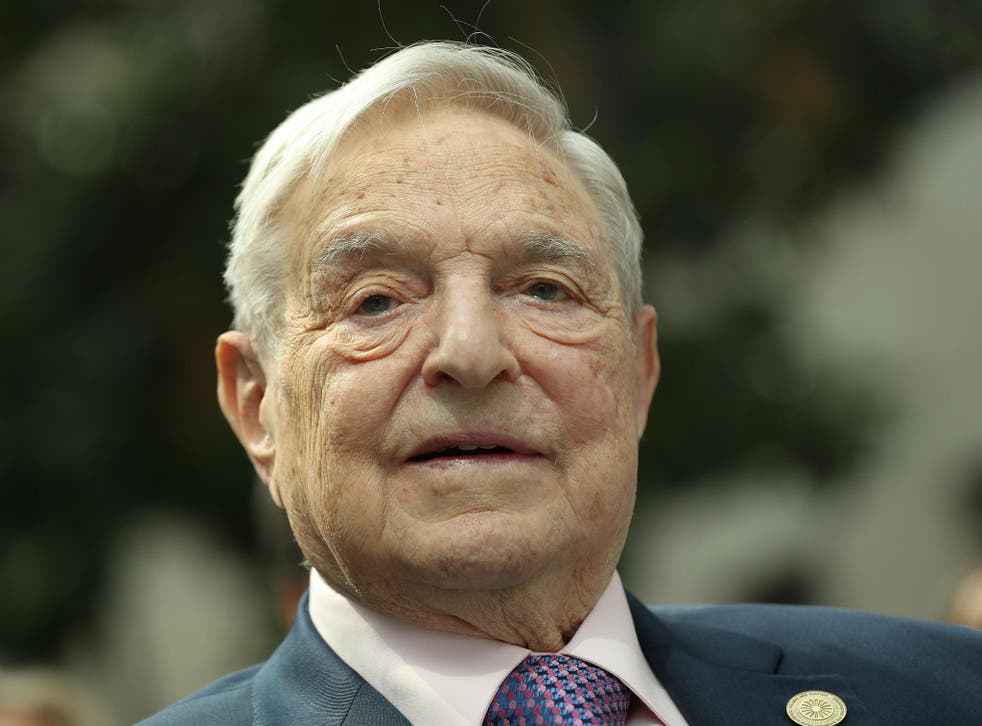 Clandestine schemers don't generally launch nationwide advertising campaigns.
That, however, seems to be the plan of the campaign group Best for Britain, which The Daily Telegraph's front page nonetheless describes as a "secret plot to thwart Brexit".
So secret, in fact, that it has existed for almost a year and has a shiny website that makes it abundantly clear the group is working to ensure that MPs can reject a Brexit deal if it isn't good enough. In that event, it argues, "remaining a member of the European Union must be presented again to the country as one of the options".
So secret indeed that Eloise Todd, Best for Britain's CEO, wrote an op-ed for The Independent on 1 January this year offering "my top five tips for fighting Brexit in 2018".
George Soros donates to anti-brexit campaign
Yet the presentation of the campaign as some sort of shadowy enterprise plainly taps into the broader notion beloved of some Brexiters that there is a grand conspiracy aimed at keeping Britain in the European Union at any cost.
We have seen any number of manifestations of this narrative in recent days. Jacob Rees-Mogg sparked a row last week when he asked whether Brexit minister Steve Baker had heard an allegation that Treasury officials had "deliberately developed a model to show that all options other than staying in the customs union were bad". Baker inflamed matters by saying the account had indeed been put to him.
While Baker subsequently apologised and several members of the Cabinet spoke out in support of the civil service, damage has undoubtedly been done.
What's more, when economic forecasts were released on Wednesday suggesting that pro-Bexit areas of England were likely to see the biggest downturn after EU withdrawal, Tory MP John Redwood said the Treasury figures were "complete nonsense".
These assaults on the civil service's independence are deeply troubling, besmirching as they do the integrity which lies at the heart of our country's governance.
They also bring to mind the claims of pro-leave supporters during the referendum campaign: that anyone warning of economic woe was part of the shady establishment's "project fear" and couldn't be trusted.
We have seen in the US how Donald Trump has ridden the wave of anti-establishment anger; and how he has promulgated conspiracy theories precisely to undermine potential constraints on his own power, including the media and government agencies, notably the FBI.
Indiscriminate cries of "fake news" and assaults on state institutions are one-dimensional, divisive and ultimately dangerous.
Brexit so far: in pictures

Show all 53
The overarching claim made by critics of the Best of Britain campaign is that it amounts to an attempt to subvert the democratic decision made in 2016 to leave the EU. But that is rather like saying that opposition parties shouldn't seek to undermine a government which has been voted into power at a general election.
It is surely beyond argument that the EU referendum was a verdict – made at a single point in time – on a binary question that turns out to have a number of divergent outcomes. To denounce as undemocratic a campaign that has called for Britain's Parliament to be given a meaningful vote on a final departure deal seems illogical.
The addition of George Soros to the mix as a Best for Britain donor has certainly been a boon to conspiracy theorists. Here, after all, is a man who has benefited in the past from British economic misery, who is foreign (having dual Hungarian and US citizen) and who has pumped vast sums of money into political causes around the world.
For those who believe the world is actually run by a cabal of rich, unelected men who dictate policy to governments and international agencies, Soros is a key figure. The fact that he is Jewish has made him a favoured bogey-man of the far-right too.
It remains exceedingly likely that Britain will leave the EU. But it is plainly true that for many ordinary people, the prospect is chilling. Surely they should be at liberty to express their views on what type of Brexit the UK might end up with; and they should be entitled to campaign against a bad deal. Like any other campaigning group, they must be allowed to fund their activities by seeking donations.
Let us not, then, permit legitimate, ongoing, Brexit debate to be mired in the sinister discordance of conspiracy theories. In the long run, it is the division sown by talk of plots that has the greatest capacity to leave this country on its knees.
Join our new commenting forum
Join thought-provoking conversations, follow other Independent readers and see their replies