Republican insiders worry Trump is about to destroy their chances at winning the runoffs in Georgia
'There's probably a better than 50-50 chance that this all goes to sh*t and he becomes the first president to blow up two Senate campaigns at once'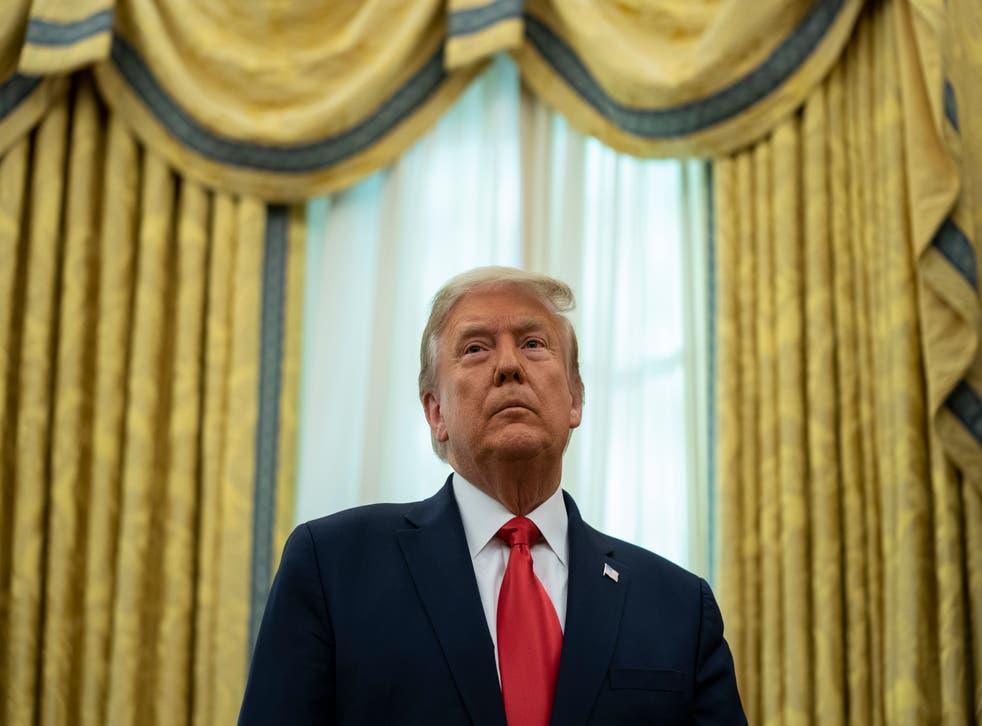 Just over one month to the day since Georgia voters handed an unexpected victory to Joe Biden, Donald Trump is going back there to campaign. Not everyone thinks it's a good idea.
Despite losing the state by 12,670 votes, the defeated lame-duck president of the United States will return in order to stump for candidates in a pair of must-win races. This, even as he and his lawyers continue to argue the 3 November election was rigged and two of his most prominent legal boosters are encouraging his supporters to sit out the 5 January runoff election.
What could go wrong?
According to one source familiar with the president's mental state, everything.
"There's probably a better than 50-50 chance that this all goes to sh*t and he becomes the first president to blow up two Senate campaigns at once," they said.
Over the 27 days since most reputable news organizations called the 2020 election for Biden, confidantes say Trump has vacillated from disbelief to anger, to an almost delusional insistence that his legal team could undo the result, to a strange and bitter combination of private acceptance and demands that allies join him in refusing to publicly acknowledge his loss.
Such a nonsensical response could have long-term consequences for the Republican Party thanks to the Peach State's peculiar election laws, which require the top two finishers in the November contests to compete in a January runoff if neither gets more than 50 percent of votes cast.  Republicans only need to win one of the two contests to allow Senate Majority Leader Mitch McConnell to retain his post (and the ability to maintain his legislative "grim reaper" status while exercising an effective veto over Biden's cabinet and other nominees). Most GOP luminaries, then, are hoping Trump's Saturday trip to campaign with candidates, David Perdue and Kelly Loeffler, will allow his popularity among Republican voters – which led him to win the second-highest vote total of any presidential candidate in history – to rub off on them.
Because Democrats winning both January contests will leave the upper chamber deadlocked at 50-50, with the vice president, Kamala Harris, able to break ties on any votes that fall along party lines, top GOPers – including party chair Ronna McDaniel – have tried keeping voters focused on the stakes of the upcoming contest.
Iowa senator, Chuck Grassley, the upper chamber's longest serving Republican, laid out the GOP's hopes for the campaign outing during a Thursday appearance on Fox Business Network.
"The president should do everything he can on Saturday when he has his rally to get every Republican that voted for him – and some people that maybe didn't vote for him – out to vote," he said. "Do everything to unite Republicans in Georgia so that we have a firewall against the progressiveness of this Biden administration."
Grassley's suggestion would be de rigeur for any other president in Trump's situation, except for the fact that Trump has not acknowledged that there will even be a Biden administration.
In an unscheduled, rambling 45-minute rant posted as a video to the White House's official Facebook page this week, the president let fly a cloud of outright lies and mistruths which have been rejected by judges in more than 41 separate court cases since 4 November. The common thread? The election was plagued by fraud, and the real winner was Donald Trump.
"If we are right about the fraud, Joe Biden can't be president. We're talking about hundreds of thousands of votes, we're talking about numbers like nobody has ever seen before," Trump said.
While the courts have almost uniformly rejected the claims offered by Trump's attorneys (who have not alleged that any fraud took place), his legal team and hangers-on to it have continued to push more and more outrageous conspiracy theories to explain his loss to Biden.
In Georgia, attorneys Sidney Powell (the noted releaser of Krakens who was kicked off the official Trump legal team after alleging that Georgia governor Brian Kemp and secretary of state Brad Raffensperger were bribed by voting machine companies) and Lin Wood are still clinging to the fantasy that Georgia's voting machines were designed to allow a long-dead Venezuelan caudillo to steal elections, and are enlisting Georgia Republicans into their fantasy world.
During a press conference-slash-rally in Atlanta on Wednesday, both lawyers encouraged Trump supporters to boycott the January runoff unless state election officials overhaul their voting procedures and ditch the Dominion Voting Systems machines which the state adopted for this year's elections.
"I would encourage all Georgians to make it known that you will not vote at all until your vote is secure – and I mean that regardless of party," Powell said. "We can't live in a republic, a free republic unless we know our votes are legal and secure. So we must have voter ID and we probably must go back to paper ballots that are signed and have your thumbprint on them. We certainly should be able to find a system that can count them, even if it has to be done by hand."
Wood went even further, attacking both of the candidates for whom Trump will campaign on Saturday.
"If Kelly Loeffler wants your vote, if David Perdue wants your vote, they've got to earn it," Wood said. "They've got to demand publicly, repeatedly, consistently: Brian Kemp, call a special session of the Georgia State Legislature. And if they do not do it … they have not earned your vote."
A group of Georgia GOP luminaries – including Loeffler's predecessor, Senator Jonny Isakson – rejected such calls in a statement released late Wednesday, saying that "without every vote cast for president Trump and all our Republican candidates on 3 November also being cast in the US Senate runoffs, the trajectory of our state and nation will be irreparably altered on 5 January."
But while Grassley said he hopes Trump will "forget ad libbing" and "not talk about how … he was cheated out of being president of the United States," others close to Trump aren't sure he'll follow their advice.
One close associate of the president – a former senior White House staffer who requested anonymity because of his penchant for litigation – predicted that Trump "is going to be more of a liability than an asset in going to Georgia".
"He will not stay on message, he is going to use it as an opportunity to rant against what he believes is a stolen election, and he is going to make his appearance there in Georgia all about him. It will not be about getting those two Senate seats; it will be about getting even for his defeat," they warned.
The potential for Trump to be a liability is evident in how conservative activists are attacking even the most loyal of Trumpists for being more supportive of runoff efforts than his election challenges.
One of the figures of the so-called "Stop the Steal" protests which have featured Wood and Powell – self-described "National Organizer for Stop the Steal" Ali Alexander (a sometimes GOP consultant formerly known as Ali Akbar who last year achieved some notoriety for claiming that Harris, whose father was Jamaican, is not "African-American") — told The Independent that he is excited for Trump to visit Georgia and is confident that "Republicans are going to be on the same page come 5 January". But, he said, McDaniel "has really chilled excitement with her comments about solely focusing on the runoff when Georgia voters are still trying to resolve November issues."
And a former White House official acknowledged Trump still has sway even in defeat because "the man got 73 million votes" and remains "a powerful force in the Republican Party" who cannot be ignored, but said the decision to roll him out as a surrogate for Perdue and Loeffler is a "critical error" because of "how he's railed against the Republican establishment in Georgia, including going after [governor] Kemp and secretary of state Raffensperger."
Rick Tyler, a Republican strategist who served as communications director for senator Ted Cruz's 2016 presidential campaign, also bluntly dismissed the possibility that Trump could put his own resentments aside and work to unite Georgia Republicans.
"We don't have to wonder what Trump's gonna do. He's gonna go to Georgia, get in front of the crowd, and for 90 minutes, it's gonna be a grievance-fest, about how the election was stolen, it's all fraud, and it's all rigged," said Tyler, who expressed surprise that Trump would deign to visit a state that did not vote for him in November.
The result of Trump's visit, Tyler said, would be similar to what happened in Arizona. There, late attempts by the president to campaign for the now-former Arizona senator, Martha McSally, fell flat when he hardly allowed her any speaking time at a rally that was at least in part meant to turn out the vote for her race against now-senator Mark Kelly.
"He's gonna go down there, and he's gonna get his supporters angry at the establishment party, meaning the governor and the secretary of state … and he's gonna drive away the voters who Perdue and Loeffler need to win, because Trump drove away educated white women in the suburbs in droves [in November]," he said. "And guess what's all around Atlanta? Educated white women."
Grassley, the Republican Senate stalwart, said Trump "will make a big difference" on Saturday if he "basically keep[s] to script," but when asked whether Trump could be an effective surrogate if he stuck to his pre-scripted remarks, Tyler just laughed.
"You think Donald Trump's gonna be there for the party? Give me a break," he said. "All he cares about is solidifying this idea that he didn't lose the election, that it was stolen from him. And therefore he's got to perpetuate this myth of corruption."
Register for free to continue reading
Registration is a free and easy way to support our truly independent journalism
By registering, you will also enjoy limited access to Premium articles, exclusive newsletters, commenting, and virtual events with our leading journalists
Already have an account? sign in
Join our new commenting forum
Join thought-provoking conversations, follow other Independent readers and see their replies