Rudy Giuliani is sick with Covid, and this is what makes it so especially sad
Once America's Mayor, he is now America's Mirror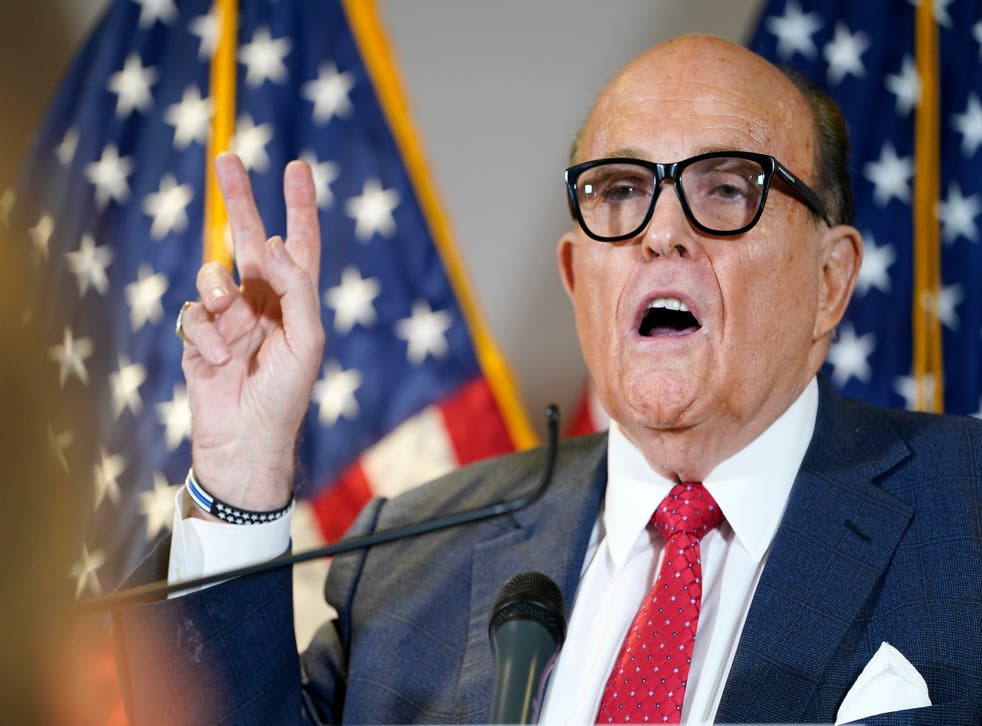 Leer en Español
On Sunday afternoon, President Trump announced, via Twitter, that his personal lawyer Rudy Giuliani was the most recent Washington insider to become infected with Covid-19.
"Rudy Giuliani, by far the greatest mayor in the history of NYC, and who has been working tirelessly exposing the most corrupt election (by far!) in the history of the USA!, has tested positive for the China Virus," Trump wrote in a race-baiting tweet. Not long afterwards, it was reported that Giuliani, who is 76 years old, had been admitted to MedStar Georgetown University Hospital in Washington. His current medical status is unknown.
While it may be tempting to poke fun at the mayor who has fallen far from grace — the same mayor who hosted a press conference not at the Four Seasons Hotel, but at a landscaping company situated between an adult bookstore and a crematorium that shares its name — the truth of Giuliani's situation is not at all funny. The lawyer's reckless behavior in the past weeks, the coda of which saw him perform his sycophantic duties in a now-notorious Michigan hearing for hours on end without a mask, is actually only sad. Other maskless devotees of the president have caught Covid-19, too. Some of those followers have been lucky, escaping the virus's grasp unscathed. Others have been less fortunate. Herman Cain, who likely contracted the virus after attending a maskless rally in Oklahoma over the summer, died as a result.
The list of Covid-19 survivors surrounding the president is long, of course: Kellyanne Conway, Stephen Miller, Mark Meadows, Hope Hicks, Bill Stepien, Ben Carson and Kayleigh McEnany have all made it through to the other side, as have the president, two of his sons, and his wife. Other Trump supporters, who lack the administration's access to world-class healthcare, may not have been quite as fortunate. In October, Stanford University released a study stating that the president's careless rallies had led to 30,000 cases of Covid, and at least 700 deaths.
The night before Rudy Giuliani was diagnosed with Covid-19, President Trump was in Georgia, riling up his base at a massive rally, where neither he nor the majority of his followers wore masks. In a sea of 10,000 people, in a state where Covid is very much not under control, the man in charge of a country in trouble took the stage and showed his supporters how to follow in his footsteps. The narrative of the Trumpian way, at this point, is all fantasy: a 2021 presidency; a stolen election, executed by Democratic coup; and a world in which a deadly virus won't come for you in the made-up sanctity of the Trump event.
But, like rats to a piper, followers and allies alike follow behind, ceaseless in their resolve. They will get sick or die trying, and the American truth is that to watch any of this unfold — yes, even to watch a ruined Giuliani get what many may envision as his just desserts — is the saddest moment of this country's consciousness. It means we have failed each other. It means we have chosen fantasy over reality, self over community, the word of a conman over the ironclad notions upheld by the Constitution. Giuliani will live or he will die. Dead, he would be just one more human addition to the ever-growing list of 282,000 American souls, forsaken by this government. Alive, he will no doubt dismiss the virus as surmountable, thus diminishing its magnitude.
The fact that people close to the president continue to become infected with Covid — and the fact that the president does not find this alarming — indicates how fully he has committed to this disturbing narrative. These are not vagaries, and they are not accidents. The behavior being displayed on the public stage is causing outbreaks, in small and large ways.
Giuliani, the imperfect person, is a stand-in for every duped American who took seriously the president's unseriousness, and who suffered as a result. And what Giuliani's infection demonstrates is the wholesale fantasy of the Trump era. They will sell their best friends down the river: their allies, their colleagues, their close personal friends. They will lead even the staunchest Trump supporters to refrigerated, mobile morgues. Once America's Mayor, now Rudy Giuliani shows America what we look like. He is America's Mirror.
Join our new commenting forum
Join thought-provoking conversations, follow other Independent readers and see their replies