You can learn how not to be a LGBT ally by looking at what happened at Glasgow Pride
It does not matter which side of the trad/modern divide you fall – police wrestling LGBT people to the ground at a Pride march and putting them in a choke hold is not a good look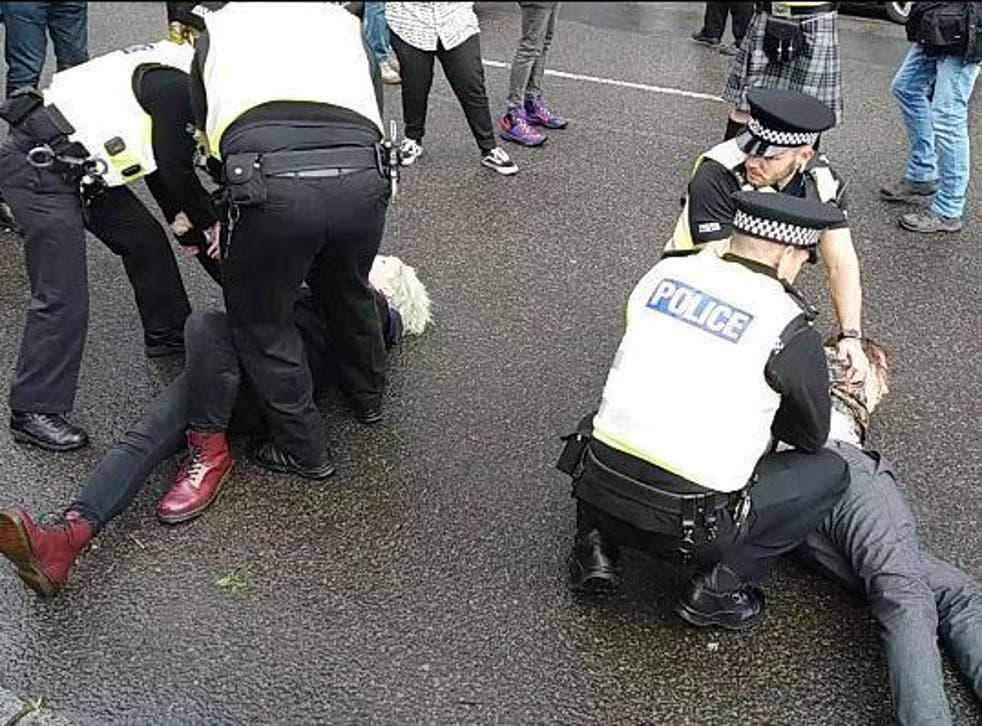 If you want to know how not to be a good ally to a minority community, look no further than Glasgow last Saturday, where a toxic combo of ego and intransigence – by police and the Pride organisers – may just have set police-LGBT relations back by years.
At root is the question of what Pride really is. For its origins, along with Stonewall and the slow march toward LGBT rights, lie in protest. A gay/queer/trans community that had had enough of abuse at the hands of (New York) police turned furiously on their oppressors and fought back. So Pride, traditionalists and purists alike insist, is protest: very particularly, protest against the police.
But add the pink pound. And pink-washing – the practice of making megacorps seem cuddlier by gaying up the marketing. And the stage is set for a recurring row between traditionalists and "normalisers": between those who feel that much is still to be done – and those who just want to get on with stuff.
Stonewall named gay monument
It's a valid debate, erupting frequently, sporadically. At London Pride this year, a queer bloc simply inserted itself at the front of the march and the organisers, with a shrug and a "whatever" just let them get on with it. The front nowadays is generally reserved for paying corporations and groups, with protesters and LGBT rights groups sent to the back.
This issue was replayed twice over in Glasgow this weekend where – massive red flag – the Pride organisers did not just invite police to join the march, but decided it should be led by a police marching band. The first is broadly OK. The second is edgy, edgy, edgy.
What followed was nearly inevitable. As in London, a more radical group styling itself Free Pride Glasgow, and including NUS Trans Officer Jess Bradley, decided to "reclaim Pride" by inserting itself at the front of the parade. Unlike London, the Glasgow Pride organisers had already warned that groups and individuals taking issue with others on the march would be banned. Sainsbury's Pride, anyone?
So, presumably with their blessing (I have asked the organisers, but they aren't replying!), the Police waded in and "took em down". And – it does not matter which side of the trad/modern divide you fall – police wrestling LGBT people to the ground at a Pride march and putting them in a choke hold is not a good look.
Separately and unrelated, a more radical queer black-and-red contingent were standing by intending to join the march, sans paying a marching fee, to protest the requirement for groups to hand over said fee. The unrelatedness is important, since, some have suggested, police belief that the two groups were connected in part explains the strength of their response.
One of this group held a placard with the slogan "Faggots fight fascism".
According to the police event commander, Chief Inspector Alan Bowater: "Numerous complaints were made from members of the public and organisers of the event in reference to the banner, which was described as offensive and inappropriate." This apparently justified both the police response and charging that individual with a homophobic hate crime.
But hang on! Really? A police officer telling someone stood with a queer bloc, draped in rainbow colours, how they may identify? It's up there with white people policing black peoples use of the n-word as something that should not be happening.
Problematic. Much. Because even if the mistake was initially credible, 24 hours later, the police were still insisting this language was homophobic.
Compare and contrast this action with the "quiet word" that police had with some Christian placard-wavers who really were homophobic: whose presence, despite causing alarm, and being described as intimidating by several marchers, was still OK. Bowater again: "Police officers are responsible for ensuring the facilitation of lawful peaceful protests and demonstrations. There were some counter demonstrators who were present which is to be expected during such a large event."
Or as many have parsed that: bigoted Christian free speech good; radical queer speech, bad.
So where are we now?
Flying the flag: Why Pride is still relevant

Show all 3
As always, it is not the initial incident but the response that matters. Police are welcome at Pride. But it takes a degree of monumental stupidity to fail to see how them leading Pride – in uniform! – is never going to fly.
Ditto taking down LGBT protesters. Ditto policing LGBT language.
The feeling, from talking to many there and in Scotland, is that this represents a significant setback to police-LGBT relations. Not fatal. But not small either.
There is now an on-going social media spat between the organisers and many in the LGBT community. The NUS, Equality Network and Scottish Trans Alliance have condemned police actions.
The real problem, though, is police insistence that they did nothing wrong. Which is great media strategy, but awful if you want to be friends and allies. Here's Bowater, one last time: "Police Scotland fully supports all members of society regardless of their sexual orientation or transgender identity and to suggest otherwise is simply not true. Police Scotland is a strong ally of the LGBT community."
Bridges need to be rebuilt. Not burnt. That process starts, as so often, with a quiet humble moment: we screwed up. We didn't meant to. But we did.
From there, good things can follow. Anything less, and I predict a rockier road ahead.
Register for free to continue reading
Registration is a free and easy way to support our truly independent journalism
By registering, you will also enjoy limited access to Premium articles, exclusive newsletters, commenting, and virtual events with our leading journalists
Already have an account? sign in
Register for free to continue reading
Registration is a free and easy way to support our truly independent journalism
By registering, you will also enjoy limited access to Premium articles, exclusive newsletters, commenting, and virtual events with our leading journalists
Already have an account? sign in
Join our new commenting forum
Join thought-provoking conversations, follow other Independent readers and see their replies