Gordon Brown should have been more open about his faith when he was Prime Minister
While polls show voters want religion to be left out of politics, Brown suggests in his new book that such a desire is at odds with the public's clamour for MPs to be more authentic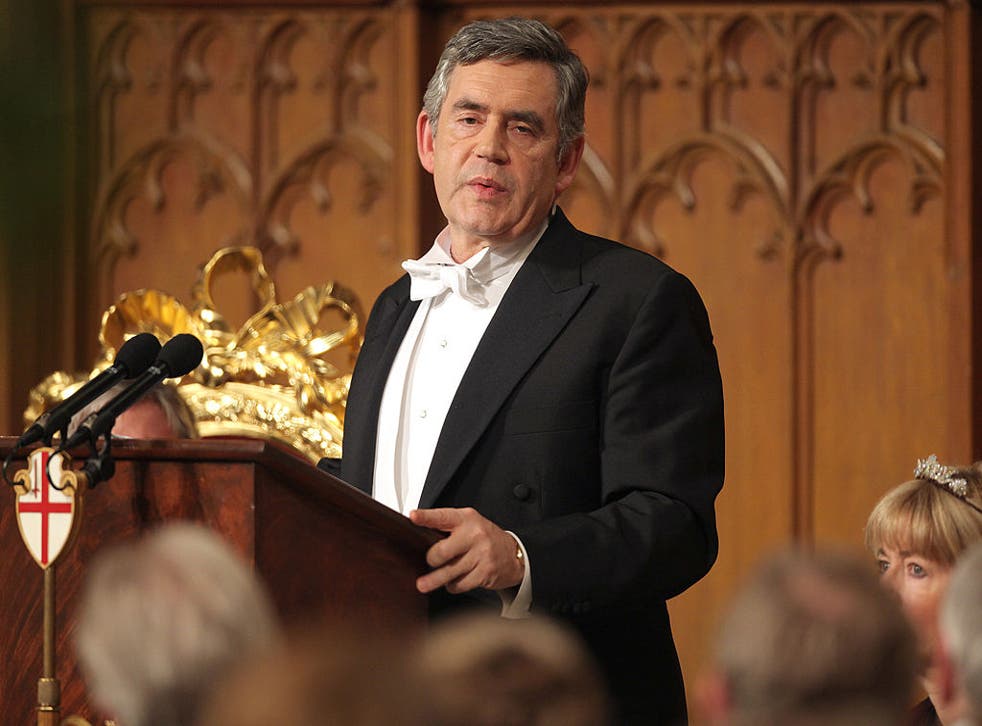 On Christmas Day, appropriately, I reached a fascinating chapter in Gordon Brown's memoirs about whether politicians should wear their religious hearts on their sleeves or keep their faith to themselves.
The former Prime Minister, a son of the manse who grew up in Kirkcaldy, Fife, could step out of his front door and walk past nine churches within a few hundred yards of each other. So it was no surprise that his religious beliefs shaped his passionate commitment to tackling poverty and inequality.
Brown's revealing book My Life, Our Times looks at cultural as well as political changes. He believes historians will be astounded by "the scale and speed of the collapse in religious adherence" since the 1950s. Indeed, this year's British Social Attitudes Survey put the proportion of Britons professing to have "no religion" at a record high of 53 per cent.
Gordon Brown on Brexit: Britain will hit a 'crisis point' next Summer
Similarly, a YouGov survey for The Times this month found that 65 per cent of people believe political figures should cordon off their religious beliefs from their decision making, with just 14 per cent saying the opposite and 21 per cent saying "neither" or "don't know".
Despite that, the most striking and surprising passage in Brown's chapter "Faith in the Public Square?" is his regret at not being more open about his religious views. With the public demanding authenticity from politicians, he writes, "to expect those of us with strong beliefs to leave them at the door of the House of Commons or No 10 is to require us to bring an incomplete version of ourselves into the public arena. If the values that matter most to me are the values I speak about least, then I am, at least in part, in denial of who I really am."
The former PM suspects that he paid a price: being viewed as a technician who lacked solid convictions. Instead of defining himself, he allowed his opponents to define him. He doesn't say so, but perhaps at the time Brown feared that talking about his roots would remind English voters of his "Scottishness". And perhaps he was too influenced by Alastair Campbell's mantra that "we don't do God". His boss Tony Blair attended Catholic mass but converted to Catholicism only after leaving Downing Street.
Of course, we can't be sure voters would have warmed to Brown more if he had been an open book. Their opinions were probably shaped more by big events such as his 2007 "election that never was", his feud with Tony Blair and the New Labour project running out of steam.
Brown says that politicians must avoid "preaching" to the public, or claiming in effect that God is on their side. Margaret Thatcher got it wrong in her 1988 "Sermon on the Mound" in Edinburgh, as she tried to justify putting individualism before society. But he argues powerfully that choices should not be reduced to "a theocratic and unacceptable dogmatism on the one hand and a joyless and barren secularism on the other". And that a more ethical politics would allow a healthier national conversation, helping to build a more compassionate Britain.
World news in pictures

Show all 50
Some voters will doubtless be puzzled that politicians tie themselves up in knots over their faith. Tim Farron was haunted by the question of whether gay sex was a sin during this year's election campaign. When he stood down as Liberal Democrat leader afterwards, he said: "To be a political leader and to live as a committed Christian, to hold faithfully to the Bible's teaching, has felt impossible to me."
Theresa May, a vicar's daughter, appears more relaxed about religion than Brown or Farron. She has said that "faith guides me in everything I do" but would never make a speech like Thatcher's. (Indeed, her Tory manifesto in June pointedly rejected "the cult of selfish individualism".) May's Christmas message said people should "take pride in our Christian heritage" and celebrate "the Christian values of love, service and compassion" but noted that these were lived out by people of "all faiths and none".
Although we are a mainly secular nation, agnostics and atheists should perhaps be a little more understanding of politicians who are motivated by their religious beliefs – as long as they don't preach to us.
Equally, people who believe should be more tolerant of those who do not. It was ludicrous for Tory MP Andrew Bridgen to criticise Jeremy Corbyn for not mentioning Christianity in his Christmas message. He was wrong to accuse the Labour leader of issuing a party political statement; Corbyn spoke with compassion about the lonely and those sleeping rough, and war-torn countries such Yemen and Syria.
No politician will rebuild public trust in themselves by pretending to be something they are not.
Join our new commenting forum
Join thought-provoking conversations, follow other Independent readers and see their replies