Gove and Johnson are playing student politics – as the former President of the Oxford Union, I should know
The small stakes at the Oxford Union make for viciousness, because the dividing lines are deeply personal. Gove's move against Boris Johnson was as personal as it gets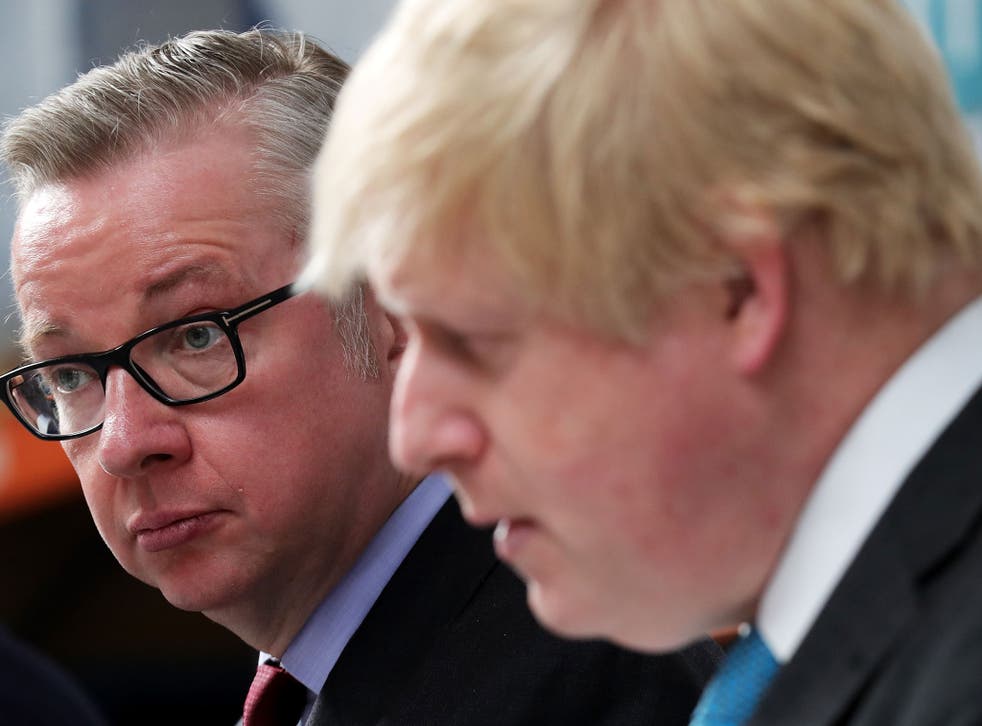 To most people, events in the Conservative Party this week probably seem surreal. The ruthlessness. The charlatanism. The swivel-eyed scumbaggery. But to those of us familiar with the Oxford Union, this is what politics looks like. Don't hate the players: hate the game.
The Union prides itself on being "the world's most famous debating society". Students pay over £200 for life membership, giving access to weekly debates, and speeches by big names ranging from Johnny Depp to John Major, Malala to Marine Le Pen. Smart, dedicated students give up their holidays to organise these events, enjoyed by hundreds of their peers and millions more online.
But to some "hacks", as Union committee members are known, the debates are a sideshow. The goal is to become president, which Boris Johnson and Michael Gove managed. (So did I, but I'm totally normal, and not at all sinister, I swear.)
Theresa May's now-husband was president while she was returning officer, the figure who exudes sober competence while cleaning all the blood off the carpet at the end of term.
Boris heckled leaving home
To get elected, you build a "slate" of people running for junior positions to support you. Allegiances are based on friendship (sometimes), or pledges of mutual support (more common). In 1985, Boris Johnson ran and lost as an avowed Conservative, and won a couple of terms later as a Social Democrat. These days, ideology plays no role.
Discussing the events of Thursday with Union friends, we found we had a ready-made vocabulary. Boris knifed Dave. Michael knifed Boris. Theresa and Michael stole Boris's slate. Boris self-binned.
The small stakes of student politics make for viciousness, because the dividing lines are deeply personal. A Labour candidate losing in a Tory seat has their ideas rejected, but for the losing student politician, it can feel like their personality has been voted down. Gove's move against Boris Johnson, just days after they celebrated victory together, was as personal, and as close to student politics, as it gets.
On top of the electoral treachery, this referendum campaign has sometimes seemed like one long Oxford Union debate. As a speaker in the famous wood-panelled chamber, you stand before hundreds of people and stick to your arguments in the face of scathing rebuttals.
"You've got a point actually," is the one thing you cannot say, even if you know your arguments are rubbish because you scribbled them on your napkin at dinner, and can't quite read the second bit because you are drunk. The key is to keep people entertained.
The favourites in the Tory leadership race

Show all 5
When debates are binary and no one cedes ground, there is no space to analyse complex trade- offs – between immigration controls and prosperity, between alliances and sovereignty.
Until recently in the Union, slates and campaigning were banned. Everyone did it, but any evidence – a Facebook screenshot, a forwarded email, a recording of someone soliciting votes – could be taken to a tribunal, where election results could be overturned.
When I was involved, Britain's brightest and best pulled some amazingly mendacious stunts. Key tracking software was installed on a communal computer. Infiltrators surreptitiously recorded slate meetings. A laptop was stolen and taken by night bus to a computer hacker in London, who forwarded incriminating emails to national newspapers. (The rules on campaigning have now been relaxed, so the skulduggery has been replaced by a termly onslaught of earnest Facebook propaganda.)
These digital tricks may be unfamiliar to Gove, Johnson and May, but according to old hands, the general themes have always been the same. Friendships are skewered on the crucible of ambition. Electoral machinations take priority over running the institution. If you cannot beat your opponent at the ballot box, pull some Machiavellian stunt to eliminate them beforehand.
What next? Well, as well as backstabbing, overconfidence and blagging around complex subjects, Union hacks also learn how to clean up the mess when their mismanaged events get out of hand.
Hopefully our post-Brexit leaders remember that bit too.
Joseph D'Urso is the former president of the Oxford Union
Register for free to continue reading
Registration is a free and easy way to support our truly independent journalism
By registering, you will also enjoy limited access to Premium articles, exclusive newsletters, commenting, and virtual events with our leading journalists
Already have an account? sign in
Join our new commenting forum
Join thought-provoking conversations, follow other Independent readers and see their replies