I see no sign of 'levelling up' – does the government even know what it means anymore?
Don't let the spending review and hard hats be a distraction from the fact levelling up hasn't materialised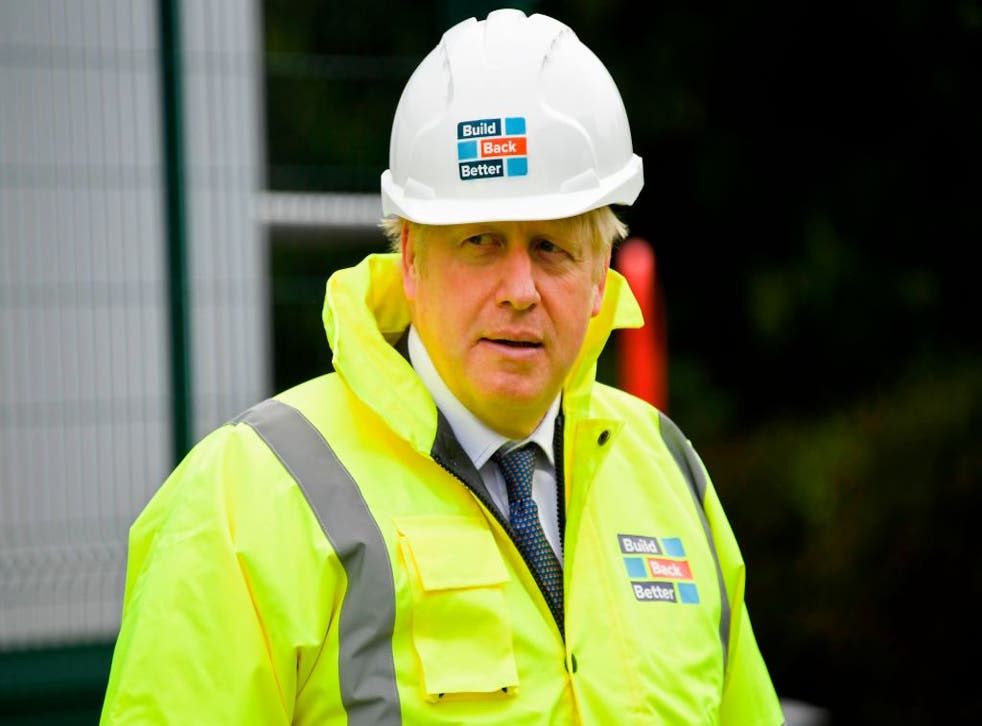 This week and next, the government will drip out the projects that they are going to be spending money on in the spending review. I predict they will make a big song and dance made about their investments; if you haven't seen every member of the cabinet in a hard hat and high-vis by the end of next week then, frankly, you've not been paying attention.  
As you watch them announce their plans, remember, this is the cash the government wants you to know they are spending. There are plenty of deals, contracts, and investments they seem less keen for the public to know about – they are less vocal about the reported £21m that went to with a random jewellery designer to get some protective clothing made. Funny that.
Prepare yourself. You'll be hearing the phrase "levelling up" approximately every 25 seconds, from every Tory, for at least the next three months. I can't be too snarky because this kind of message discipline does reach people, which is what they're intending.  But my god, there is nothing quite as annoying as listening to a Tory on the morning radio bleating empty platitudes about levelling up, while sifting through that day's emails from constituents. 
Emails range from someone stuck on a huge waiting list, who wants my help to see a doctor sooner than June 2021 to a desperate plea from one of my local schools, which is having to make the tough decision about whether to shorten its teaching hours because of cuts. Maybe I should practice being a loyal Tory and simply reply to each email as such: "Sorry Mr Metcalf that you have waited 12 months to see a throat specialist but don't worry you should expect to level up any minute." Or: "Apologies Mrs Jones that your child won't be in school on Friday afternoons anymore. But not to worry – you and your daughter, I am reliably informed, will level up in no time."
Levelling up is the thing the prime minister now wants to talk about. Boris Johnson loves to make a grand promise – but he is less reliable with the detail or the delivery. This new era is apparently going to remind us of "fun time" London mayor Boris – who was never happier than when promising to build some bridge or other.
This week we will be told all about big construction projects, and the new gadgets, that the government is going to invest in. Boris Johnson will probably hang from a crane, asking us to be positive about the future of this place or that. But the important question everyone should ask him is – how and when will any of this really improve most people's lives?
Now, I don't want anyone to think that I don't love and encourage a good infrastructure project. As someone who resides at one end of the HS2, I am really hopeful about the kinds of economic improvements that will be felt in the city of Birmingham – when it is finally completed. The HS2 project has been going for a good few years now. While it definitely has its benefits for local jobs, no one could say that this alone has much improved, or levelled up my home town yet. And big projects like this can't be a distraction from the gross failings of the government in other important areas.
Let's take a closer look; how has the Conservative government "levelled up" Birmingham when it comes to child poverty for example? In my constituency in 2018-19, 12,570 (44.7 per cent) children were living in poverty, a 12.4 per cent rise from 2014-15.
And how about unemployment levels? Since becoming an MP, every year the unemployed claimant rate has slowly but surely risen. The last count I received (pre-pandemic) told me that there were, "4,575 unemployed claimants in Birmingham, Yardley in November 2019, this is 315 higher than November 2018." Today, it stands at 8,150. Great levelling up there lads.
Crime – never wanting to be left behind by other societal problems – has seen a tremendous levelling up where I live. There were 84,039 violent crimes recorded by West Midlands Police in the year up to September 2019, a 27 per cent rise from the previous year. At the same time, the West Midlands has lost 3,000 police officers since 2010.
I'm purposely citing data from before the pandemic, so as to be fair to Boris Johnson. Covid-19 has brought unique circumstances. But this data is all from the time when Boris "loves to level up" Johnson was the prime minister, and in charge. And didn't he do well? It might be more apt to just remove the "levelled" actually. Crime up, poverty up, unemployment up. Take a bow Mr Johnson you got the hat trick.
Next week, the chancellor will stand in parliament, the prime minister will pop on his specially monogrammed high-vis and blether something that's meant to be charming, and every single Tory will repeat their lines to the nation. But most of the country will be living with the reality of what this government has actually caused.
So far, Boris Johnson's levelling up has meant most of us are more likely to be a victim of crime, more likely to be relying on benefits and more likely to live in a family where a child is in poverty. But at least the prime minister will look funny in his hard hat, so I guess that's something to help us all through.
Jess Phillips is the Labour MP for Birmingham Yardley
Register for free to continue reading
Registration is a free and easy way to support our truly independent journalism
By registering, you will also enjoy limited access to Premium articles, exclusive newsletters, commenting, and virtual events with our leading journalists
Already have an account? sign in
Register for free to continue reading
Registration is a free and easy way to support our truly independent journalism
By registering, you will also enjoy limited access to Premium articles, exclusive newsletters, commenting, and virtual events with our leading journalists
Already have an account? sign in
Join our new commenting forum
Join thought-provoking conversations, follow other Independent readers and see their replies