Freida Pinto's casting as the only lead female character in Guerilla erases women from the history of Black Power
There were many women at the forefront of that movement in Britain, and it's important not to forget the pivotal role they played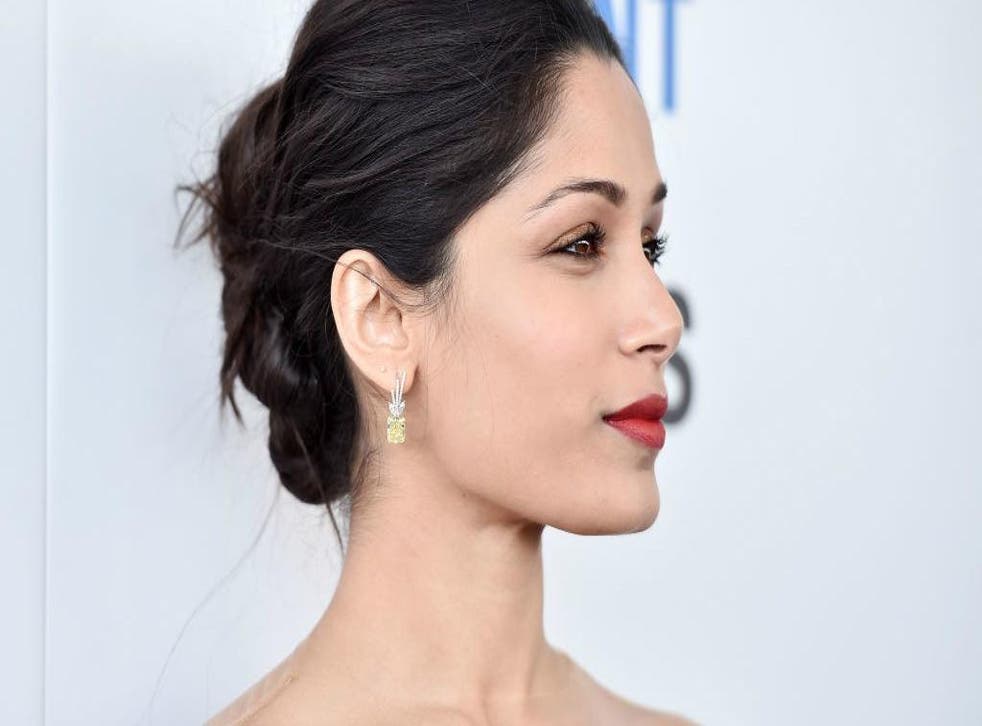 The history of Black Power in Britain is often forgotten, giving way instead to more famous stories of militancy from the United States or sanitised narratives of British anti-racist history.
So when Sky Atlantic announced its new original series, Guerrilla, produced by and starring Idris Elba, the hope was that it would provide much needed screen time to the threatened history of organisations like the British Black Panther Movement, United Coloured People's Association and the Black Unity and Freedom Party.
Instead, after critical questions were asked about the representation of black women in Guerrilla at the series' premiere, the discussion has taken a disingenuous turn towards supposed upset caused to lead actress Freida Pinto.
Stories in the i newspaper and The Sun originally claimed activists from Black Lives Matter UK had brought Pinto to tears with suggestions that she should not have been cast in her role. Having been at the premiere myself and after rewatching videos from the controversial Q&A, I know that isn't true.
The real story however is perhaps even more concerning.
Amidst the forgotten history of Black militants in Britain there is a class whose contributions are even further unrecognised: black women. We don't hear about the work carried out by Leila Hassan with the Black Unity and Freedom Party, or Beverly Bryan organising with the Brixton Black Women's Group.
You might have heard about the Mangrove 9, but you're unlikely to know about defendants Barbara Beese or Althea Jones-Lecointe. Those women took up leadership positions throughout the Black Power movement but their names are far from familiar. Many more women will only ever have their role recognised in stories shared with family and friends.
At the Bloomsbury premiere of Guerilla those women were missing from both the screen and from the room.
Idris Elba on Oscars diversity
That's why it fell on the shoulders of younger black journalists such as Dominique Hines and organisers including Imani Robinson to ask why in the episode screened none of the characters represented black women leaders. Freida Pinto was not the focus of their question and her inclusion as the lead is little excuse for the absence of African and African-Caribbean women.
In response to questions from panel host June Sarpong and the BBC, Pinto highlighted Britain's history of "political Blackness" and the contribution of South Asian people to that shared identity and struggle.
It's true that, at the time of the British Black Panther Movement, the category "black" was often used to refer to all people of colour. It was a banner of solidarity to unite under. Even today, bodies such as the Black Students' Campaign at the National Union of Students, and Southall Black Sisters, operate under that definition.
But it should never have been used to elide the gaps between different experiences of racism and at a certain point its popularity declined due to the widening of the gaps between communities of colour.
In many ways, the furore around whether Pinto cried at this event points to why political blackness became less useful. Faced with two black women asking reasonable questions about representation, director and writer John Ridley first dismissed their criticisms, saying to Hines: "To me, everything that you're saying is exactly why that decision is so important." Then he launched an impassioned plea that appeared to misconstrue their questions and could be interpreted to suggest they were discriminating against those in mixed-race relationships, such as himself and his lead characters.
Black women are often painted as difficult, scary and quick to abuse. In disagreements they can never be sure that black men or other women of colour will support them.
It means nothing to unite under the banner of political "blackness" if those most likely to be demonised continue to suffer that at the hands of other black people. If we're not willing to answer critical questions when black women raise them we don't have unity among people of colour, we have erasure.
Register for free to continue reading
Registration is a free and easy way to support our truly independent journalism
By registering, you will also enjoy limited access to Premium articles, exclusive newsletters, commenting, and virtual events with our leading journalists
Already have an account? sign in
Join our new commenting forum
Join thought-provoking conversations, follow other Independent readers and see their replies