'Happiest Season' isn't perfect, but it is enough
I recognize myself in this film — in the hurt characters and the ones who do the hurting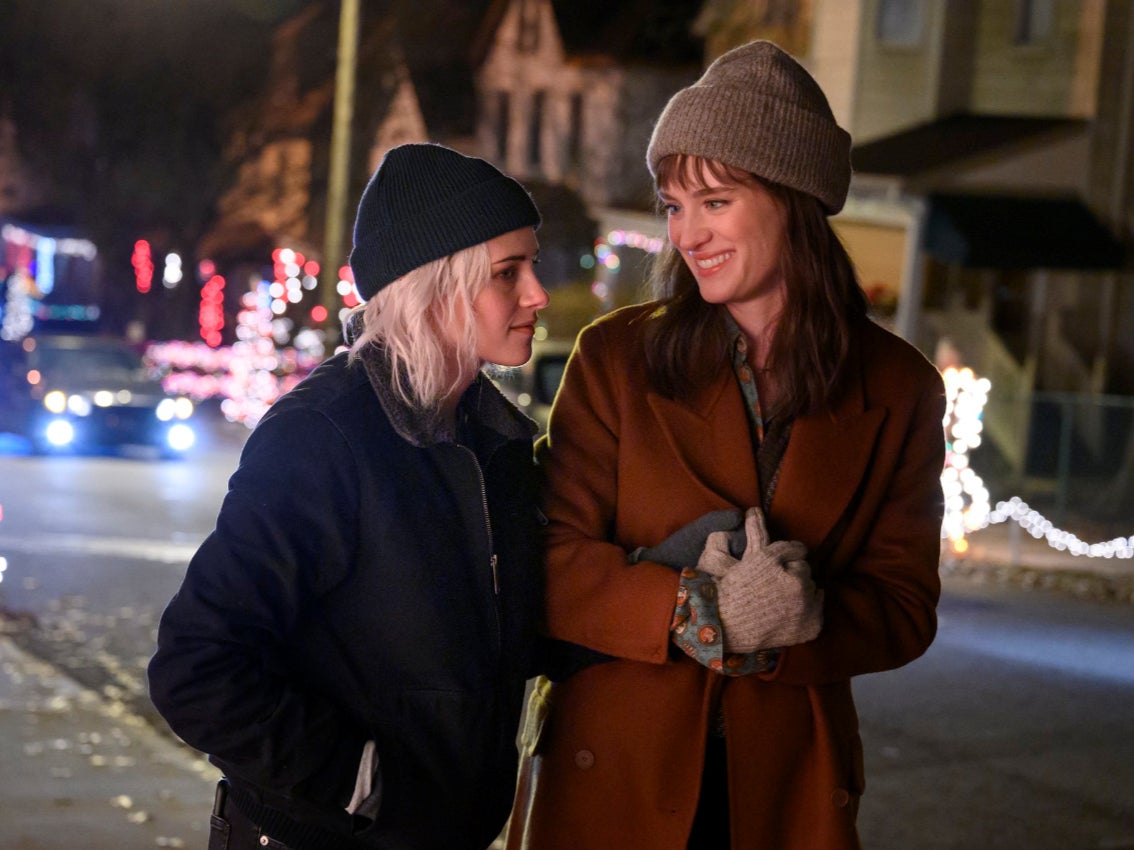 Last week, the much-anticipated queer holiday film, Happiest Season¸ premiered on Hulu. Written and directed by Clea DuVall, it is the first ever studio-backed holiday rom-com featuring a queer couple. The cast is stacked with celebrities, from Victor Garber playing a straitlaced, straight dad to Dan Levy as best friend-slash-comic relief to Kristen Stewart starring opposite Mackenzie Davis. And behind the camera, DuVall infuses the film with quotidian queerness. From queer characters complimenting one another's jackets to a drag performance squeezed in to the timing of a new Tegan and Sara song, LGBTQ culture feels fully present throughout.
Yet on social media, reactions to the film have been wildly varied. Some say the film is just bad. Others have taken to shipping Abby with Riley (Aubrey Plaza). Many more have expressed anger at Harper, including queer writer Roxane Gay, who cites Kristen Stewart being "mega hot" as a reason for her frustration. 
Equally, some loved the film. Others noted the pressure Harper is under or how Harper's apology to Abby impacted them.
It seems that the only thing queer viewers can agree on is that this film has hit them in their feelings.
Happiest Season does grapple with themes that are divisive among queer communities: coming out, homophobia, conflict between partners and within families. The film follows a young queer couple as they head home for Christmas. What Harper (Davis) hasn't told tell partner Abby (Stewart) is that her family doesn't know she's gay. That's the setup — so at first glance, it's another coming-out story about a woman struggling to tell her family who she really is.
Happiest Season is not quite the holiday film viewers, including myself, were expecting. However, many very real experiences are portrayed in this movie; experiences I know all too well. I've been the person in a relationship who says and does terrible things and the one who has those things said to them. I've broken my partners' hearts and had my own broken in return.
It's been over a decade, but I still remember my ex-girlfriend telling me she thought I didn't love her because I wouldn't tell my parents about us. It was very similar to what Abby says in the film when she's (rightly) had enough of Harper's bad behavior. "You not telling your parents about me is a choice you made," she says. "Do you know how painful it's been to watch the person I love choose to hide me?"
And Harper replies, as I did, trying to explain the suffocating pressure and fear of being in the closet. She says, "I am not hiding you. I'm hiding me."
As much as I've been Harper, begging my partner not to leave me for not being ready to be out, I've also stood in the basement of my ex-girlfriend's house and been Abby, begging her to just tell her mom that we're a couple, telling her that there really isn't anything wrong with us and that I'm worth standing up for.
And more often than either of those roles, I've been John (Levy), standing by queer people who are shattered — as individuals and as couples — by the terrifying reality of telling their families about their queerness and not knowing what might happen. Or, as John puts it in the film, "Everybody's story is different: there's your version and my version and everything in between. But the one thing that all of these stories have in common is that moment right before you say those words and your heart is racing and you don't know what comes next… You have to be ready for that. You can't do it for anyone else."
When I learned Happiest Season was a coming-out story, I was annoyed. I wanted to see a movie about a queer couple in love, not someone wrestling with their demons. What I wasn't expecting is that DuVall would give me both, mining queer fear for humor and romance. It is always a risk to do so and for better or worse, from the opening scenes to the conclusion, that's exactly what Happiest Season does.
I can see why some people find the film frustrating. It is incredibly white, heteronormative and upper-class. However, I cannot deny the simple reality of how it impacted me and my partner emotionally to see a queer couple struggle with visiting family over the holidays. And perhaps we're asking too much of one film. How could Happiest Season possibly meet the expectations of so many queer viewers so starved for representation?
The close of the film shows Abby, Harper, John, and Harper's family getting ready to watch It's a Wonderful Life in a cinema together. They smile and laugh and share popcorn. As the opening credits of the film within the film roll, it is suggested that Happiest Season is intended as a queer version of It's a Wonderful Life. But instead of seeing what others' lives would be like without her, Harper has a chance to see what her life would be like if she stayed in the closet and she chooses otherwise.
Happiest Season is about queer community, queer resilience, and making the world — and your family — better by having the audacity to be yourself, despite being afraid. It isn't the be-all and end-all for queer narratives by any stretch. But it is worth celebrating.
Join our commenting forum
Join thought-provoking conversations, follow other Independent readers and see their replies