Has Nigel Farage made it easier for Jeremy Corbyn to support a new referendum?
In recent focus-group research among older northern voters, the former Ukip leader was one of the few politicians whose name came up in discussions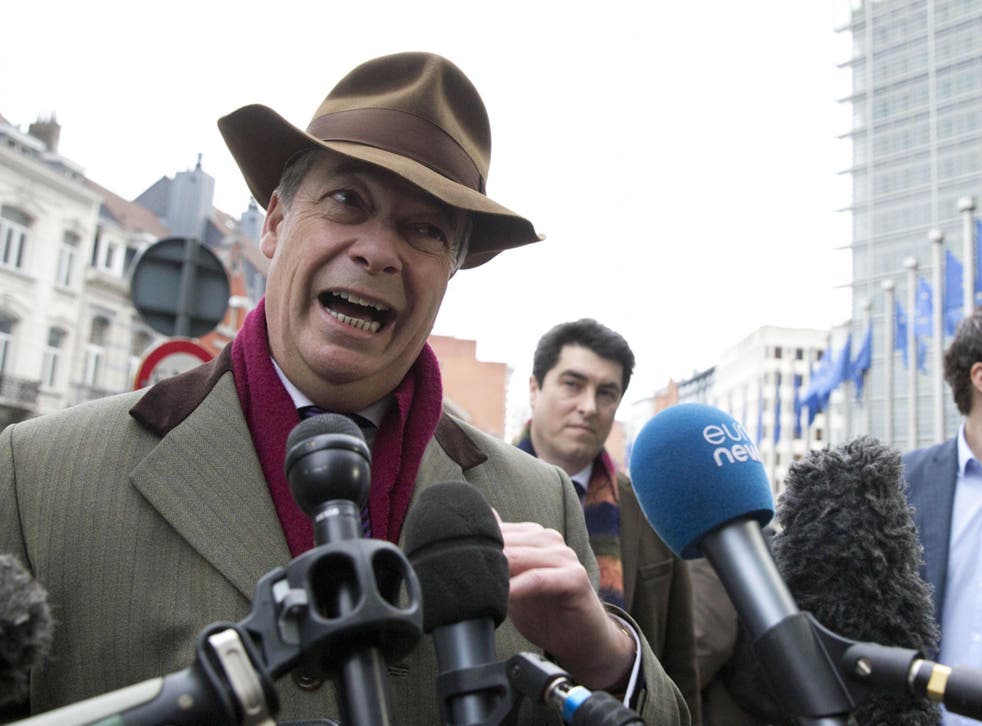 Is it possible that Nigel Farage could encourage Jeremy Corbyn to back another EU referendum? At first sight, you would have thought that Farage's attention-seeking support for a new vote on the Brexit deal would make it harder for Labour to support it. Farage stands for everything that Labour members and activists loathe.
But could it make it easier for the Labour leader to change his position? Could Corbyn argue that he is not necessarily saying we should stay in the EU, but if even the instigator of Brexit thinks the people should have a say over the terms of the deal...
It may be that the former Ukip leader has stirred up public opinion in a way that the ABC Remainers (Adonis, Blair and Cable) cannot do. The problem for advocates of a new referendum so far has been that they are the same people making the same arguments.
I was struck by focus groups among mostly older voters carried out recently by Demos, the think tank, in which many Leavers did say that they were worried about how they had voted in the referendum and felt they had done so without fully understanding the issues.
These people are the critical constituency in the campaign for another referendum. The only chance of shifting Corbyn in favour of the idea is if enough of them change their minds about Brexit. But they are human. They don't want to admit they got it wrong, although they are able to say they have doubts about the process. And they will discount the arguments of committed supporters of EU membership such as Tony Blair and Vince Cable.
One of the striking findings of this focus group research was that there were only three politicians whose names came up spontaneously in their discussions, apart from the Prime Minister and Corbyn: Boris Johnson, Nigel Farage and, "to some extent", Jacob Rees-Mogg.
Farage's voice is one that cuts through to them. He may be visiting Michel Barnier and saying unexpected things about another referendum in a desperate attempt to keep his name in the headlines (and focus-group transcripts). But what he says will be heard.
UK news in pictures

Show all 50
Obviously, he's not "starting to think" a second referendum is a good idea because he wants to pull the plug on Brexit. He said he is starting to think about it as a way of crushing the Remainers' whingeing for ever. That is a forlorn hope, of course. The 2016 referendum was supposed to settle the European question for once and for all. David Cameron held it in order to end the division in the Conservative Party and the nation and look how well that went.
But the simple message that Farage supports another referendum could give Corbyn, a keen Leaver who became a reluctant Remainer and who is now a reluctant Leaver, more scope to argue for the people having a further say.
I don't think it is likely, but it might be slightly more likely than it was. YouGov's latest poll today finds 46 per cent think Brexit was the wrong decision and 42 per cent the right one, which translates into 52 per cent against 48 per cent – the opposite to the referendum – if "don't knows" are excluded.
Farage's words may be interpreted as giving permission to more Leavers to decide that Brexit was the wrong decision. If he – inadvertently – helps push public opinion against Brexit, he might also increase the pressure on Corbyn to shift on a new referendum.
The Labour leader will be reluctant to do so, because he prizes his anti-establishment credentials so highly. Joining Blair, Peter Mandelson and pro-EU Tories in the second referendum camp would be poison to him. But if Farage is in the middle of the camp, singing "Land of Hope and Glory" by the fire, it dilutes the venom of elitism.
If public opinion does swing sharply, and if he sees an opportunity in attacking a "Tory Brexit", Farage could make it easier for him.
Wouldn't that be a historical irony: that Farage, the original agitator who forced the 2016 referendum, enabled the January 2019 referendum that killed Brexit?
Register for free to continue reading
Registration is a free and easy way to support our truly independent journalism
By registering, you will also enjoy limited access to Premium articles, exclusive newsletters, commenting, and virtual events with our leading journalists
Already have an account? sign in
Join our new commenting forum
Join thought-provoking conversations, follow other Independent readers and see their replies