Jeremy Hunt – the public is blaming you, not health tourism, for the NHS crisis
Brits abroad die or are seriously injured in tragic accidents of their own making but because it happens in the EU there is no need to tell tabloid readers of how much our citizens are costing other countries health care systems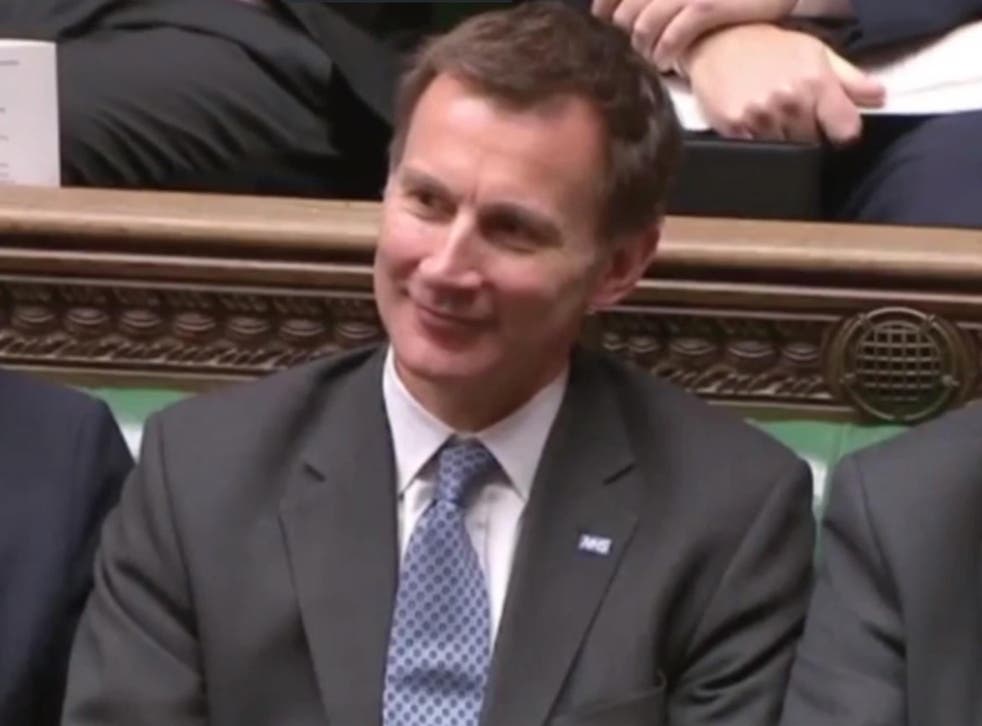 Reading the tabloids, one could easily be forgiven for thinking that a few Nigerian mothers were to blame for the current crisis in the NHS.
Last month the Sun splashed with "Tragedy of Nigerian health tourist who lost two of her newborn quatruplets after going into labour on plane to Heathrow". Rather than leaving it there, no prizes for guessing how the headline ended..."at £500k cost to Brit taxpayers".
The Mail also sang in tune emotively talking about this coming at the same time as another winter funding crisis in the NHS.
I am sure that the NHS's financial problems were not exactly top of the worry list of the mother who had just lost two children but of course the editors could not resist.
UK news in pictures

Show all 50
This rhetoric never gets properly challenged by the government, and given the recent appointment of former Daily Mail Political editor James Slack to be Theresa May's spokesman, I guess we should not be entirely surprised. It is a convenient foil with all of the other headlines on the NHS being in a state of crisis.
The cost of health tourism has never been accurately calculated. Government figures estimated the costs of treating deliberate health tourism in the UK at between £100m and £300m a year back in 2013. Yet somehow the Daily Mail maths genuises somehow turned this into £2biliion a year.
However much we argue about the accuracy of these costs the most striking thing is actually the hypocrisy in the debate about health tourism.
In the same way as those close to Trump dismissed his remarks about women as locker room banter, the right wing tabloids refer to Brits who get drunk in Europe and end up in hospital as "Brits abroad".
Jeremy Hunt left red-faced after being called out by Corbyn in PMQs
Interestingly neither these papers nor the government ever reveal the cost of some of their more dangerous and irresponsible antics such as the recent trend of jumping from balconies in Spanish hotels. This paper wrote last year about how this new trend was costing one hospital alone over £1m (with 60 per cent of the cases being Brits).
One could also cite the case of a British man gored after running with the bulls in Spain back in 2015.
Brits abroad die or are seriously injured in tragic accidents of their own making but because it happens in the EU there is no need to tell tabloid readers of how much our citizens are costing other countries health care systems.
The Express regularly rails against the cost of educating the children of EU nationals. Yet when was the last time it investigated the cost to the NHS when a Spanish man is beaten up on the streets of Bournemouth for speaking his own language with his girlfriend ? It is not hard to make the link between the two stories.
Imagine in 2020 if a British youth who has been on a drunken night out in Majorca goes to the local hospital which then refuses to give them a stomach pump without up front payment. The young person then dies after choking on their own vomit. This may be the reality when we leave the EU and we end reciprocal arrangements for free health care. I can visualise already the screaming headlines of "British youth left to die by greedy Spanish hospital".
It is time for our government and sections of our media to heed the mantra of "do as you would be done by". Health tourism has always made for useful cheap headlines to deflect from the real story. But given it is represents just 0.3 per cent of the annual NHS bill, Jeremy Hunt needs to stop playing that card if he wants to maintain a shred of credibility.
For when a patient's cancer operation is cancelled for the third time or they have just driven 200 miles to see their child in a mental hospital they will be blaming Jeremy Hunt, not a bereaved Nigerian mother, next time they come to vote.
Register for free to continue reading
Registration is a free and easy way to support our truly independent journalism
By registering, you will also enjoy limited access to Premium articles, exclusive newsletters, commenting, and virtual events with our leading journalists
Already have an account? sign in
Join our new commenting forum
Join thought-provoking conversations, follow other Independent readers and see their replies