Help the Hungry: 'During this time of crisis, we must act as a caring mature society' – three experts weigh in on food poverty
As our Christmas campaign highlights the devastating impact of hunger, three experts tell Anna Davis about the issues around food poverty – and the benefit of trying to eradicate it this festive season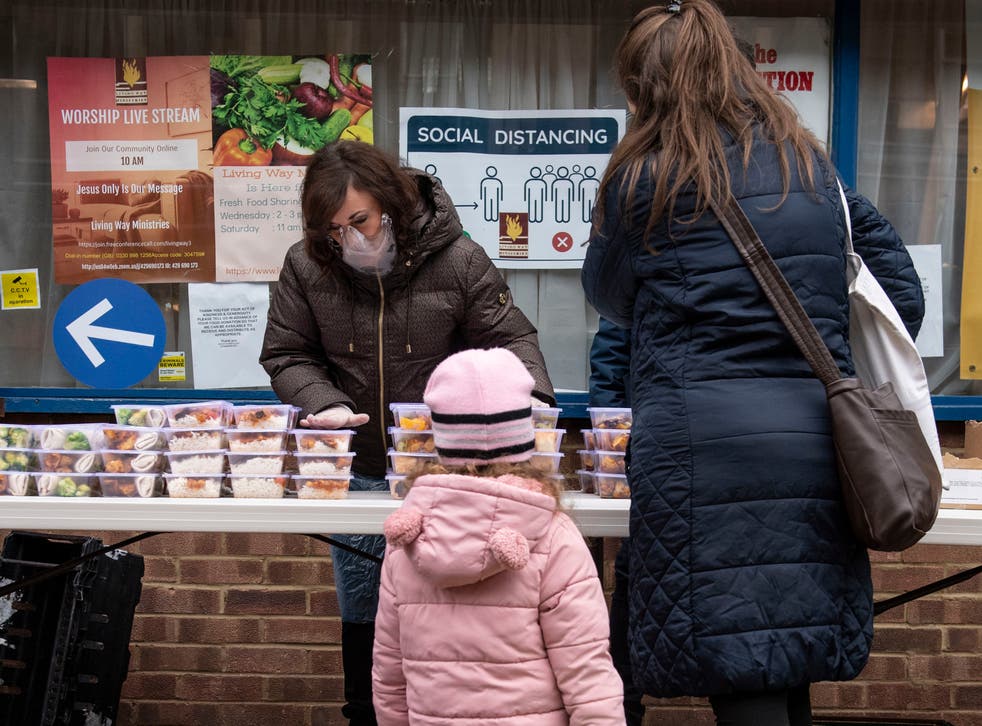 Helping is not just an act of kindness; it must be viewed as a societal necessity – Dr Nazanin Zand
Food poverty is not always just an empty plate. It can also mean no reliable access to sufficient, affordable, nutritious food. Healthy foods typically cost more per calorie and are often associated with the need for preparation and seen as time consuming. Families under financial strain don't have the resources or the time and will often opt for convenient food.
This means that food poverty can lead to "Hidden Hunger" due to an over consumption of empty calories derived from cheap, unhealthy, processed foods, which lack nutrients.
Food poverty is therefore more widespread than we realise, and children are often more vulnerable to consequences of the food poverty.
We can play with facts and figures as they fluctuate on a daily basis, but child poverty, hidden hunger and food insufficiencies, will have a devastating impact on society and economic growth as a whole. This is an undeniable fact.
Food insecure children learn less at school due to hidden hunger, reduced concentration and poor social interaction. This can lead to anxiety and depression. Food inadequacy will feed the vicious cycle in the attainment gap and in social inequalities.
Emerging data shows the Covid-19 pandemic is following the patterns of social inequalities. Whatever the political view, it is most parents' nightmare not to be able to put food on the table. There are many unintended consequences of the repeated lockdowns, not least "toxic stress", caused by food poverty within family homes. 
Food banks are struggling to meet the demand and free school meals are considered a lifeline for low-income families.
Initiatives such as the Felix Project make a very helpful contribution towards addressing some of these problems.
During this time of crisis, we must act as a caring mature society to help vulnerable people, through supporting such campaigns and education. This is not just simply an act of kindness; it must be viewed as a societal necessity.
Dr Nazanin Zand is Associate Professor in Food Science and Nutrition, University of Greenwich
Failing to tackle food poverty will leave a generation of disadvantaged kids with a host of health problems – Anne Longfield
Covid-19 has exposed our vulnerabilities as a society, including how millions of children are growing up in households with very serious social and financial problems.
Marcus Rashford's brilliant campaign on free school meals not only produced very welcome Government U-turns, but also opened the eyes of many to the scandal of food poverty.
Even before the recent economic downturn, there were hundreds of thousands of children whose families have had to rely on food banks. I've even been to schools that have food banks in them, and where teachers buy fruit for kids because it's the only way they'll ever get any.
I will never forget the two primary school children I met last year who told me how hard their family found it to afford to feed them, and how sometimes they didn't know whether they would get a proper meal at home. It often feels Dickensian.
The impact on children's welfare is significant. It is harder for a child to concentrate when hungry, so schoolwork is more likely to suffer. It is also bad for a child's mental wellbeing and affects sleep and physical activity. Hunger deprives children of the nutrients they need to grow up into healthy adults and it can be stigmatizing.
Failing to tackle food poverty will leave a generation of the most disadvantaged kids entering adulthood with a host of health problems.
Ideally we would not need to rely on the fantastic work of the Felix Project to feed any of the nation's children. But until politicians get a grip and introduce measures to eliminate child poverty, the help they provide will make a real difference to many families in the capital who are struggling this Christmas.
Anne Longfield is the Children's Commissioner for England
Investing now in better health and better eating are important, but equally important is the issue of dignity – Professor Martin Caraher
The Covid-19 crisis has brought to public attention the issue of food poverty, with fivefold increases in those seeking emergency food aid and the issue of holiday hunger among school children. Families who had previously managed week to week, income to income were suddenly thrown into chaos with little to fall back on. Food purchasing competes with other household priorities and we know that food is an elastic item in the budget, you can spend less and compromise on food quality. One short-term solution to "hunger" is to buy energy dense food which fills bellies but will have negative health consequences.
Food poverty is not a constant for all families, there may be times of the month when money is less of a problem and other times when you are hunting down the side of the couch for spare change to buy food. The new marker of food poverty is obesity, punctuated with periods of hunger which means for many cutting down on or going without food.
The savings that can be made in investing now in health and better eating are important but equally important is the issue of dignity. Food poverty is an indignity and unacceptable. It is not just about the lack of food but also the feelings of shame and disempowerment, social stigma and being isolated.
There is of course a need to tackle the immediate problem – no child or family should go hungry over Christmas or at any time. But I hope the Help the Hungry campaign can stimulate debate and help to provide long-standing solutions to this crisis as well.
Professor Martin Caraher is Emeritus Professor of Food and Health Policy at City, University of London
This November and December we will be delivering food directly to 1,000 people a day through our partner With Compassion. Please donate here to help us do all we can to ensure no one goes hungry this Christmas. 
Join our new commenting forum
Join thought-provoking conversations, follow other Independent readers and see their replies