Help The Hungry: Volunteers immortalised by top artist uncover the 'heartbreaking' food poverty in our society
Volunteers tell Abbianca Makoni how they stepped up when the Covid crisis began to hit vulnerable people in their communities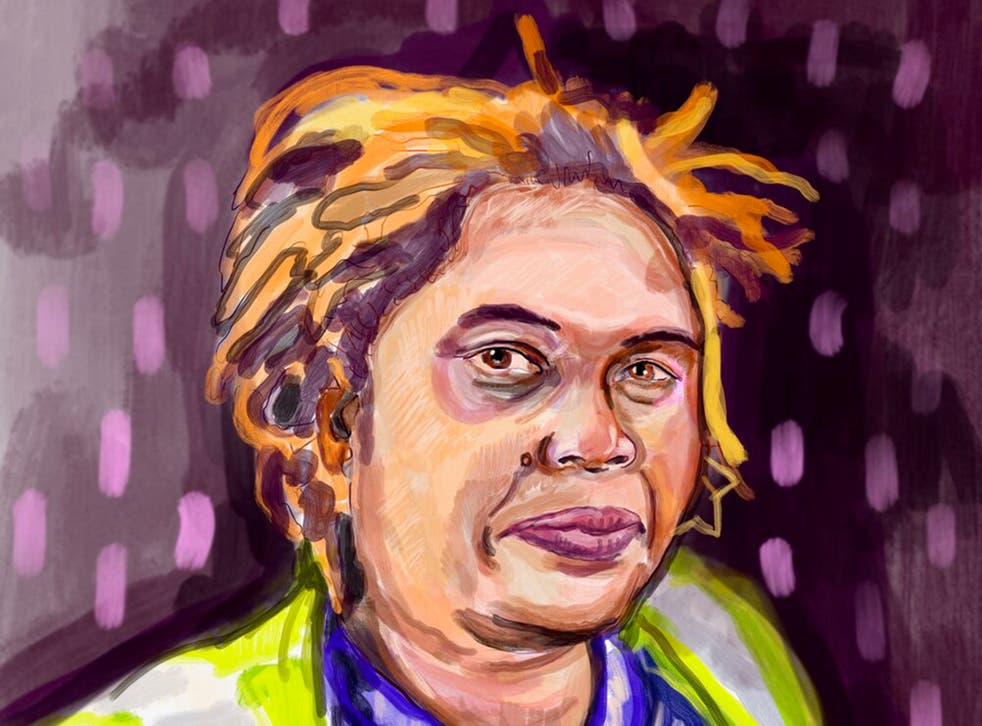 Two volunteers who have worked with support from our campaign to tackle hunger in the UK have been immortalised by one of the nation's top artists.
Their portraits make up part of a series of five by artist Henry Hudson, who is selling off the work exclusively through our Help The Hungry campaign to benefit the fight against food poverty.
The volunteers told The Independent of the "heartbreaking" stories they had heard from meal recipients – and why we should all come together to tackle the crisis.
"This issue of people going hungry was here long before Covid-19 - but the virus has made it worse," Daisy Affum said during an interview at the Edmunds church hall in Edmonton.
The mother of four, who works as a catering manager at a school, said when the pandemic forced the country into lockdown she felt compelled to start her organisation called DaisyBeats, which hands out food to people affected by the crisis.
"It all started from my car, I would drive around on my own delivering to as many people as I could, but thankfully I later started working with the Enfield council, With Compassion and The Felix Project," she said.
Every Tuesday and Wednesday the team from the With Compassion charity cooks and delivers hot meals to DaisyBeats using surplus food supplied by Felix that would otherwise be thrown away.
Curries and moussaka are among the dishes handed out by the volunteers from Felix's state-of-the-art trucks to DaisyBeats food recipients.
Ms Affum, 59, said: "People from all walks of life come here to get food – from those without a home, the elderly, ex-convicts to even young people who are feeling lonely."
Already, 400,000 children go hungry in the capital, according to a recent survey of Londoners published by the Greater London Authority.
But since November The Independent, along with our appeal partners, has been working to combat this issue through our Christmas campaign by working with volunteers from local charities to ensure the vulnerable are fed.
Ms Affum, added: "The truth is we have a lot of cases coming here especially ex-convicts who have mental health issues because they have just come out of prison and fallen into a pandemic and they don't have anything."
She added: "We also had a couple of people who were not homeless but they were so lonely and they needed a community so they came here to volunteer with us and distribute the food donated."
Freelance chef Errol Samuel Johnson began volunteering at With Compassion at the start of the pandemic when he began losing clients.
Mr Johnson, who has worked as a chef for 40 years catering in stadiums and for private clients, said: "Before this campaign I was basically at the base working away in the kitchen and cooking hot meals for recipients – so I hadn't spoken or met any of the people getting food from us.
"But now that has changed and I've been travelling around the different boroughs out on the trucks and that's when I got to see what was really going down. It was a shock to the system because I didn't realise how seriously bad things are. We saw lots of young people with their parents and the elderly lining up for food."
The 56-year-old from Streatham spends early mornings at a pop-up "dark kitchen" at London Scottish House preparing the meals with a team of 40 others. He said that he would "encourage people to go out and volunteer or take part in campaigns like this because at the end of the day we need to come together during difficult times".
Readers can buy Henry Hudson's prints of the volunteers' portraits and of recipients helped by our campaign here. The limited edition portraits will be sold until 18 December at 6.30pm, and all proceeds will go towards With Compassion.
This November and December we will be delivering food directly to 1,000 people a day through our partner With Compassion. Please donate here to help us do all we can to ensure no one goes hungry this Christmas. 
Join our new commenting forum
Join thought-provoking conversations, follow other Independent readers and see their replies