Help the Hungry: England's Reece James tackles food poverty with our campaign
James, who has already donated £10k to our campaign partner The Felix Project, tells Abbianca Makoni and Francesco Loy Bell he's seen the need for our campaign first hand
Wednesday 18 November 2020 17:03
Comments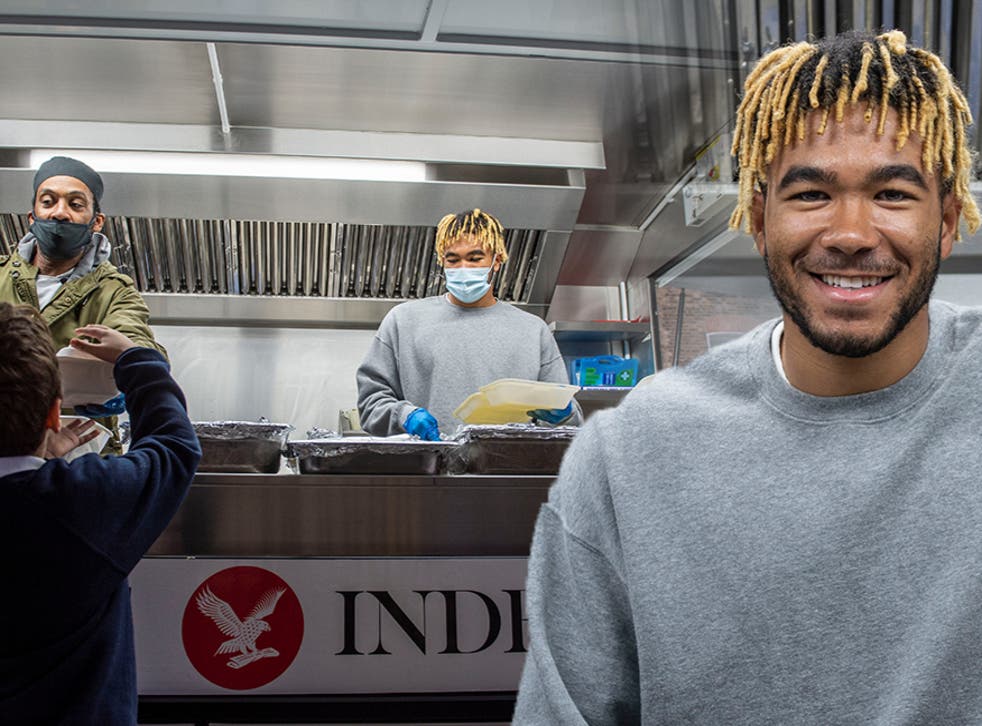 Chelsea right-back Reece James has revealed he was inspired to join our Christmas appeal after growing up around those who "didn't have the privilege" of having access to food.
The 20-year-old England footballer, who has worked with The Independent's Help the Hungry charity partner The Felix Project since 2019, joined our volunteers at the Greenhouse sports centre to deliver food to about 100 families.
The Marylebone centre serves as a safe haven for children from disadvantaged backgrounds — and is one of the hundreds of organisations across London to have been supported by food from the Felix Project.
When James, who made his England debut at Wembley last month, began to hand out food including vegetarian chilli and potato salad, there were families with children as young as two years old waiting for food.
The Lambeth-born footballer, told The Independent: "When I grew up, I was around a few of my friends that didn't have the privilege of having food all the time. I saw what it can do and how it can change people's lives, so I wanted to come and help".
"Obviously food helps with everyday life — I mean, you can't really do anything if you don't have food in your body, so it starts with that — it makes you feel normal", he added.
The visit marked the third trip out for The Independent's state-of-the-art food truck, which serves food acquired by the Felix Project and cooked up by charity With Compassion in its central London 'dark kitchen'.
The vehicle, supplied by Food Truck Masters who run the Together19 Street Vendor initiative, are central to The Independent's campaign to tackle food poverty while offering up a thousand meals a day to those in need.
Phil, an 11-year-old Chelsea supporter who regularly attends Greenhouse and described himself as James' "biggest fan" said he was "star-struck" when he saw the footballer hand him his lunch.
"What Reece is doing is amazing" he said "Helping young people who are in need and not just young people but even the homeless and those that just need food on the table. It's really inspiring if I'm honest ... I just feel motivated too.
"He gave me some great advice and told me to keep working hard in whatever it is that I want to do."
It comes after food poverty became a matter of national debate after James' fellow England star Marcus Rashford lobbied the government to tackle holiday hunger among children.
And the footballer's visit comes just days after The Crown's Emma Corrin praised "the incredible difference" the food is making to the lives of those in need.
James' own work with The Felix Project has seen the footballer raise thousands for the charity as part of a drive to raise £100,000 for the cause by his 21st birthday.
Asked why he got involved in the campaign, James, said, "A few people have reached out to me, and explained their stories and broken down what it's like living with food insecurity and I think fundraising allows everyone to come together.
"I think when you've got a bigger profile, you've got a bigger voice, and it's easier to get the message across to other people. Marcus Rashford has obviously been doing very well and he's raised a lot of awareness in his field, and it's great. I'm just looking to do the same, and raise awareness as well."
The director of coaching at the sports centre Jason Sugrue, who has spent 20 years at the site, said having the international footballer come to help the community was a "really wonderful experience".
"During these difficult times, putting a smile on peoples faces is a privilege for us as a charity", he said. "Greenhouse Sports aims to give every child a fair chance to succeed and provide opportunities that our members might not normally receive."
This November and December we will be delivering food directly to 1,000 people a day through our partner With Compassion. Please donate here to help us do all we can to ensure no one goes hungry this Christmas.
Register for free to continue reading
Registration is a free and easy way to support our truly independent journalism
By registering, you will also enjoy limited access to Premium articles, exclusive newsletters, commenting, and virtual events with our leading journalists
Already have an account? sign in
Register for free to continue reading
Registration is a free and easy way to support our truly independent journalism
By registering, you will also enjoy limited access to Premium articles, exclusive newsletters, commenting, and virtual events with our leading journalists
Already have an account? sign in
Join our new commenting forum
Join thought-provoking conversations, follow other Independent readers and see their replies