Help the Hungry: Nation's top restaurants rally behind charity left out of pocket by pandemic
Some of the nation's most revered culinary institutions are throwing their weight behind the campaign, Marcus Roberts writes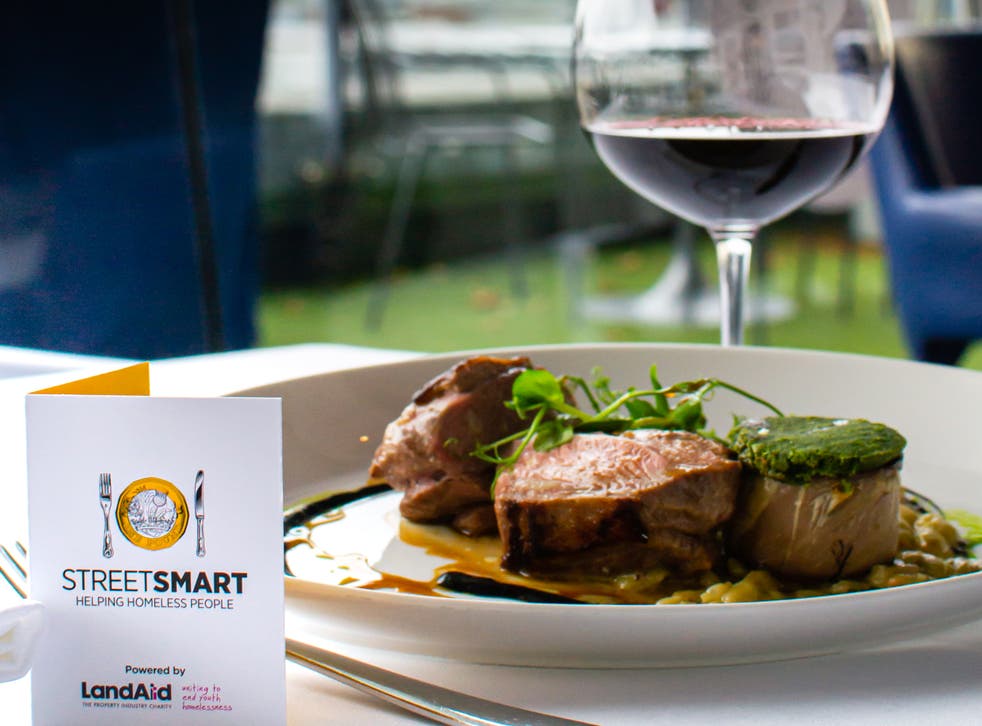 Hundreds of the nation's top restaurants will continue to pledge their support to a charity focused on feeding the most vulnerable after the pandemic left them in urgent need of support.
StreetSmart, which raises funds each winter to tackle homelessness by getting food venues to add a small donation to bills, was devastated when it was forced to pause its fundraising campaign due to the national lockdown.  
The charity managed to collect £760,000 through its 2019 campaign – and is set to kickstart another run of fundraising the moment restrictions on hospitality are lifted on 2 December with the help of 450 restaurants.
StreetSmart takes all proceeds raised from donations and distributes it to homeless shelters and organisations across the country.
Funds are used by the recipients to provide food, shelter and support for rough sleepers during the winter and to build and refurb accommodation for young people without a home.
As part of the 2020 campaign, venues including Michelin starred restaurants The River Cafe, St John and Core by Clare Smyth are to add a voluntary £1 to diners' bills to raise money.
However support did not completely dry up as businesses were forced to close. Throughout the second lockdown OXO Tower Restaurant has backed the charity's mission and provided lunchboxes of hot meals to be delivered to those who depend on StreetSmart for support.
The team of 27 volunteers at the community kitchen produced 2,470 "one-pot wonder" meals which included large quantities of fresh vegetables.
Now the business, alongside five star hotel The Ned has pledged to fundraise for the charity during the festive season until the end of January through its campaign.
Other food venues include The Duke of Cambridge in Islington, which is selling freshly baked organic bread every Friday from 11pm to 4pm with all proceeds going to StreetSmart.
And Wiltshire Truffles, who raffled a 500g truffle at £5 a ticket during lockdown and raised over £9,000, have teamed up with The Ledbury to sell Truffle Cream – with £1 per jar going towards the campaign.
Glenn Pougnet, director of StreetSmart, said" "The support from restaurateurs has been unflinching even with so many facing uncertain futures themselves.
"We reboot the campaign this week in London and given the impeccable safety of hospitality venues we have no qualms about urging people to dine out and simply donate £1 per table to help raise these now urgently needed funds"
The charity is also encouraging diners to donate the cost of a meal if they were planning to dine.
This November and December we will be delivering food directly to 1,000 people a day through our partner With Compassion. Please donate here to help us do all we can to ensure no one goes hungry this Christmas. 
Join our new commenting forum
Join thought-provoking conversations, follow other Independent readers and see their replies