Oh Ukip, when it comes to 'poor judgement', it's not your leader and his racist demi-girlfriend, it's you
What more can a man do to show commitment to a party jam packed with racists than to leave your wife for one of them?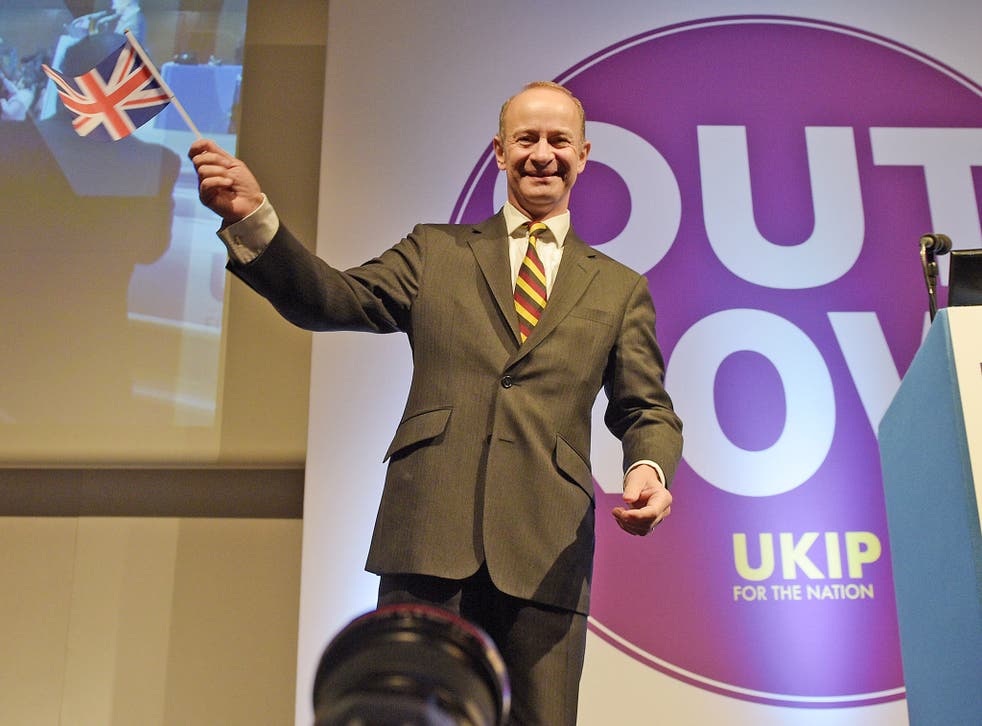 Ukip High Command, which has in the past knocked itself unconscious in a fist fight in the EU Parliament building, accused gay people of causing bad weather and a gay donkey of raping a horse, has told its leader he must stand down over his "poor judgement."
The speed at which Ukip front benchers are resigning has become almost as shocking as the hitherto unknown fact that there are fully twenty six of them. The deputy leader Margot Parker gone. Fisheries spokesperson and assistant to the deputy Leader Mike "take it outside" Hookem too. Almost but not quite ignored, the six strong Ukip faction on Hartlepool Council has staged its own Aventine Secession.
Not for the tenth time in the last few weeks, Ukip faces an existential crisis. Party insiders whisper quietly in private that the party doesn't have enough money to elect a new leader. Literally can't afford to send the leaflets out, hire the building to announce the winner and so on.
Which is a pity, as it appears to be alighting almost by accident on the solution to its problems. In ancient Athens, some positions of high office were allocated entirely at random ballot and held for a single day, a system which Ukip appears to be arriving at either by accident or design.
Still, let us have a look again at Bolton and his "poor judgement."
In defence of the Ukip top brass, they have not made it immediately clear whether Bolton should have known better about the party he leads, or himself.
The easy conclusion to draw is that Ukip top brass think unpaid Ukip leader Henry Bolton should have known that his new lover of three weeks standing was highly likely to be a hideous racist by mere virtue of her Ukip membership.
In fact, it may well be that unpaid Ukip leader Henry Bolton should have known there was probably something rather wrong with 25 year old underwear model and racist texter Jo Marney, through her bizarre decision to go out with unpaid Ukip leader Henry Bolton.
Oh Henry, what are you going to do? Forced to choose between the girl and the unpaid job, barely a week has passed since he did the decent thing and went on the TV to announce he was keeping the job, disowning the girl and going back to her anyway. We are all having our cake and eating it these days aren't we, even if some are a touch more American Pie about it than others.
At time of writing, we understand Bolton to be holed up in a hotel in Folkstone, considering what course of action to take next. There is to be a statement at 4pm. If there is an unmistakable de ja vu about it, that might well be because it's Ukip, and this happens all the time.
Still, in desperate times, it may well be that "I-know-you-are-but-what-am-I?" defence is needed. It is time for Bolton to come out and tell Ukip it is not he, but it, whose judgement is in question. After all, what more can a man do to show commitment to a party jam packed with racists than to leave your wife for one of them?
More to the point, who will come next? It has been more than 100 days since the last Ukip leadership election, a record in recent times, so its members may be forgiven for forgetting the far right Islam-hater Ann Marie Waters came second, declaring the result at the time to be a "victory for Jihad."
The previous leader, Paul Nuttall, lied about having a PhD, being a professional footballer and having close friends who died at Hillsborough (roughly in that order). The one before him, Diane James, resigned after admitting she'd only taken the job under sufferance, and is still, as far as we know, receiving therapy for PTSD after Nigel Farage kissed her.
Oh Ukip, and your poor judgement. Thank god no one listens to them. Imagine if they were calling the shots, eh, making the big calls. Doesn't bear thinking about, does it?
Register for free to continue reading
Registration is a free and easy way to support our truly independent journalism
By registering, you will also enjoy limited access to Premium articles, exclusive newsletters, commenting, and virtual events with our leading journalists
Already have an account? sign in
Register for free to continue reading
Registration is a free and easy way to support our truly independent journalism
By registering, you will also enjoy limited access to Premium articles, exclusive newsletters, commenting, and virtual events with our leading journalists
Already have an account? sign in
Join our new commenting forum
Join thought-provoking conversations, follow other Independent readers and see their replies