Hillary Clinton is set to dish the dirt in her new book – and we can be sure that everyone is going to want a piece of it
Clinton's honesty – two words which when combined will make some of her haters choke – liberates her not just to critique herself, but also anyone else she thinks contributed to her loss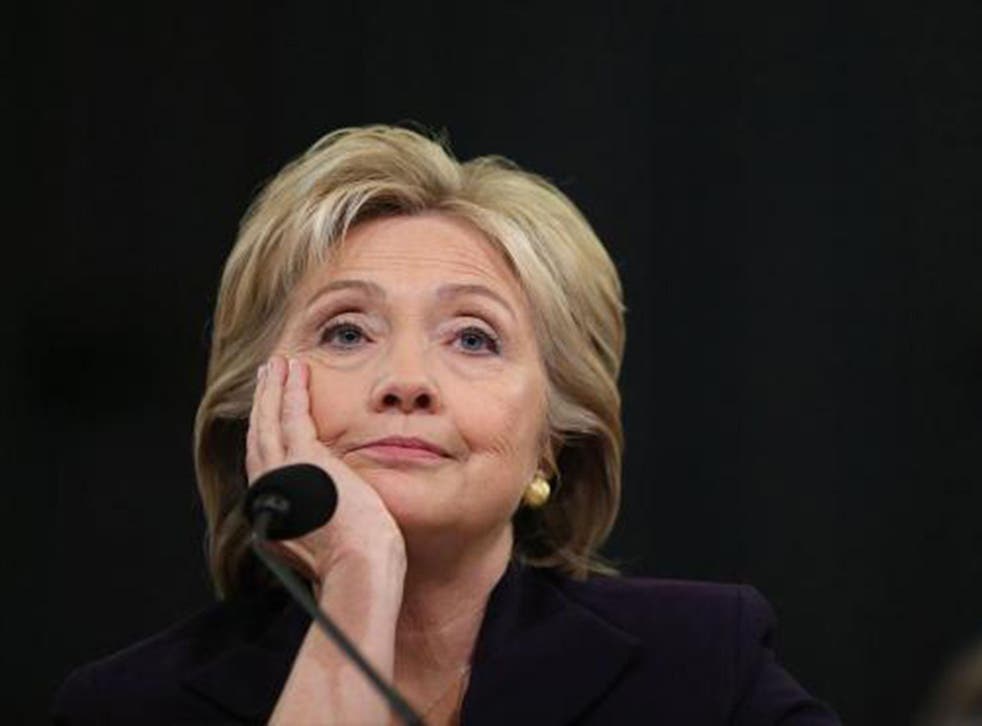 There is little point writing a tell-all if you are not prepared to drop your trousers (or pant suit) in public. Show us your flaws and your pain. Bare yourself and we might even buy the thing.
This was the memo presumably delivered to Hillary Clinton as she was starting to write her book about the 2016 presidential campaign and its spectacularly unexpected ending. She had already written two memoirs, so she'd better have a good reason to do the third, especially since there was the strong likelihood she would get roundly criticised for even attempting it.
Isn't that the truth? Even before she braves Barnes & Noble in Manhattan's Union Square on Tuesday to formally launch the tome, called simply, What Happened, and start a national book tour, Clinton has come under heavy bombardment. "I look forward to going to every place where she appears," Senator John McCain said tartly, adding that when he lost to Barack Obama in 2008 he didn't think a book about it was necessary. Clinton is also due to make an appearance in London at the Cheltenham Literary Festival, where some Britons will be fighting hand over fist for a first-hand taste of what US politics is like from a woman they've watched from across the pond for so long.
Among the least amused are Democrats on Capitol Hill who wonder if reminding voters of Clinton's election-night misery is going to be helpful, particularly in the light of the recent outbreak of near-chumminess between their top leaders, Nancy Pelosi in the House and Chuck Schumer in the Senate, and the man who defeated her, Donald Trump. This is a tricky moment for the party.
Clinton's honesty – two words which when combined will make some of her haters choke – liberates her not just to critique herself, which apparently she does up to a point, but also anyone else she thinks contributed to her loss. Step up Bernie Sanders, who, she contends, inflicted such "lasting damage" on her during the primary process that some on the left were never going to vote for her. Is Sanders among those not queuing up to buy the book? He is.
"Clinton ran against the most unpopular candidate in the history of this country and she lost and she was upset about it," Sanders offered on CBS the other night. "But our job is really not to go backwards. It is to go forwards. I think it's a little bit silly to keep talking about 2016."
Bernie Sanders: "Hillary Clinton ran against the most unpopular candidate in history and lost"
One person who features a lot, and inevitably not in a sympathetic light, is Trump himself. Among the most leaked passages concerns Clinton's discomfort having to debate him a couple of days after that Access Hollywood tape came out with him bragging about his sexual predations.
"He was literally breathing down my neck," she wrote. "My skin crawled. It was one of those moments where you wish you could hit pause and ask everyone watching, 'Well, what would you do?' Do you stay calm, keep smiling and carry on as if he weren't repeatedly invading your space? Or do you turn, look him in the eye and say loudly and clearly, 'Back up, you creep. Get away from me. I know you love to intimidate women, but you can't intimidate me, so back up.'"
Even her old muckers Obama and Joe Biden may not be thrilled with what they read. Clinton grumbles that Biden has suggested she didn't pay enough attention to her party's bedrock issues of jobs and defending the middle class. "I find this fairly remarkable, considering that Joe himself campaigned for me all over the Midwest and talked plenty about the middle class," she almost snipes. Obama, she suggested, might have spoken up more forcibly about Russia meddling in American democracy. "More Americans would have woken up" if he had, she says.
Clinton at Kohl's ceremony: 'Thank you for giving us a chance to be part of something bigger'
So no one is going to read this torrent of regret, right? I mean, one minute she accepts blame for what went wrong – "I go back over my own shortcomings and the mistakes we made. I take responsibility for all of them. You can blame the data, blame the message, blame anything you want – but I was the candidate. It was my campaign. Those were my decisions" – and on the next page she is spreading it around again. It was Putin's fault. Obama's fault. Bernie's fault. Jill Stein's fault – the Green Party candidate, who syphoned off crucial votes in places such as Wisconsin. James Comey's fault, who closed down the FBI's email investigation, reopened it and closed it again. She more or less gives Bill a pass, by the way.
But of course we'll buy it. The Barnes & Noble event has been sold out for weeks. It may actually have useful things to say that will have a bearing on the future, not least on the Russian meddling which she describes with absolute certainty as having played a part in her loss. But we will read it mostly because it's about pain and loss. We can't help but be interested.
It's interesting to learn she took a nap when the results started coming in on election night, such was her confidence in victory. Only when she woke to a strange hush in the hotel room did she realise things were going south. It's interesting to read how she has anguished over why so many people can't abide her. "I have come to terms with the fact that a lot of people – millions and millions of people – decided they just didn't like me. Imagine what that feels like," she writes. If only she had been this human as candidate Clinton.
Hillary Clinton takes dig at Trump in comparing him to Nixon
And everyone else and their dog are writing books either about last year's election or their time in the Obama White House, or both. Floral Diplomacy at the White House, a guide to blooms and blossoms at the tummy button of power by Obama's former chief florist is already out while a series of reflections from Pete Souza, chief photographer to the commander-in-chief, is still to come. Expect door-stops soon from Obama and Biden, John Kerry, Valerie Jarrett and Corey Lewandowski, for a spell top Trump campaign manager. There are more journalists writing books about 2016 than there will be balls on your Christmas tree, among them Mark Halperin and John Heilemann, who wrote the best-selling Game Change about the 2008 campaign.
We're even promised a book by Ivana Trump, who knows far more about reserving tables in St Tropez than she does about the electoral college but presumably does have things to say about Trump himself and the two children she had with him, Ivanka and Donald Jr.
So why wouldn't Clinton write a book? It's her final chance precisely to show us she can be human. And it is not as if this book, like the last two, will represent any attempt by her to lay the ground for another run for senior office. If that were the case, I might have another view.
Register for free to continue reading
Registration is a free and easy way to support our truly independent journalism
By registering, you will also enjoy limited access to Premium articles, exclusive newsletters, commenting, and virtual events with our leading journalists
Already have an account? sign in
Register for free to continue reading
Registration is a free and easy way to support our truly independent journalism
By registering, you will also enjoy limited access to Premium articles, exclusive newsletters, commenting, and virtual events with our leading journalists
Already have an account? sign in
Join our new commenting forum
Join thought-provoking conversations, follow other Independent readers and see their replies