Hillary Clinton is writing a book. 'Promise to America, I won't run for President again, ever, ever, ever'
She is planning a TV show as a platform to run again in 2020. No!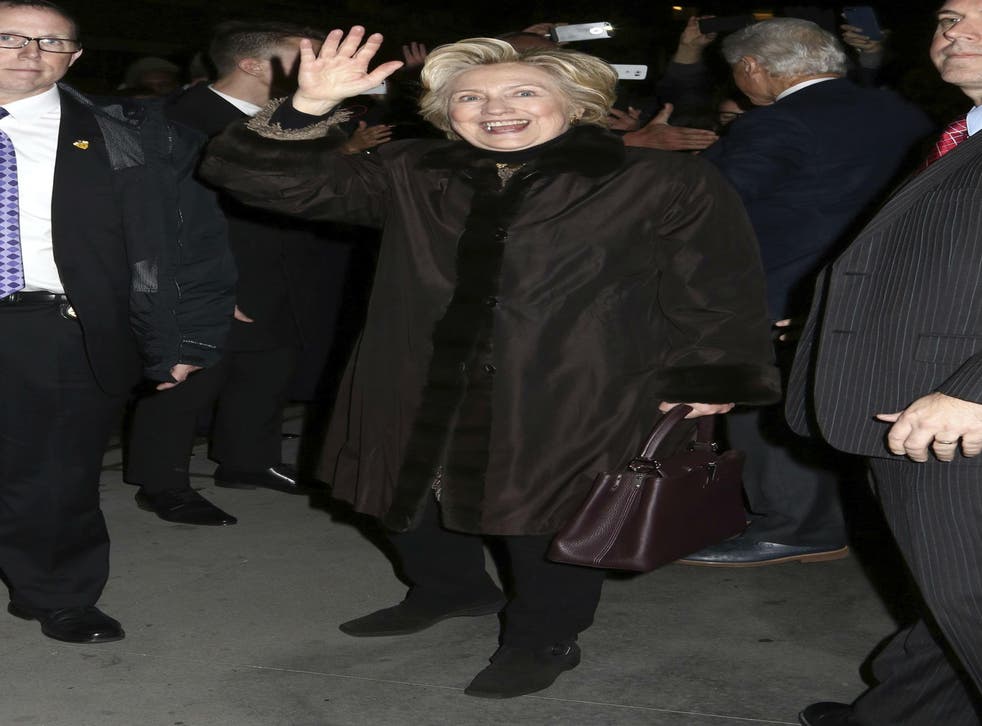 I can't wait for Hillary Clinton's new book. It is being billed as a series of essays about the highs and lows of her career including the 2016 presidential race and her loss to you-know-who. She plans to hang her musings on hundreds of quotes that have inspired her over the years.
"These quotes have helped me celebrate the good times, laugh at the absurd times, persevere during the hard times and deepen my appreciation of all life has to offer," she offered in a pre-blurb blurb. There is no name yet but maybe we could suggest a few. And while we are at it, we could point her to a few of our favourite utterances from Battle 2016, lest she overlooks them.
First, the title though. "Bad Hombre: The problem with Donald Trump" might sell. Pithier would be "Nasty Man". Or possibly, "Michigan: I hear it's nice in the fall". Or she could try this: "Promise to America: I will not run again ever, ever, ever". I might buy that.
The former first lady, Secretary of State and US Senator surely knows not to be tempted by the lure of third time lucky. She ran in 2008 and lost in the primaries to Barack Obama. We all know what happened last year. Despondent Democrats are still squabbling about whether she was even the right nominee. Bernie would have killed Trump! Joe Biden would have demolished him!
I am tempted to believe the latter, not the former. The Clintons, all the Clintons, should retire themselves. This dynasty is dead. If the Democrats have learned anything it's that all political dynasties are dead. The privileged party elite are hemlock. No Clintons in 2020. No Cuomos (that's you Andrew, Gov. of New York).
No one does antipathy to the Clintons better than author Ed Klein. What was in his head the other day when he quoted an 'unnamed source' with an arresting inside tip: aside from writing books and accepting more highly-paid speaking gigs (her not so harmless addiction), Ms Clinton plans a TV talk show, a la Oprah or Ellen, and to use it to launch that third try in 2020?
Klein either wants to destroy any chance that she might run again even before it enters her head. Or he wishes she does run so he can write another New York Times best-seller rubbishing her and her husband, former President Bill Clinton. Only he knows whether his source was real or fake.
"She thinks being the host of a popular TV show would energize the Democratic Party base and her tens of millions of fans," the unnamed person allegedly told him. "It's a way to make a comeback and position herself for another run at the White House starting in a year or so."
After disappearing into the woods near the family compound in Chappaqua, Ms Clinton has been slowly returning to the spotlight. She attended the inauguration. She and Bill received a standing ovation the other night at the premier of a new Broadway musical. We have just learned about the book. And the speaking engagements are starting to multiply. She'll be at the LGBT Community Centre in New York in April and Wellesley College, her alma mater, in May.
So of course the speculation mill has begun turning. There was a burst of talk of her running to succeed Bill De Blasio as Mayor of New York. She would almost certainly win the job, but well, mayor! She is worth more than that. Another theory: she will focus on grooming Chelsea Clinton for her old Senate seat representing New York.
Hillary's problem has always been that 'I'm entitled' post-it-note stuck to her forehead. Even the Democratic National Committee surreptitiously schemed to promote her chances at the expense of Bernie Sanders last spring. That's over now. She would not even deserve a third run at the prize, never mind be entitled to it, never mind that right now we can't think of who among the Democrats would make a good candidate. But there is plenty of time for someone to emerge. Someone new and fresh. Not someone entitled.
But back to the book. If it's sympathy she wants, then her biggest challenge will be choosing from the silage pile of Trump's abusive remarks from last year. Where to start? Well, actually we probably agree on that. She might devote a chapter to the entitlement he apparently felt to connect small hands to female sexual organs. Less offensive, but just as priceless: "Nasty woman".
She may want to pay tribute to Senator Elizabeth Warren, who used the "nasty woman" label as a cudgel on Trump thereafter. "Nasty women have really had it with guys like you," she mocked. "Yeah, get this, Donald: Nasty women are tough. Nasty women are smart. And nasty women vote. And on Nov. 8 we nasty women are going to march our nasty feet to cast our nasty votes to get you out of our lives forever." Great sentiment. It just didn't turn out that way.
Finally, dear Hillary, if you are honest with yourself, you can't leave this one out either. It's something you said. I remember the day. You were at a donor's banquet in New York. When I read the words, I gaped in astonishment. Blunders so perfectly pitched to help your opponent are rarely made in politics. It was in fact, "beautiful", if your name was Trump.
"To just be grossly generalistic," she told her shiny, platinum-card guests, "you could put half of Trump's supporters into what I call the 'basket of deplorables'. The racist, sexist, homophobic, xenophobic, Islamaphobic, you name it. And unfortunately, there are people like that, and he has lifted them up."
Nothing Clinton said last year resonated as widely as that did. It seemed to many perfectly to capture the tone-deaf arrogance of her campaign. Put that on the dust-jacket Madam Secretary. And look at it every time you think of trying again in four years' time.
Join our new commenting forum
Join thought-provoking conversations, follow other Independent readers and see their replies