Yes I do think Hillary Clinton staged her 'no make-up' appearance – and I'm glad she did
There is a lot to be said for acknowledging that a bad experience has changed you, rather than riding roughshod over offensive remarks with a lipsticked smile plastered onto your face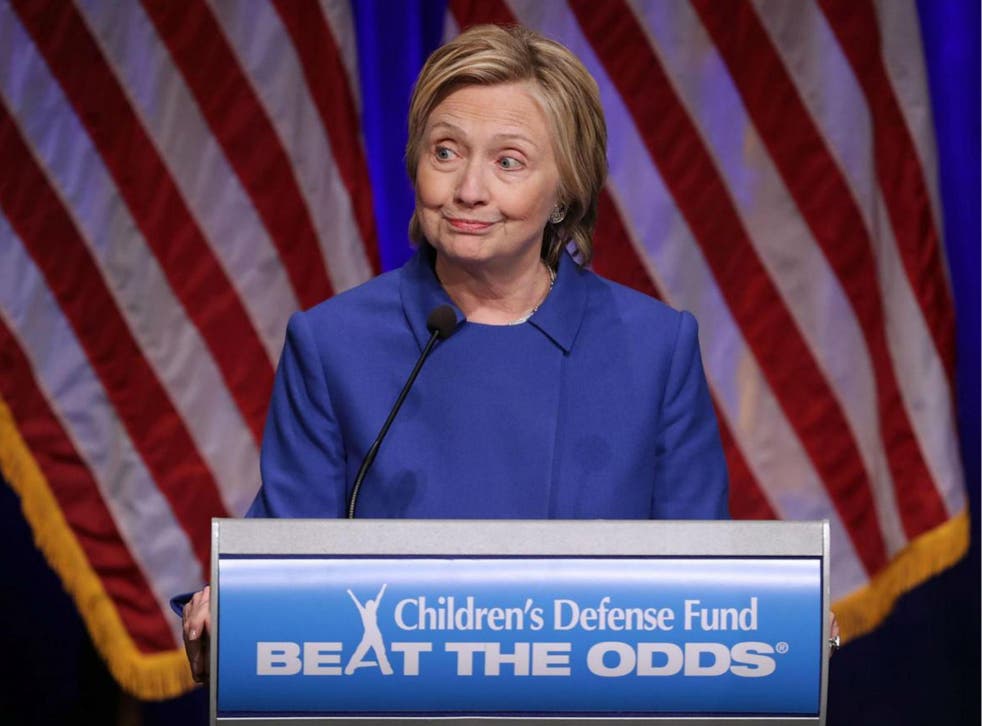 A week ago, Hillary Clinton admitted that she wanted to "curl up with a book and never leave the house again" – and when she made her first post-concession public speech without make-up on this week, many interpreted her look as a physical manifestation of that phrase.
She's "clearly no longer concerned about impressing the public visually," wrote one particularly charming Daily Mail journalist, who pointed out that, now the election is over, HRC is unlikely to receive the "corrective help" she did from a make-up artist on the campaign trail, "which may explain her tired aesthetic". "Well, Hillary's hair stylist and the make-up artist are clearly no longer on the pay roll," tweeted another self-appointed commentator on all things Clinton.
Others interpreted her pared-down look as taking a stand against the male chauvinism that defined – and then won – the US election, a big fat "middle finger to the patriarchy". And anyone who heard her concession speech, which made mention of the little girls who should "know that they are valued" and the disappointed young women watching who were at the beginning of their political careers, could believe that was a possibility.
Perhaps she was pointing out that she was no longer toeing a line that dictated she wouldn't be taken seriously unless she had a magnificent blow-dry and a thick layer of foundation plastered on her face first. Or, perhaps, she just didn't feel like putting on false eyelashes that day.
President Obama suggests Hillary Clinton didn't work as hard on campaign trail as he did
Was it a deliberate attempt to define herself against the increasingly orange, bright yellow-haired Donald Trump, who has been pictured celebrating his "victory for working people" this week while sitting on a golden throne and posing in front of the gilded doors of Trump Tower alongside Nigel Farage?
Was it the most obvious way she could think of to point out that she's the opposite, in the words of Twitter user @JamesJetsOften, of "a man who wears enough make-up and bronzer for two drag queens"? Was it something we really shouldn't worry about, considering Barack Obama also wears "little to no make-up" whenever he makes a speech and hardly causes any resultant Twitter meltdowns?
At the risk of wading into a debate that shouldn't really exist in the first place, I will say that Clinton probably did think carefully about how to present herself at the first speech she's been pictured at since she conceded the election to Donald Trump. In that sense, I have no issues with Steve Rushen's remark: "Anyone else think the no make-up and unwashed hair was as staged as everything else Hillary Clinton does or says?" (Apart from the fact that I highly doubt she's actually stopped washing her hair.) Yes, a lot of this was about staging and signalling, in the same way that the rest of American politics is.
World reaction to President Trump: In pictures

Show all 29
This speech marked the beginning of post-election Hillary, and post-election Hillary is a changed person.
I respect her for not throwing on the same face of heavy make-up and coiffing her hair into the same rigid style she sported when debating against Donald Trump. I respect that she didn't want it to look like her speech in Washington this week was a natural progression, one made by the same Hillary Clinton who fruitlessly reiterated that a positive, feminist, tolerant America would reject Trump's xenophobia in the end; that, eventually, "love trumps hate". Because the knowledge that it doesn't – at least not for the next four years – has changed the country, and it has changed her too.
There is a lot to be said for acknowledging that a bad experience has altered you, rather than riding roughshod over offensive remarks with a lipsticked smile plastered onto your face. Hillary's "relatability" was criticised throughout the election. Many continue to insist that billionaire Donald Trump succeeded because he was the everyman to Clinton's boring know-it-all, all shouty about nuking Isis while Clinton answered complex questions about foreign policy with caveats and nuance "like a robot".
But the truth is that Hillary was so many people's everywoman. For women, minorities, LGBT people and the other ignored and maligned sections of the community she championed during her campaign, prejudice isn't abstract, it's concrete and everyday. Addressing it is practical and sensible, not lofty, unnecessary or academic.
In her first speech after losing to a man who ran on an anti-abortion, anti-LGBT, Mexican wall-building, Muslim database-building, p***y-grabbing platform, Hillary Clinton in her unexpectedly mundane attire looked more like the everywoman than ever. Long may she remain in the public eye as a reminder of what most voters in America actually wanted.
Register for free to continue reading
Registration is a free and easy way to support our truly independent journalism
By registering, you will also enjoy limited access to Premium articles, exclusive newsletters, commenting, and virtual events with our leading journalists
Already have an account? sign in
Register for free to continue reading
Registration is a free and easy way to support our truly independent journalism
By registering, you will also enjoy limited access to Premium articles, exclusive newsletters, commenting, and virtual events with our leading journalists
Already have an account? sign in
Join our new commenting forum
Join thought-provoking conversations, follow other Independent readers and see their replies