Homeless organisations are helping to deport migrants – doesn't sound very charitable to me
It's no fluke that over half of rough sleepers in London are Eastern European. Their access to benefits has been severely restricted, and often their only option is rough sleeping, the penalty for which is deportation. Funny: it's as if EEA nationals have been set up to fail in the UK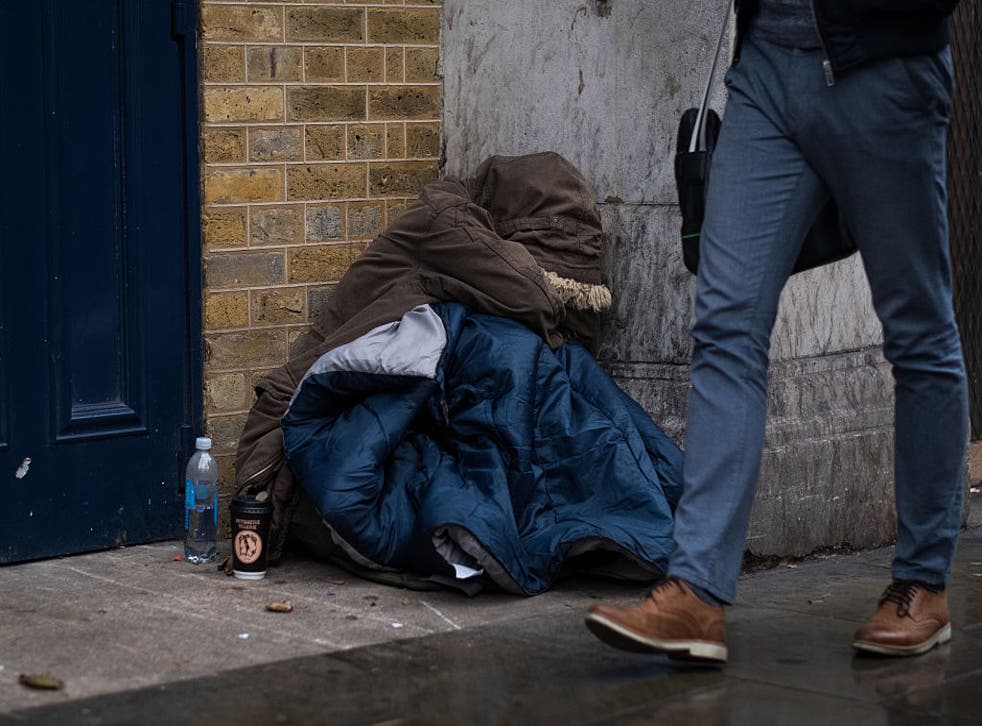 A problem out of sight is a problem out of mind – or at least that seems to be the case for some homelessness charities in London, who, it has emerged this week, have been helping to deport migrants – particularly those from Romania, Poland and other Eastern European countries – rather than supporting them into housing.
The sole purpose of St Mungo's, Thames Reach, and Change Grow Live – the charities in question – is to end homelessness. Specifically, the core vision of St Mungo's, as stated on their website, is a world in which "everyone has a place to call home and can fulfil their hopes and ambitions". Thames Reach's mission, similarly, is to ensure that every service user has a "decent home, supportive relationships and a fulfilling life".
How exactly does supporting people into a fulfilling life and a stable home include collaborating with the Home Office and sending them packing back to the countries they chose to leave in the first place?
In May 2016, Theresa May toughened the rules surrounding Eastern European nationals, so that they can be arrested and deported if found sleeping rough for just one night. Corporate Watch has released a report about the joint visits to rough sleepers carried out by Immigration and Community Enforcement teams (ICE) and homeless charity outreach workers. Their aim is to gather intelligence in order to identify nationals who are in contravention of their EU treaty rights to remain in the UK by rough sleeping.
Thames Reach, St Mungo's and other "partners" are keen to emphasise that their work with Immigration Enforcement works toward "voluntary reconnection", assisting Eastern European nationals who fall on hard times, after life in the UK doesn't go according to plan, are given the means to return home. However, FOI reports indicate that there is nothing voluntary about the "reconnections", more often than not they end in detention and enforced deportation.
World news in pictures

Show all 50
There is no record of how many end up back on the streets in their home countries as no evaluation has been made of the outcomes faced by these rough sleepers by either Thames reach or St Mungo's, who have provided the reconnection services between them since 2009. What we do know of homelessness in Eastern European countries is bleak: according to the report, one Romanian NGO study reported 300 rough sleeper deaths in Bucharest in 2009. In 2012, during a severe winter, more than 200 rough sleepers in Russia, 74 in Romania, 135 in the Ukraine and 82 in Poland died.
It's no fluke that over half of rough sleepers in London come from this demographic. Jobs promised on arrival fail to transpire; seasonal employment dries up along with the accommodation that went with it; exploitative wages are too low to pay equally unscrupulous landlords and in worst case scenarios some will have escaped from forced labour.
Then, when hard times fall, there is no safety net beneath them as access to Jobseekers' Allowance and Housing Benefit has been severely restricted since 2014. The only option is rough sleeping, the penalty for which, since 2016, is deportation. Funny: it's as if EEA nationals have been set up to fail in the UK.
And now the last buffers against all of this – charities – are no longer neutral spaces, where you can ask for guidance and support. Instead, they have become an auxiliary of Theresa May's hostile environment for migrants.
Register for free to continue reading
Registration is a free and easy way to support our truly independent journalism
By registering, you will also enjoy limited access to Premium articles, exclusive newsletters, commenting, and virtual events with our leading journalists
Already have an account? sign in
Register for free to continue reading
Registration is a free and easy way to support our truly independent journalism
By registering, you will also enjoy limited access to Premium articles, exclusive newsletters, commenting, and virtual events with our leading journalists
Already have an account? sign in
Join our new commenting forum
Join thought-provoking conversations, follow other Independent readers and see their replies