China's new security law will be the death of liberty in Hong Kong – that's why thousands have hit the streets
To safeguard the city's freedoms and autonomy, I call upon the world to urge Beijing to halt this controversial legislation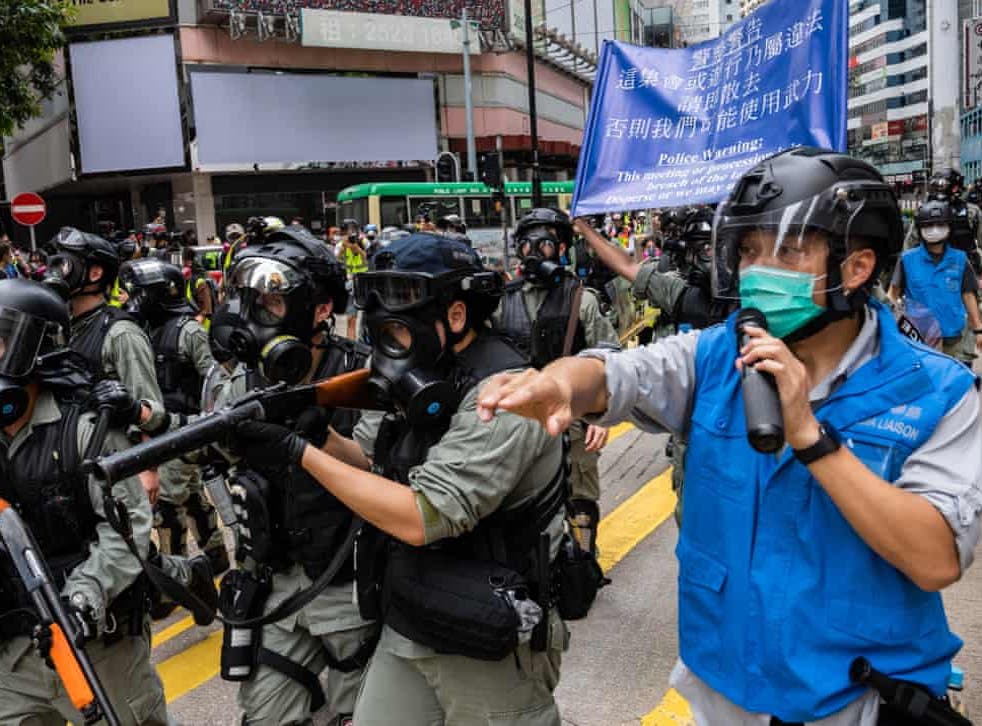 By imposing a hugely controversial and sweeping national security law for Hong Kong, China has just struck a deathblow to the city's autonomy and liberties. Clearly, the new law will kill future democratic movements.
In the past, the Beijing authority framed nearly all large-scale demonstrations, such as from the Umbrella Movement, as acts of subversions of China's authority. Even though 2 million Hongkongers took to streets to call for a withdrawal of the extradition bill, such public controversy over highly controversial policies had already been regarded by Beijing as attacks to its sovereignty and security.
Beyond any doubt, the law – which would ban "treason, secession, sedition and subversion" – sends a chilling message to future mass movements or critical voices of Beijing's policies.
Unlike other common law jurisdictions, the ill-defined term "national security" is often subject to arbitrary, discriminatory and politically motivated interpretation and enforcement in China. As a way to silence criticisms, the charge of inciting subversion is repeatedly used against dissenters.
For instance, after drafting a manifesto calling political reforms, Nobel Peace Prize laureate Liu Xiaobo was sentenced to an 11-year imprisonment on charges of "incitement of subversion of state power." Reporters like Tan Zuoren have also been charged for incitement – having been arrested while investigating the deaths of thousands of children whose schools collapsed during a 2008 earthquake in Sichuan.
Human rights lawyers like Wang Quanzhang face intimidation and imprisonment, while Gui Minhai, who sold critical books about China in Hong Kong, was sentenced earlier this year to 10 years in jail for "illegally providing intelligence overseas".
Grassroots groups, religious organisations and civil rights activists have all been swept up in massive crackdowns in recent years. By imposing the similar security law, this authoritarian regime is now aiming its new weapon at the city's robust civil society and liberties.
The most terrifying thing is the plan to establish a new national security branch in Hong Kong, which supersedes the Hong Kong government. In the past, China's offices in Hong Kong often operated in secrecy, but actively intervened in Hong Kong affairs, from mobilising pro-Beijing voters in elections to threatening to sue local media for unfavourable coverage. Hence very real fears that the proposed new body will turn out to be a secret police branch pulling strings behind the scenes.
Our city leader, Carrie Lam, even refused to explain how to ensure sufficient checks and balances on the body to hold it accountable for any abuse of power. When the spectre of the secret police hangs over the city's freedoms, this is the end for Hong Kong as we know it.
It also carries implications for human rights activists. For a long time after the Tiananmen Square massacre, Hong Kong has been serving as a safe haven for human rights organisations working in mainland China. With relatively independent judiciary and proper human rights protections, Hong Kong provides a valuable breathing space to all these Chinese activists. However, once the law is imposed, it will bury this last beacon of human rights from the mainland.
The proposed law will have ripple effects on expats and investors working and living in the city due to the loosely defined idea of "foreign forces". Under China's aggressive Wolf Warrior diplomacy, foreigners living in China have already become the convenient scapegoats for Beijing's diplomatic purposes. As many China observers point out, there has been a growing use of "hostage diplomacy" by Beijing in recent years.
Two Canadians, Michael Kovrig and Michael Spavor, were detained more than 15 months as retaliation for Canada's arrest of Huawei executive Meng Wanzhou. Foreign reporters were also denied renewals of work visas for covering political dissents.
Scuffles break out between Hong Kong legislators over security freedoms
Autonomy and civil liberties are promised by Beijing in its joint declaration, a legally binding international treaty at the United Nations, but China is rewriting the rule by scrapping its promise with force and fear.
Thousands of Hongkongers have already taken to the streets this weekend, and faced tear gas from police. To safeguard the city's freedoms and autonomy, I call upon the world to urge China to halt this controversial legislation. Since the law will have massive implications for international communities and the existing trade treaties with Hong Kong, I urge the world to include human rights terms in trade treaties with the city.
This is the beginning of the end for all Hongkongers. We fight for any slight hope of our democracy under China's authoritarian claws not because we are strong, but because we have no other choice. We hope the world can stand with Hong Kong once again.
Joshua Wong is the secretary general, and Amon Yiu is a member, of Demosisto
Register for free to continue reading
Registration is a free and easy way to support our truly independent journalism
By registering, you will also enjoy limited access to Premium articles, exclusive newsletters, commenting, and virtual events with our leading journalists
Already have an account? sign in
Register for free to continue reading
Registration is a free and easy way to support our truly independent journalism
By registering, you will also enjoy limited access to Premium articles, exclusive newsletters, commenting, and virtual events with our leading journalists
Already have an account? sign in
Join our new commenting forum
Join thought-provoking conversations, follow other Independent readers and see their replies