GCHQ Director says final decision pending on Huawei and UK 5G network
Britain is ready to gamble on China's Huawei – it makes sense financially, but is a grave moral misjudgement
The reassurance has come that the company will be included in only 'non-core' parts of the network, but the decision has raised eyebrows both in London and among some of the UK's closest allies
The National Security Council, chaired by the prime minister, has agreed to allow Chinese telecom giant Huawei to play a part in the construction of Britain's 5G network. A formal decision will be announced in due course but it seems unlikely anything will change unless the Department for Digital, Culture, Media and Sport includes particularly damning findings in its own review.
The reassurance has come that Huawei will be included in only "non-core" parts of the network, but still, the decision has raised eyebrows both in London and among some of the UK's closest allies. It also contradicts US warnings about dealings with Huawei even if such warnings have lost a degree of credibility under the presidency of Donald Trump.
In fact, having stated that "the distinction between core and edge collapses in 5G networks", Australia effectively banned Huawei from involvement in the construction of its own 5G infrastructure.
The UK decision comes amid a long overdue "realist" turn in engagement with China, as many countries around the world take stock of the consequences of engagement with the Chinese party-state. Talk of Chinese investment is now qualified by discussions of Beijing's influence and interference techniques, as well as the more morally dubious methods employed by the Chinese Communist Party (CCP) to maintain its power in a country of 1.4 billion.
The UK has seen its own shift here, most notably in the form of a paper from the Royal United Services Institute and a foreign affairs committee report, both published this year. The former stated that "allowing Huawei's participation [to offer fifth-generation mobile networks in the UK] is at best naive, at worst irresponsible"; the latter reported "we see considerable grounds for concern about Huawei's involvement in the UK's 5G infrastructure".
Inside Huawei's new campus for workers in China

Show all 20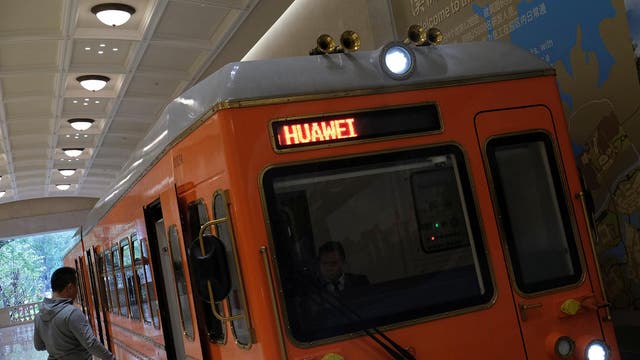 It seems now that in the protracted battle between so-called "money-men" and the security officials over what shape British engagement with China should take, the financial interests have secured a partial victory.
The decision would certainly make business sense: Beijing will continue to cooperate with the UK's business elite who seek out lucrative opportunities in China. At the same time Huawei products themselves almost certainly represent a cheaper option compared to rival providers. Indeed, there have been rumours that because of the low prices, Huawei is actually a massive loss-maker, receiving considerable financial support from arms of the Chinese party-state.
These rumours emerged again recently as US intelligence shared evidence with allies (including the UK) that Huawei had in fact received support from the People's Liberation Army and other Chinese security apparatus. As part of an expensive global PR campaign, Huawei dismissed such claims stating that it is "an independent private company wholly owned by its employees".
Unfortunately for Huawei, an investigation into who precisely owns the company by prominent China academics Donald Clarke and Christopher Balding demonstrated convincingly that "regardless of who, in a practical sense, owns and controls Huawei, it is clear that the employees do not.".
Of course, even if Huawei's claims were true, according to article seven of the 2017 National Intelligence Law, it would be illegal for Huawei to deny a request for assistance from Chinese intelligence-gathering agencies. Much is lost in translation when talking of politics in China, and while there is much to learn from a brilliant people and a glorious culture, such is the CCP's reach that any company or institution of significant size depends on the continued approval of the CCP in order to exist.
Finally, beyond the financial and security concerns there simply must be a moral element to this calculation. As we fast approach the thirtieth anniversary of the Tiananmen Square Massacre, fewer and fewer Chinese citizens are aware of this fateful event as the CCP's control over history tightens.
In recent years those able to speak out have been largely silenced in campaigns against academics and lawyers who stray from the party-line. Regarding the present day, Chinese state media proudly repeats Xi Jinping's assertion that the central purpose of news media is "to speak for the party's will and its propositions, and protect the party's authority and unity".
Support free-thinking journalism and attend Independent events
In such a landscape it is hardly a surprise that so few Chinese citizens are aware of the scale of the ongoing clampdown against Uighurs and other ethnic minorities in the far west of the country that has seen over a million sent to newly constructed re-education camps. Moving back to the other side of the country, in Hong Kong four activists have been sentenced for up to 16 months in prison for their roles in pro-democracy demonstrations, contravening the spirit of the Sino-British Joint Declaration regarding Hong Kong's future.
The UK is weighing up its future outside the European Union and must decide what sort of country it wants to be, what sort of values it espouses and what sort of example it wants to set. Such is the scale of the issues laid out here that they cannot be easily disentangled from the type of engagement involved when cooperating with a company enmeshed within the Chinese party-state.
In the final reckoning, Britain's decision on Huawei makes perfect sense financially, raises serious issues for security, and represents a grave misjudgement morally.
Martin Thorley is a doctoral researcher at the University of Nottingham
Join our new commenting forum
Join thought-provoking conversations, follow other Independent readers and see their replies