The nationalist Hungarian Government is endangering Jewish people with its smear campaign against philanthropist George Soros
The Government must confront the very real threat of right-wing extremism which has found a place in Hungary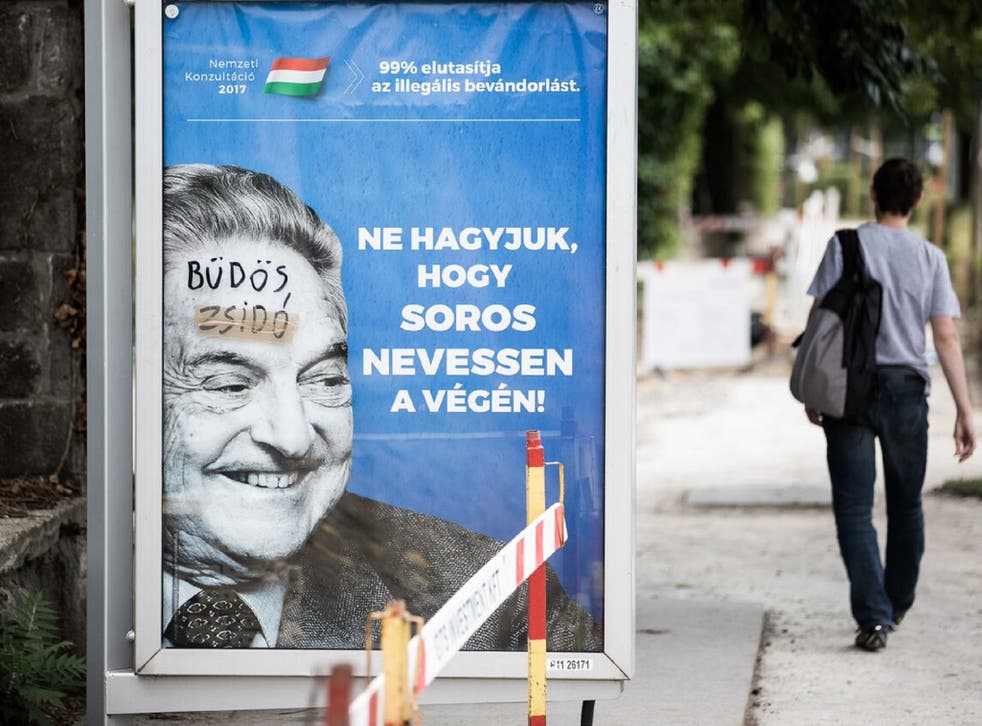 Back in 2001 in Budapest, we were a small Jewish students group called Marom, looking to organize a Chanukah festival. We worked with limited resources, but had lots of ideas. One was to set up a multimedia installation inside a synagogue with bright contemporary graphics projected on the walls, intertwined with old black and white Yiddish movies. But we needed projectors.
We reached out to the C3 (Cultural and Communication Centre), created by the Hungarian Soros Foundation, which gave us the two projectors we needed. This was our first encounter with the philanthropy of Hungarian-American billionaire George Soros.
Today, Marom is a place where hundreds of young people volunteer in programs promoting social justice and democracy in Hungary, and where they can reconnect with their Jewish heritage. We receive support from the Open Society Foundations, along with other donors like the European Union.
But for the first time since the end of communism, we Hungarian Jews are justified in fearing for our security, given the Hungarian Government's apathy towards Soros, and far-right rhetoric. The Prime Minister Victor Orban has focused much of his re-election campaign on attacking Soros, claiming he is trying to "flood Hungary with Muslims" and putting Hungary's existence at stake. His Government has even reportedly started distributing a book by a known conspiracy theorist disparaging Soros.
George Soros says Trump is going to fail
This summer, Hungary's parliament approved a law restricting the activities of NGOs receiving international funding. The new law forces organizations that receive more than $28,000 (£21,000) from foreign donors to disclose the personal data of all of their individual donors. Consequently, it has become very challenging for us to persuade individuals to donate money because it means their names and addresses will be listed on a Hungarian government website.
As a Jewish group working on social justice, we are not optimistic towards the current situation. The Government's well-documented campaign against George Soros plays with obvious antisemitic representations from the 1930s, which has drawn wide criticism.
Across Hungary, one could see huge electric blue posters of George Soros as a puppet master pulling the strings of opposition politicians, or devilishly laughing at the prospect of a "plan" to undermine what Prime Minister Viktor Orban calls, Europe's "ethnic homogeneity".
Last May, a group of men belonging to a far-right youth movement attacked our community centre, the Aurora House. They spray-painted anti-Soros slogans along with their logos on the sidewalk in front of our building. They recorded the action in a video and uploaded it on their website, along with racist and antisemitic slurs and vowing to return.
The Orban Government argues that by preventing migration to Europe, they are actually protecting Hungarian Jews from antisemitism coming from Muslim people, which is ridiculous. If the Government would like to do something for the Jewish community in our country, it should confront the actual threat: right-wing extremism.
Britain First: the far-right group in pictures

Show all 15
In recent years, Hungary has become a safe haven for neo-Nazis, right-wing activists, racists, and antisemites of all kinds. Swedish, French, Belgian, German, and British ultra-nationalists are now calling Budapest home, under the Government's benevolent or at least indifferent eye. For Hungarian Jews and other minorities, this is a worrying trend in a country with a long history of violent antisemitism.
The Government is about to announce the results of a "national consultation" on a so-called "Soros plan". The campaign costs the equivalent of around £18m. This is more than double what the Open Society Foundations spend in Hungary yearly, and one can only imagine how many projectors small human rights organizations could rent with that amount for their events.
Adam Schönberger and Eszter Susan Guerrero are the co-founders of Marom, a Budapest-based Jewish organization working on social justice issues and helping young Jews reconnect with their heritage
Register for free to continue reading
Registration is a free and easy way to support our truly independent journalism
By registering, you will also enjoy limited access to Premium articles, exclusive newsletters, commenting, and virtual events with our leading journalists
Already have an account? sign in
Register for free to continue reading
Registration is a free and easy way to support our truly independent journalism
By registering, you will also enjoy limited access to Premium articles, exclusive newsletters, commenting, and virtual events with our leading journalists
Already have an account? sign in
Join our new commenting forum
Join thought-provoking conversations, follow other Independent readers and see their replies